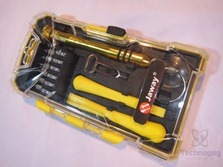 Tools, I've got a very nice tool set for review from JawayTools, but this set is made for small things like cellphones and tablets and other electronics as it has most everything you'll need to work on them. The tools come in a very nice carrying case, but read on to learn more…
Specifications and Features
JawayTool 17pc Precision Screw Bit Driver Repair Tools Kit for Laptops, Electronics, Cameras and Phones – Lifetime Warranty
-Specifically designed for repairing mobile phones, tablets, game systems, wristwatches, laptops, cameras and eyeglasses
-Lightly Magnetized bits improve handling of tiny electronics screws
-Includes pentalobe bits for iPhone and MacBook
-All pieces store in pocket-sized injection case easy storage
-Swivel end cap allows constant finger pressure while driving
Keep this JawayTool Precision Torx Screwdriver Set Repair Tool Kit in the kitchen drawer, glove compartment, or stow it in a piece of luggage when you travel, so you'll always be ready if your gadgets or gear go down. It is precision multi-driver set is an ideal tool set your mobile devices (iPhone, iPad, tablets, smart phones), laptops (Mac and PC), home and handheld video game consoles and controllers (PlayStation, XBox, Nintendo), wristwatches, and eyeglasses. It includes pentalobe sizes for iPhone and MacBook. The mini aluminum screwdriver is easy to operate one-handed with its smoothly spinning end  cap allowing you to apply constant pressure while turning. A non-marring plastic Safe plastic plying tool can easily plying something not damaging or make marks, suction cap help to remove the screen easily without the damage as well. All compactly organized in a pocket-sized carry case, this set can go anywhere you go.
What is in the box!
1-pc. Aluminum screwdriver handle
1-pc. Flat: 1.2 mm
1-pc. Tri-Wing: 2.0 mm
2-pc. Pentalobe: PL 0.8, 2.0 mm
2-pc. Phillips: #000, #00
6-pc. Torx screw driver/Star: T3, 4, 5, 6, 7, 8, 10
2-pc. Mini pry bars
1-pc. Sim card tray open eject pin key
1-pc. Suction cup
Price: $16.99 (from Amazon at time of review)
The Review
Let's start off with a video unboxing or unpacking:
The JawayTool 17pc bit set comes in a very sturdy and nice looking plastic carrying case that is clear on the top and yellow colored on the bottom.
The lock on the side of the case is the slider style and it works very well at keeping the case closed when not in use. To me this is very important as there's nothing worse that your tools coming open and falling out everywhere.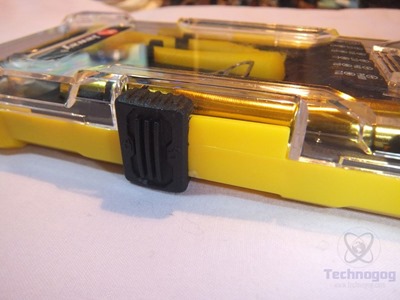 Inside of the case you'll find two different sized plastic pry bars, plastic is important as it won't mark, or there's less likely of a chance it will. There's also a sim card ejection tool which can come in very handy and it can also be used as a reset tool as many devices have a tiny pinhole that you need to press the button inside to reset. A small suction cup is also included, this is more for removing screens on phones and tablet easier, you attach the cup to the glass and just lift it off. Lastly or almost last is the aluminum screw driver handle which is gold in color and has three rubber rings near the bottom for grip and the top is free moving so you can apply pressure and still turn the shaft.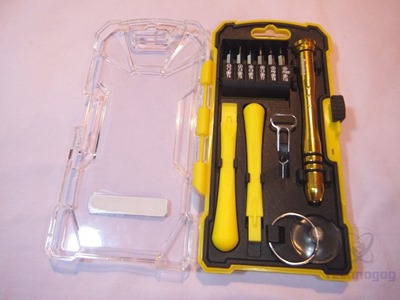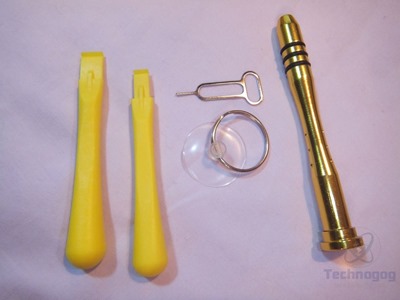 There are twelve bits that go with the screwdriver handle and they are: 1 Flat bit sized 1.2 mm, 1  Tri-Wing style bit sized at 2.0 mm, 2 Pentalobe bits sized PL 0.8, 2.0 mm, 2  Phillips sized #000, #00 and then there are 6  Torx screw driver/Star bits: T3, 4, 5, 6, 7, 8, 10.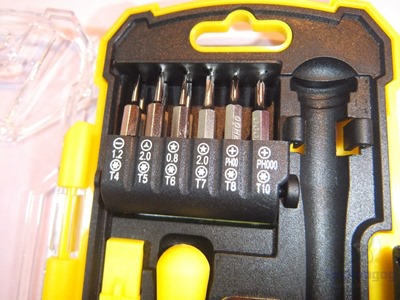 There is a magnet inside of the screwdriver handle that locks the bit into place securing it for you.
Conclusion
The JawayTool set is a very nice set to have around if you work on small electronics and even if you don't as it's handy for sure.
This set has most everything you might need to repair your electronics and even other things you might come across around your home.
This set can be great for phones and tablets but also for gaming consoles, watches, cameras and more, so it's a very versatile kit to be sure.
I love the carrying case, it's very well made and it will protect the tools inside and the lock works well to secure the case shut to make sure you don't lose anything in transit.
All in all I love this kit, for me personally it's a great addition to the other tools I have.
Pros:
+Well made and useful tools
+Sturdy carrying case
+Inexpensive
Cons:
-None that I could find
| | |
| --- | --- |
| Grading | Scores Out of 10 |
| Overall | |
| Design / Aesthetic | |
| Value / Price | |
| Performance / Usage | |

Disclosure: This product was given to us for review by the company for review purposes only, and is not considered by us as payment for the review.
To learn more about our review policy please visit this page HERE.