Every year the choices for video streaming services seem to grow. Offerings from Netflix, Hulu, Redbox as well as HBO Go and Showtime Anywhere help provide various viewing options. Of course each of these services require an additional cost to what you may already be paying for your home television provider.
What if you could bring the TV service you pay for at home to anywhere with Internet access? This is what Sling Media has been providing for years with their Slingbox line. Today we will look at their current mid level entry – the Slingbox M1.
With the Slingbox you don't need to pay more for remote streaming of the content you already have purchased. Any live or recorded TV shows/movies can be watched and controlled remotely on your mobile devices whether it's a PC, Mac, iOS or Android device. Depending on your connection this content can be delivered in Full HD. Slingbox also works with Digital video recorder (DVR), DVD or Blu-ray Disc player/recorder and video security cameras
Plus if you have an Apple TV, Chromecast, or Roku you can view your Slingbox on a large screen by using the Slingplayer App for either iOS or Android.
Unboxing
The Slingbox M1 arrive is a red and black cardboard box with the device visualized on the front with a description of its functionality. The back of the package provides a visual diagram of how the Slingbox M1 relays your TV signal remotely along with more detailed features and a compatibility listing. On the sides of the box is a listing of the contents, what is needed to get set up and the serial, MAC and SKU numbers.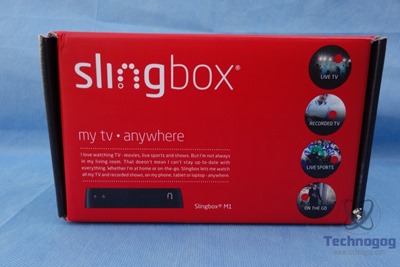 Opening the box we find the Slingbox M1, a Quick Start Guide, component video cable, stereo audio cable, an AC adapter, and an Infrared transmitter cable.
Immediately you will notice the form factor of the Slingbox M1 is much littler and compact than the Slingbox PRO HD model. It is a small box composed of piano black plastic. On the top is the Slingbox name along with a fanned pattern which doubles as vents for cooling the inner components.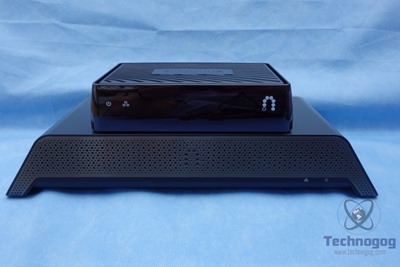 Looking at the front of the Slingbox M1 we see icons for power, network connectivity and the Slingbox logo. Unlike the Slingbox PRO HD there is no "Cylon" like activity light moving when someone is connected to the Slingbox.
The back of the device has all of the inputs needed to get your TV content onto the Internet. From left to right we find the IR input, composite and component inputs, a LAN input, WPS (for wifi setup), recessed reset button opening and the power input. Missing from this setup is an HDMI input which can be found in the next model up – the SlingTV (Slingbox 500).
On the bottom are four rubber feet and additional cooling vents.
Specifications and Features
Watch Anywhere: No matter where you are in the world, or your backyard – watch and control all of your TV on your mobile devices, live or recorded, over the Internet.
Stunning Quality:  Extend your living room TV experience in sparkling high definition video up to 1080p. Tune in to your favorite programs on your tablet, phone, Mac, PC, or connected TV and enjoy your shows in the best possible quality.
Absolutely No Monthly Fees: You already pay a lot of money for your current cable or satellite subscription. Only Sling lets you take it anywhere in the world without additional monthly fees.
Slingbox M1 Features:
-Watch and control your live and recorded TV shows anywhere, anytime with this WiFi-enabled box – in up to Full HD.
-No blocked shows or games on any device, in any location. Watch your favorite shows and sports on all the channels you subscribe to, even when you're overseas.
-Never miss a final episode or live event. View them when you want, where you want, and become the spoiler in your social group.
-Play and schedule DVR recordings.
-Watch on a second TV anywhere via Apple TV, Chromecast, and Roku.
-Features WiFi, Ethernet, composite and component in/out connections.
-Absolutely no monthly fees.
Works with most tablets and mobile devices and is available on: Apple App Store, Google Play, Amazon Appstore and Windows Store
Video quality is dependent on network speed and conditions.
Price: $149.99 (from Amazon at time of review)
The Review
Installation of the Slingbox M1 takes about 5-10 minutes depending on how savvy you are with the back of a cable or satellite box. The Quick Start Guide provides an easy road map for setting up the Slingbox M1. Basically you need to plug the component or composite cable into the corresponding output jacks on the set top box you will be sending to the Slingbox. If you like to have a wired connection you will need a LAN cable accessible.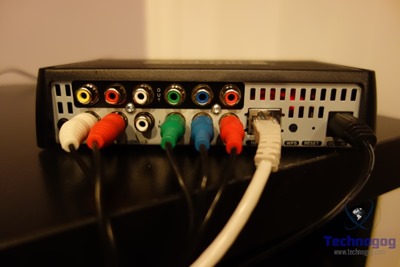 In the past you needed to run an Infrared transmitter cable to send the IR signal from the Slingbox to the receiver. Sling addressed this issue as the Slingbox M1 has internal IR emitters. This means the box should send the signal to your receiver box without running the transmitter cable. Sling states 9+ times out of 10 it should work.
To start using the Slingbox M1 you will need to download the free Slingplayer for Desktop (http://www.slingbox.com/m1setup) or use the Slingplayer app on Android or iOS (available for an additional fee). The Slingbox M1 is the first Slingbox that can be set up from these mobile apps. For my setup I used the OS X version of the desktop app.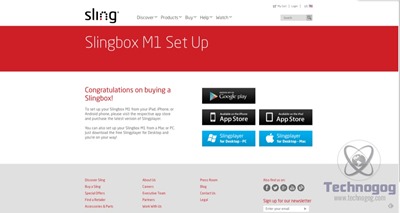 The app will ask you to log into or create a Sling account. Once logged in you will see a list of Slingplayers (if you own multiple) or just the Slingbox M1 with the Setup button next to it. Clicking on that button guides the setup of the box.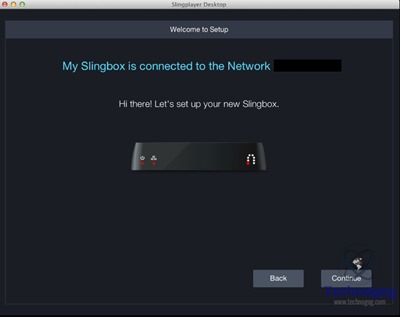 During this process the Slingplayer may update the software on the Slingbox M1. Once done, you can name the Slingbox M1 then choose your content provider and input the model receiver type that is connected to the Slingbox M1.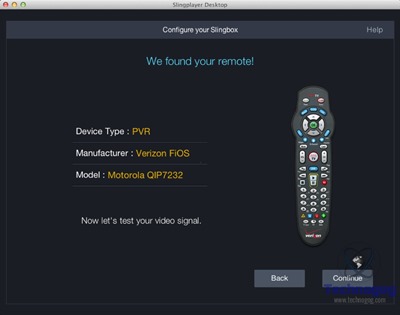 If everything runs smoothly the Slingbox M1 should find a video signal and then ask to test the virtual remote. A congratulations screen will greet you once the Slingbox M1 is finished with the process.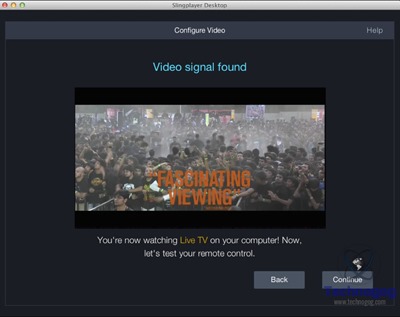 Now you are able to remotely stream your Cable or Satellite TV content to any device that can run the Slingplayer app.
Although you can use the Slingplayer app on iOS and Android devices you will need to pay an additional fee to buy those apps. Sadly, those apps are device specific meaning you will need to buy a tablet and phone version separately. At $14.99 an app that can add up to an additional $60 investment if you own both Android and iOS ecosystem based devices.
One positive is that these apps are well designed and work seamlessly. Whether using the desktop or mobile version of Slingplayer the experience is comparable. The mobile apps will ask the user to sign into their Sling Media account and then choose their Slingbox if multiple ones are available.
Here is a quick glance between the iOS and Android phone versions of the Slingplayer app.
When watching your streamed content tapping the screen on the mobile devices toggles the various options.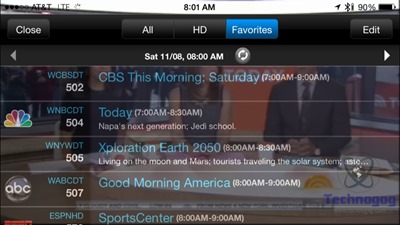 Here is how the Slingplayer Desktop app looks on the Mac.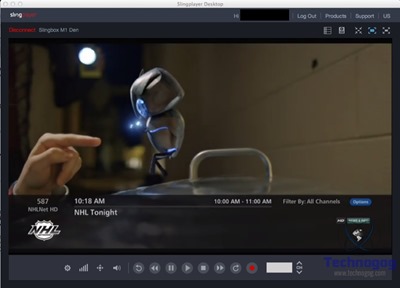 While this is the Slingplayer iPad App
One of the newer features from Sling Media is the ability to "cast" the Slingplayer app to Chromecast, AppleTV or Roku devices.
Of course like any Slingbox, anyone who has remote control via the Slingplayer will control the attached receiver. This can be an issue if another family member is watching something at home and you remotely take over using the Slingbox. Thus it is best to attach the Slingbox M1 to a set top box that is not in heavy use if possible.
An important thing to keep in mind is video quality is dependent on network speed and conditions which applies to most any streaming video service.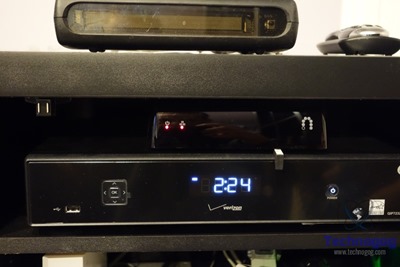 Conclusion
If you like the option of never having to miss a show, game or movie wherever you may be situated then the Slingbox M1 is a great investment. As long as you have Internet access with a modicum of speed then you can watch your satellite or cable provider anywhere in the world. At an event while the game is on, no problem. Simply open up the mobile Slingplayer app on your phone and you are good to go. On vacation for that penultimate TV episode, then the Slingbox M1 has your back.
Besides viewing on your mobile device, the Slingplayer can now send the content to a Chromecast, AppleTV or Roku device. This means remote viewing on a large screen can be easily accomplished by packing the tiny Chromecast dongle.
Slingbox has come a long way since I last reviewed the Slingbox PRO-HD. The Slingbox M1 is much cheaper and provides HD content with more features than the previous Slingbox PRO HD.
Pros:
+Simple setup
+No additional fees to stream your home based video content
+Built in Wi-Fi
+Has mobile app for iOS and Android
+Built in infrared transmitter
Cons:
-iOS and Android apps are additional cost
-"Shared" system between home and remote user
| | |
| --- | --- |
| Grading | Scores Out of 10 |
| Overall | |
| Design / Aesthetic | |
| Value / Price | |
| Performance / Usage | |
To learn more about our review policy please visit this page HERE.