Reports of security breaches and data theft have become quite frequent in recent weeks. With the well-publicized Sony attack the importance of securing data whether for business or personal use has become more apparent. One of the best ways to guard this data is to house it on one's own server with various protections in place.
Synology is a company known for their highly regarded and popular NAS devices. Their recent release of the DS415+ an upgrade from their previous four-bay DS412+ was designed with security in mind as it features an AES-NI hardware encryption engine.
In addition the DS415+ has a quad-core processor that has read/write speeds of 228 MB/s and 233 MB/s when using Link Aggregation. With the Synology DS415+ you can safely roll your own personal cloud server and take your data out of a third party's hands. An excellent overview article on Hybrid Cloud storage can be found here.
Like previous models the DS415+ is simple to setup and easier to maintain. Synology continues to develop its award winning DiskStation Manager (DSM) software. Version 5.1 was recently released to provides even more functionality to the DS415+. According to Synology these improvements include:
-Deeper cloud integration- In addition to services like Google Drive and Dropbox, Cloud Sync now adds support for OneDrive and Box.  Backup is now supported to Microsoft Azure.  The Explore feature allows for browsing for and retrieving single files from Amazon's Glacier service.
-Sync control – Administrators can create syncing profiles.  Synced files can retain ACL permissions.
-Note Station and DS note- Create, share, and sync digital notes and notebooks with a browser or mobile device.  It's even possible to import notes from Evernote.
-Improved security- Security Advisor provides reports and advice to improve security, and can even remove known malware.  AppArmor protects system resources from malicious software.  Package Center now supports digital signatures to prevent installing tampered software usage.
Unboxing
For this review the DS415+ arrived in a plain brown cardboard package with the Synology and DiskStation names imprinted on the front and back. The retail packaging comes in a powder blue box similar to other Synology models.
Opening the box we see the DS415+ securely protected by two large foam inserts along with a box containing cables and accessories.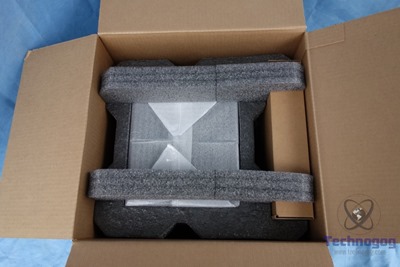 Inside the package is the DS415+, an AC power adapter, AC power cord, a set of screws, two LAN cables and a Quick Installation Guide.
Externally the DS415+ has the same aesthetics as recent models including the DS214play that we reviewed last year. Obviously since it is a four bay unit the dimensions are larger as it measures 16.5 cm X 20.3 cm X 23.3 cm and weighs 2.05 kg without drives in place.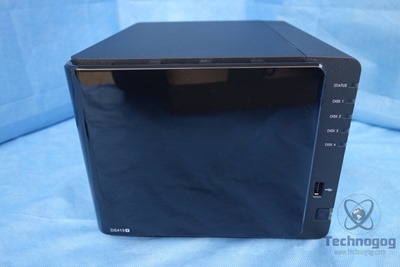 The chassis is composed of a matte black plastic with a textured feel. On the front of the unit is a piano black plastic shield with the model number on the bottom left corner. This shield covers the hard drive racks and is kept in place with rubber feet.
Towards the right side edge are five labeled LEDs for Status and Disks 1-4. Below these lights is a USB 2.0 connector and the power button with LED light.
Once again Synology employs the screwless drive trays. These bays can accommodate either 3.5" or 2.5" hard drives as well as 2.5" SSDs. Pressing the top tab pops out the trays allowing quick installation or replacement of drives.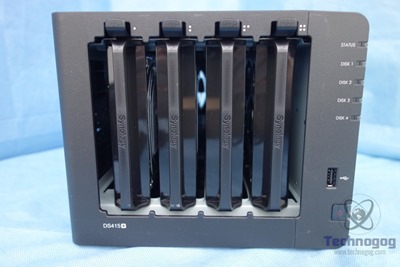 The maximum storage capacity for the DS415+ is 24 TB (4 x 6TB). For our review we tested the unit with four 3TB Seagate NAS drives that were provided by Synology. The DS415+ supports both SATA II and SATA III speeds.
On the sides of the DS415+ is a ventilation grate behind the Synology cut name.
Looking at the rear of the DS415+ we find two 92 mm fans, one for each pair of drives. Beneath these fans are two USB 3.0 ports, two Gigabit Ethernet jacks, eSATA port along with a Kensington lock slot and of course the AC connector.
Underneath the DS415+ are additional vents and four rubber feet to keep the box from sliding around.
Of course the DS415+ has a sleek looking housing but it's really the inside of the NAS that's impressive. Inside we find an Intel Atom C2538 Quad Core Processor with one stick of 2GB DDR3 memory. Unlike the DS1513+ there is only one memory slot and changing this stick will void the unit's warranty.
Built into the processor is an AES-NI hardware encryption engine to protect the data on the machine.
In terms of speed the DS415+ advertises 228 MB/s read and 233 MB/s write with Link Aggregation enabled and 232 MB/s reading and 206 MB/s writing with encrypted file transfers.
With multiple drives in place this unit can support RAID 0, RAID 1, RAID 5, RAID 6 and RAID 10, JBOD and Synology Hybrid RAID (SHR) configurations.