Most tablet cases out there are rather plain and just perform one function to protect your tablet and that's fine, but sometimes you want something with a bit more style.  Today for review I have the TabZoo Tiger Universal Tablet Sleeve which is something that's marketed to children. It's a fun and unique tablet case that looks like a tiger obviously. What makes this sleeve special is that it's also a stand for your tablet, but it's a special and fun stand as when you open the sleeve you'll find teeth. It's hard to describe, you have to see it to understand it, so read on to learn about a tablet sleeve that kids will just love..
Unboxing
The TabZoo ships in a plastic bag and has a cardboard backing on it with the information about the case.
So it's a tiger as I'm you sure you can tell, it's more of a cartoony tiger though as it's made for kids.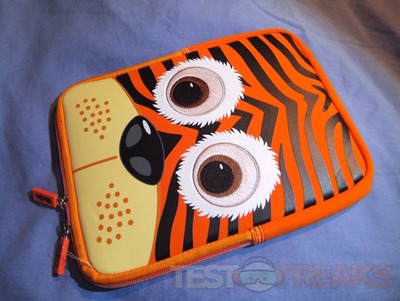 Here's a closer look at the face for you, the cover is what I would guess sort of an iron on, the stripes and face are but the eyes are actual stitched patches.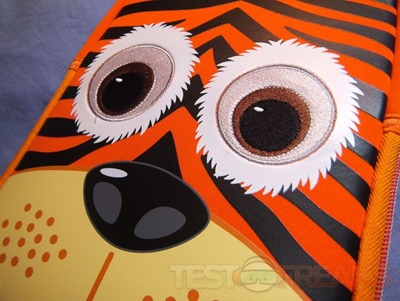 The back of the case is just a solid and very bright orange color, tigers are basically orange so this works. The material is a soft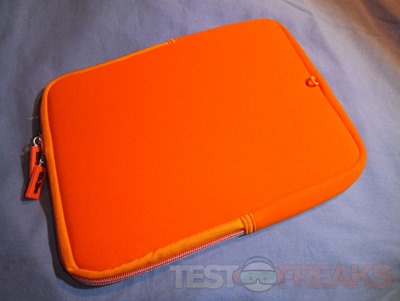 On the side you'll see two heavy duty zippers with he TabZoo logo on them.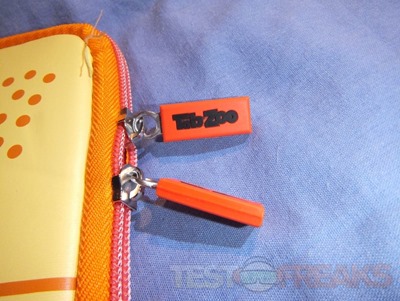 When you open the case you'll be in for quite a surprise, there's teeth in there! Besides the teeth you'll find a thick and soft bubble style padding to protect your tablet. You'll also notice the color is sort of pinkish like the inside of a tigers mouth would be.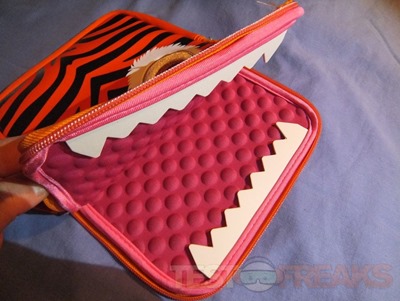 The teeth themselves are ridged but course not sharp. The teeth are used to hold you tablet up for viewing, so the case doubles as a stand and it looks like the tiger is holding the tablet in its mouth.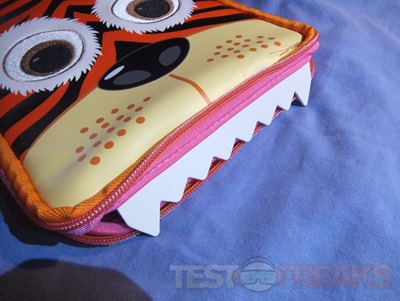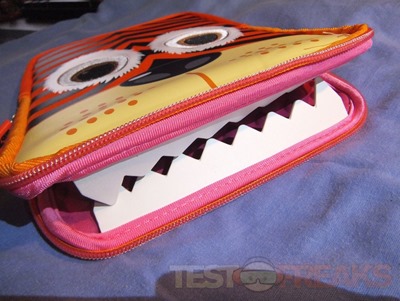 Specifications and Features
TabZoo Universal Tablet Sleeve 10″ – Tiger
Fun Tiger design
Kids will be kids – and TabZoo products are designed with kids in mind. Make sure your little critters device is protected in style with this Tiger design sleeve.
Compatible with any tablet or netbook up to 10″
The TabZoo Universal Tablet Sleeve is designed to fit any tablet or netbook up to 10″ in size including the iPad Air, Samsung Galaxy Note 10.1 and Samsung Galaxy Tab 2 & 3 10.1, Kindle HDX 8.9 and Sony Xperia Tablet Z plus many many more.
Soft inner lining protects your device from scratches
The TabZoo Universal Tablet Sleeve has a soft inner lining to protect your devices screen against scratches and dirt. Once your device is placed within the sleeve the heavy duty zipper can be closed to secure your tablet safely within the sleeve. Interior bubble padding offers extra protection against general knocks, drops and bangs.
'Teeth' viewing stand function
Did you know you can hear a Tiger's roar from over a mile away? This Tiger has a great set of gnashers which double up as a handy viewing stand perfect for watching movies, making video calls or even typing out homework. Embroidered eye detailing adds an extra touch of quality and a range of textures.
Price: £17.99 / $29.34
The TabZoo case was provided by GearZap for review where you can find iPad Air Cases and cases for just about anything, phones or tablets and even laptops.
Testing / Usage
I have a few tablets, specifically I tried my 10", 9.7" and my 8" with the TabZoo case and they all fit just fine.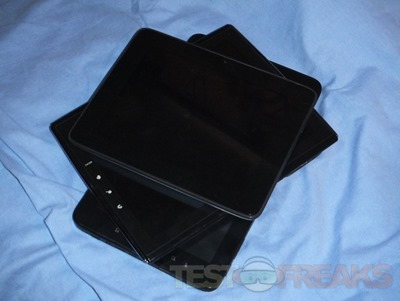 My 9.7" Android tablet is basically my 8 year old sons as he's the one who uses it, I've pretty much given it to him, but he doesn't know that yet. I gave my kids a 7" tablet a while back and they pretty much destroyed it as I let them have it, this one I hold onto and if he wants to use it he comes to me and asks for it so this way it stays safe.
The tablet fits just fine inside of the case and the teeth will soft of hold it in there from sliding out if you position them correctly.  The case is padded very well so I trust my tablet will fine when it's inside of the tiger.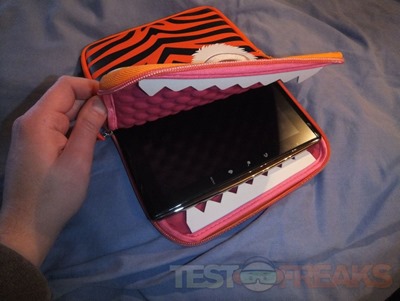 Here's how the stand part works, you just put the tablet behind the teeth and they do hold it up very well. You do have to have it on a solid or firm surface for it to work though, it doesn't work very well on your lap but I don't think it's supposed to.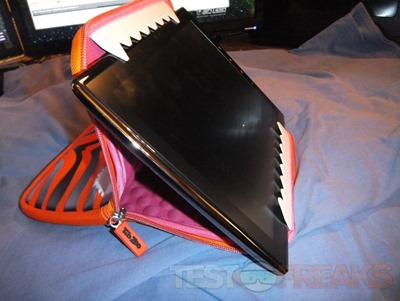 All that aside, this case is made with kids in mind and I have to say my 8 year old son absolutely loves this case. When we go out and take the tablet with us he loves to show it to everyone and the other kids that have seen it like it as well. He always makes sure I'm brining the tablet in the tiger case. I had the tablet before in just a plain green neoprene padded case that he pretty much ignored, but now the tiger case usually stays with him when he's using the tablet. Sometimes he uses it as a stand and he makes sure he shows other kids how the tiger can hold the tablet for him. I'd have to say it's a great product for kids.
Conclusion
It's nice to see something that's universally compatible for kids as most of what I've seen is specifically for the iPad. Yes that's great for those that own and iPad but not everybody does, I like Android so all my tablets are Android and that's what my kids use.
The TabZoo Tiger case will not only protect your tablet very well, it also looks great and it's certainly a head turner and the center of attention.
The case will protect your tablet but it also acts as a stand, and it's certainly a unique stand as the tigers teeth hold the tablet up for you. The teeth makes the case look like the tiger is eating the tablet which is very awesome, at least my son thinks so.
I can't find anything really wrong with this case, it's well made and it will do a great of protecting your tablet and look good doing it.
If my sons reaction is any indication, then the TabZoo Tiger tablet case is just something that every kid will want for their tablet.
If you have a tablet and a kid, then you want this case.
Pros:
+Kids will love it
+Well made
+Good protection
+Doubles as a stand
Cons:
-None really
| | |
| --- | --- |
| Grades: | |
| Overall | |
| Design / Aesthetic | |
| Value / Price | |
| Performance / Usage | |
To learn more about our review policy please visit this page HERE.