Happy Monday folks! Yes, a new week is here, and almost a new month. Since it's a new week that means it's time for a new list of products that we've added to our main site where we collect product reviews from all over the world for you. We do this so you can make an informed purchasing decision. This week we've got phones, TVs, cameras, printers, a netbook and even a home theater system for you.
We'll just start of with that home theater system.
The Samsung HT-C6900W is a home theatre system that supports 1400W total power output and 7.1 channels. It supports CD/CD-R/CD-RW and DVD/DVD±R/DVD±RW media format and is compatible with MP3, JPEG, WMA, WMV and Divx-HD file format. The Samsung HT-C6900W supports Blu-ray connectivity, video upscale, Dolby Digital, Dolby Pro Logic II, Dolby Pro Logic IIx, Dolby Digital+, Dolby True HD, DTS, 2 channel DTS 96/24, DTS-HD, Anynet+, is wireless ready, has USB interface, HDMI inputs and output, audio in and optical in. The unit also comes with an iPod dock, FM tuner, 4 tallboy satellite speakers and stand.
https://technogog.com/home-theater-systems/samsung-ht-c6900w/
Then we'll move on to a printer: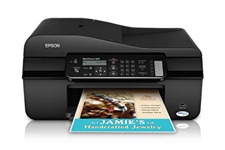 The Epson WorkForce 320 is an all-in-one printer that supports 4.3 ISO ppm (black) and 2.2 ISO ppm (color) and supports high-speed faxing in black and color and a 30-page Auto Document Feeder to copy, scan or fax stacks of originals. The Epson WorkForce 320 can convert scanned documents into editable text via the included ABBYY® FineReader® software and is an ENERGY STAR and RoHS compliant device. The printer supports individual cartridges that can be changed separately. It comes with instruction manual, CD-ROM containing drivers, a power cord, and a telephone cord.
https://technogog.com/printers/epson-workforce-320/
Then up next is a netbook from Gateway:
The Gateway LT32 netbook features HD entertainment capabilities and is powered by an AMD Athlon™ II Neo processor and ATI graphics for optimized video playback. The netbook also features HDMI 1080p output, which let users utilize a single cable connection to deliver HD video and audio to an external source such as a home entertainment system or LCD display. The Gateway LT32 supports a 11.6″ HD Widescreen Ultrabright™ LED-backlit Display (1366 x 768 resolution, 16:9 aspect ratio) and comes in a compact size that measures less than an inch thin and weighs 2.76 pounds.
https://technogog.com/netbooks/gateway-lt32/
Then how about an A/V Receiver from Onkyo:
The HT-RC270 supports True HD, DD Plus and PLIIz Dolby decoder, DTS-HD Master Audio, ONKYO GAME Surround Modes, THX Processing Mode, Audyssey DSX, Audyssey Dynamic EQ, Audyssey Dynamic Volume, and 192K/24 Bit DACs (Burr-Brown). It also supports inputs and outputs such as Audio I/O, Phono Input, Digital Audio IN (OPT/COAX), Composite I/O, S-video, component video I/O, front panel AV, front panel portable input, HDMI v 1.4a, component video upconversion, analog to HDMI upconversion, DCDi Cinema 1080p upscaling, 7.1 channel Multi-Channel Input. 7.2 channel Analog Pre-Outs, optional iPod connectivity, optional HD radio capability, is Internet radio capable and supports streaming from PC, USB memory and PC Input (15 pin D-sub).
https://technogog.com/a-v-receivers/onkyo-ht-rc270/
Then we have a couple digital cameras:
The Powershot S95 is a digital camera from Canon. It forms part of the Powershot series from Canon. The camera is the upgraded version of Canon's previous S90. It comes in the usual Powershot cameras design and features a 3-inch LCD. It also comes with 28-105mm F2.0-4.9 stabilized lens and not forgetting the control ring. This 10.0-megapixel comes with Canon's DIGIC 4 processing.
https://technogog.com/digitalcameras/canon-powershot-s95/
Beautiful pictures–Amazing movies–Incredibly Easy with the 14 Megapixel DX sensor and learn-as-you-grow Guide Mode
The new Nikon D3100 digital SLR camera speaks to the growing ranks of enthusiastic D-SLR users and aspiring photographers by providing an easy-to-use and affordable entrance to the world of Nikon D-SLR's. The 14.2-megapixel D3100 has powerful features, such as the enhanced Guide Mode that makes it easy to unleash creative potential and capture memories with still images and full HD video. Like having a personal photo tutor at your fingertips, this unique feature provides a simple graphical interface on the camera's LCD that guides users by suggesting and/or adjusting camera settings to achieve the desired end result images. The D3100 is also the world's first D-SLR to introduce full time auto focus (AF) in Live View and D-Movie mode to effortlessly achieve the critical focus needed when shooting Full HD 1080p video.
https://technogog.com/digitalcameras/nikon-d3100/
Then we find two cell phones from Nokia:
The Nokia 5250 is a GSM/EDGE 850/900/1800/1900 MHz network bandwidth moebil phone that features the Symbian S60 5.0 OS interface. Designed in a 104 mm x 49 mm x 14 mm form factor that weighs 107 g (including battery), the Nokia 5250 features a 2.8 inch TFT display with up to 16M colors, 16:9 widescreen and 640×360 resolution. It has an 51 MB internal memory with expandability up to 16 GB via a microSD card slot. The Nokia 5250 is powered by a battery that provides users with up to 18.5 days (450 hours) of standby time, up to 7.7 hours of talk time, and up to 24 hours of music playback time. The Nokia 5250 comes with the BL-4U, 1000 mAh battery, an AC-3 travel charger and the WH-102 headset.
https://technogog.com/cellphones/nokia-5250/
The Nokia X3-02 is a mobile phone that features a touch screen and a traditional 12-button keypad on its 9.6mm deep, 106mm tall, and 48mm wide form factor that weighs 78g. The mobile phone comes with brushed aluminum finish and a choice of five colors to choose from. It supports four bands for voice, 3G, HSPA and WiFi network for data, a music player, an FM radio, a 5-megapixel camera with 4X digital zoom, which takes both still images and videos and comes with a Communities app to keep users up-to-date with Twitter and Facebook.
https://technogog.com/cellphones/nokia-x3-02/
…and finally two TVs from Samsung:
The Samsung PN58C680 features 3D HyperReal™ Engine, Clear Image Panel and FilterBright™ Antiglare which allows the HDTV to deliver realistic images and lets users enjoy 3D images in the comfort of the home. The unit also supports wireless home network with AllShare™DLNA technology, that lets users wirelessly connect with compatible devices. It also features Eco Sensor which measures the intensity of the light in the room and then automatically calibrates the brightness of the image on the TV; Clear Image Panel which is a film filter that eliminates the production of dual images and produces a clear consistent image from any angle; Mega Dynamic Contrast that saturates each frame with dense, rich color; Share Movie™ connectivity that allows users to plug in a USB memory drive or HDD into the TV and enjoy a range of movies, photos and music; and 4 HDMI inputs that lets users connect up to three compatible AV devices simultaneously to create cinematic entertainment experience.
https://technogog.com/televisions/samsung-pn58c680/
Watch jaw-dropping action leap off the screen with Samsung 3D technology. The C8000 LED backlit television brings new depth and dimension to it all— so you're not just watching the action, you're living it. Along with a visually stunning picture, it also features web-connected Samsung Apps so you can stream movies, play games, flip through photos, and more while you watch TV.
Bring the wonder of 3D straight to your living room with groundbreaking technology from Samsung. Our new 3D TVs add a whole new depth and dimension to scenes to create a completely jaw-dropping experience. Samsung 3D Active Glasses sync up with your 3D TV to produce 3D images, allowing you to watch movies and TV with action that leaps right off the screen. Even your favorite shows can now be transformed to 3D in real time. Discover a new dimension in TV with Samsung 3D technology.
https://technogog.com/televisions/samsung-un65c8000/
…and of course stop over the main site https://technogog.com/ and see what else is new and check in on you favorite products!