It's Sunday December 12th, it's a new week and also there's only 13 days left until Christmas! I'm sure a lot of you have been out doing a lot of shopping lately, and I hope you've been using technogog to check up on those products you might be buying. You know we collect reviews from all kinds of sources from all over the world, both professional and consumer reviews so you're sure to get the scoop on what's what with products. Anyway, it's a new week so that means it's time for the new products we've added to the main site, this week we've got a nice assortment really.
Let's start off with laptops and netbooks:
The Acer Aspire 5745DG is another notebook from Acer's line of laptops. This notebook comes with a 3D-capable screen and Nvidia-branded glasses. It works on an Nvidia GeForce GT 425M graphics card. This Aspire notebook is powered by an Nvidia GeForce GT 425M graphics card. It is powered by a dual core Intel Core i3 370M running at 2.4GHz. It comes ready with 4GB of DDR3 RAM. It features a 15.6-inch screen. It runs on a 64-bit copy of Windows 7 Home Premium. It has four USB 2.0 ports for data. It has Gigabit Ethernet and Wi-Fi N. It has a good build quality. It comes with a glossy black lid that features pinstripe pattern and silver sparkles. It weighs 3kg. It is powered by a 9,000mAh/99Wh battery that can last for about five hours.
https://technogog.com/laptops/acer-aspire-5745dg/
The Toshiba mini NB520 is a multimedia netbook that features a Harmon Kardon Speaker System. Announced in late 2010, this netbook is powered by an Atom N550 processor. It features a 10.1-inch LED backlit display. This netbook is equipped with the world's smallest Harman/Kardon speakers. This netbook also comes with the Dolby Advanced Audio technology. This netbook comes with the Sleep and Music feature. It is designed in a slim and stylish casing. Measuring at 261.9 x 189.5 x 16.6/35.5mm, this netbook comes with a VGA web camera with an integrated microphone, and a multi-touch trackpad. It is equipped with a 6-cell battery that can last for up to 10 hours usage. The Toshiba mini NB520 is available in blue, brown, lime green, turquoise, and orange.
https://technogog.com/netbooks/toshiba-mini-nb520/
Then how about a cell phone
The Samsung Nexus S is a mobile phone that is powered by a 1500 mAh lithium ion battery that provides up to 6 hours of talk time and up to 428 hours of standby time. It is supported by 512 MB RAM, has an internal storage capacity of 16 384 MB, and supports Quad-band GSM: 850, 900, 1800, 1900 Tri-band HSPA: 900, 2100, 1700 HSPA type: HSDPA (7.2Mbps) HSUPA (5.76Mbps) data transfer rates. The Google Samsung Nexus S also has 802.11 b/g/n WiFi connectivity, Bluetooth 2.1 support, infrared and GPS capability and runs Android 2.3 operating system. It measures 63.0 x 123.9 x 10.88 mm and weighs 129.0 grams.
https://technogog.com/cellphones/samsung-nexus-s/
Then a projector:
The BenQ MX761 is a projector that features 1.6x zoom and supports XGA resolution, 4200 ANSI lumens, 5300 contrast ratio and 3D ready projection. It also supports up to 60" image size at a throw distance ranging from 1.70 to 2.72 meters, 20° Manual Vertical Lens Shift that allows users to make projection adjustments to the projected image to overcome slight miscalculations during a new projector installation; ± 40° vertical keystone adjustment function; LAN Control that gives users access and control every projector directly from their workstations; a built-in projector network control system; 20W audio power and microphone input that allows the projector to be used as an audio system even when it's on standby mode; and a USB Reader and Remote Desktop function.
https://technogog.com/projectors/benq-mx761/
How about a couple multi-function printers: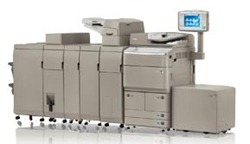 The Canon imageRUNNER ADVANCE 8085 is a multifunctional printer that can print in large capacity. It features a productive black & white printing of up to 85ppm. It comes with an intuitive colour touch screen display. It comes with groundbreaking environment credentials. This device forms part of the imageRUNNER ADVANCE series of printer from Canon. This multifunctional printer can be configured to match the user's needs. This printer has a variety of choices of tasks to perform for its users such as professional punching, folding (Z-folding, inner-C, outer-C, double parallel and centre folding), inserting, and saddle finishing with trimming.
https://technogog.com/multi-functional-printers/canon-imagerunner-advance-8085/
The Panasonic KX-MB2061 is a multifunctional printer that integrates laser printing, copying and faxing. It also features five important document handling, telecommunications and Internet business functions. It is for entrepreneurial businesses or large offices in general. The Panasonic KX-MB2061 is available with one corded telephone headset, one cordless DECT 6.0 headset, Readiris Pro 7 optical character recognition software, and Panasonic's proprietary Easy Print Utility.
https://technogog.com/multi-functional-printers/panasonic-kx-mb2061/
a camcorder would be what we have next:
The BenQ DV S11 is a camcorder with a built-in pico projector that is powered by a 1/2.3 OmniVision CMOS sensor that supports 5 Mega Pixels output. The lens supports 60x digital zoom for still photos, up to 100 x for video recording and up to 10x for playback. The f = 4.86 mm/F = 2.8 lens has a focus range of 80 cm to infinity, a 3.5" LCD 230k pixels display, and supports 1920 x 1080/30fps video recording. It also supports 1280 x 720; 60fps high definition video recording. Other features on the BenQ DV S11 include 1/8000 ~ 1/2 seconds shutter speed, SD and SDHC storage support of up to 32 GB, Slow Motion and Assist LED light function. The BenQ DV S11 is powered by a 800mAh rechargeable Li-ion battery. It comes with a Quick Start Guide, Hand Strap, Li-ion battery, AV Cable, USB cable, Software CD ROM and adapter.
https://technogog.com/digital-camcorders/benq-dv-s11/
Here's something different, an HDTV  with a built in PS2
The Sony Bravia KDL-22PX300 is an LCD TV with a built-in PS2. The PS2 allows playback of DVDs. It can also be used to play PlayStation and PS2 games. This TV set is equipped with several connectivity ports. The 22-inch display features a resolution of 1366 x 768 pixels. This 720p television comes with four HDMI ports, three USB sockets, and VGA and component inputs. It has a built-in Freeview tuner. It also has an Ethernet connection for IPTV viewing.
https://technogog.com/televisions/sony-bravia-kdl-22px300/
We'll end this with a pair of headphones and a GPS navigation device:
ATH-ANC27 QuietPoint active noise-cancelling over-ear headphones offer an outstanding combination of performance, value, comfort and portability. The headphones provide up to 85% noise reduction, and deliver exceptional sound quality with powerful bass, a natural midrange, detailed treble and precise imaging in an immersive soundfield. A detachable cord enables their use as cordless noise-cancelling headphones; the audio functions even if the battery runs down. The headphones feature cushioned ear pads and a padded adjustable headband for total comfort even during extended wearing. The ATH-ANC27 is ideal for use with portable music and DVD players, in-flight entertainment systems, laptop and desktop computers and many other devices, and is compatible with the Apple iPod, iPhone and iPod touch.
https://technogog.com/headphones-headsets/audio-technica-ath-anc27/
The TomTom GO 1050 is a GPS unit that features a 5-inch touchscreen. Released in late 2010, the TomTom GO 1050 GPS unit comes with a range of interesting features for drivers. It comes with a 5-inch that features a resolution of 480×272 pixels. It comes with Bluetooth hands-free and voice commands features. It has an interface that is controlled by a finger-operated touchscreen. It comes with an Easy Click magnetic mount. It comes in a slick design with a redesigned interface. It features a "Fluid Touch" display. It has an onscreen keyboard. Users can create their own customized "menu" on this GPS device. Some of its features include navigating to a recent destination, a point of interest (POI), a saved favorite, a point on the map, a specific GPS coordinate, and the position of the vehicle's last stop.
https://technogog.com/gps-navigation-devices/tomtom-go-1050/