Ah, Monday is here, I'm sure all of you are happy about that right?
Article Name: iPopperz Fashion Earbud Headphones Review @ Tweaknews
Article Url: http://www.tweaknews.net/reviews/ipopperz_earbud_headphones/

Article Snippet:
"Sometimes, quality and good looks don't come hand in hand. However, after spending some time with the iPopperz earbuds I can say that's not the case. They are a nice upgrade from the set that comes bundled with iPods and other media players. You have your choice of several different colorful designs and don't have to give up good sound quality in order to add some style to your digital life."
—
iXBT Labs Review: Choosing an Office PC
Excerpt:
"Unlike gaming PCs, office configurations are chosen with the help of universal benchmarks. In practice, the most adequate tests for office hardware these days are SYSMark 2007 and PCMark Vantage. We compiled the results obtained in these benchmarks with different processors, graphics cards, and memory sizes. Traditionally, there's an interactive configuration calculator for your convenience."
Article: http://ixbtlabs.com/articles3/cpu/office-pc-p1.html
—
Title – How To Reset CMOS @ eTeknix.com
Link – http://www.eteknix.com/how-tos/how-to-reset-cmos/
Quote "Ever played around in the BIOS on your computer and messed up the settings?
—
Overclock3D have just published a new article titled: The ASUS VGA Treasure Hunt.
Quote: Following the success of our previous treasure hunt competitions Overclock3D in association with ASUS are offering our readers the chance to win a new graphics card EVERY week for the next three weeks!
Link: http://www.overclock3d.net/articles.php?/misc_content/the_asus_vga_treasure_hunt/1
—
Title: Lamptron FC-2 Rheobus Fan Controller Review @ Tech-Reviews.co.uk
Briefing: Lamptron specialises in a variety of different products including LEDs, Noise Reduction Kits, Fan Controllers and many more computer accessories. Today we are going to be reviewing the Lamptron FC-2 Rheobus Fan Controller. With its ability to control up to 6 fans at a maximum output of 45 watts per channel it sounds pretty promising, let's see how it performs.
Link: http://tech-reviews.co.uk/reviews/lamptron-fc-2-rheobus-fan-controller/
—
We have posted a new article, 'SanDisk Ultra Backup 32GB USB'
The Article can be viewed at
http://www.tbreak.com/2009/07/sandisk-ultra-backup-32gb-usb/
—
Asus Rampage Gene II Review – An Extreme 2 On A Diet?
We got the MicroATX Asus Rampage Gene II on the test bench. Does this PCB shrink mean it doesn't have the full package on board? Is it really worth cashing out for its bigger brother, the Rampage Extreme II? Some questions that many users would like to see answered in this not so usual motherboard review. Most of you have seen a zillion of photos/reviews already of this piece of art. Madshrimps will take a light approach on its features, but dedicates a few more pages to focus on performance and overclocking!
http://www.madshrimps.be/gotoartik.php?articID=941
—
Ice Age: Dawn of the Dinosaurs – 360 Review
Date: 07-19-2009 By Jeremy DeLong
So if the kids are constantly watching and wearing out the DVDs. Take a chance on this game and they will be entertained for hours, approximately 6-8 hours of total gaming time, not including the multiplayer modes or the side games that are available. It is weird for me to think so highly of what most would call a "kids" game but this is a truly enjoyable game for all ages. It is fast and fun and easy to play.
Link: http://www.gamepyre.com/reviews/games/xbox360/1135_1.html
—
Kingston KTA-MB1066K2 – 4G Apple Memory Review
Author: Elric Phares Date: 07-19-2009

Upgrading your memory on any system is usually the cheapest and easiest way to get better performance out of it, be it a Mac or a PC. Upgrading the stock memory in the Macbook Pro to Kingston's 4GB set showed increased performance and at little cost to you as it is under $60.00 for this 4GB memory set. Overall this is a great upgrade for your system and Kingston has a solid warranty program as well, helping to seal the deal and giving you confidence that your purchase was a sound one. This is the best and easiest upgrade path you can go and anyone who has a little patience can handle taking out the old memory and putting in the new.
Review Link: http://www.motherboards.org/reviews/hardware/1922_1.html
—
TechwareLabs has published a review of the 64GB Super Talent Luxio Flash Drive. Here's a clip from the review:
Quote: Today Dan Shannon takes a look at a flash drive with a little bit of class. Don't be fooled by its luxurious wood finish, this 64GB Luxio Flash Drive by Super Talent is here to do business. Join us as we take a look at how fast this monster can go, and see how it compares to other 64GB flash drives…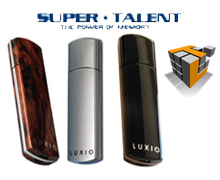 LINK: http://www.techwarelabs.com/64gb-super-talent-luxio-flash-drive/
—
TITLE: Sunbeam SATA-IDE-USB Adapter @ Benchmark Reviews
DESCRIPTION: If you have a lot of spare hard drives laying around that you want to see if they work and what they contain, but dont want to take the effort to install them in your desktop, Sunbeamtech has a solution for you. This device is also a perfect fit for an IT person to use as a data recovery tool. The device I am referring to is the SATA and IDE to USB Adapter. Benchmark Reviews is pleased to give you a closer look at this device, and just what we can expect from a tool like this. It boasts USB 2.0 high-speed tranfer rates, and the ability to access files on drives both 2.5″ and 3.5″ in size. So, if you are an IT professional, or just someone who has a lot of spare drives laying around that you want to see what is on them, check out this product from Sunbeamtech, and the review from Benchmark Reviews.
ARTICLE URL: http://benchmarkreviews.com/index.php?option=com_content&task=view&id=345&Itemid=58
—
Find the rest in our News Section HERE