For most people out there, today is their last day of work before the holiday weekend. Stay safe and be careful, I'll be working, nothing special planned here… So I'm sitting here, eagerly awaiting UPS to arrive to deliver the OCZ Neutrino DIY netbook, should be cool!
To start off the news, HardOCP has a long and in-depth review/article about Ghostbusters gameplay Performance and IQ.
—
Here's the rest:
Title: CoolIT Domino A.L.C Watercooling Kit Review @ Tech-Reviews.co.uk
Briefing: For true CPU cooling performance and silence, air cooling is not thought to be the solution. You need water cooling. It seems a scary concept – cooling your processor with water – which is why many enthusiasts steer clear of the idea. Moreover, it can be costly with an average kit easily topping the £100 mark.
Link: http://tech-reviews.co.uk/reviews/coolit-domino-a-l-c-water-cooling-kit/
—
PC World Advent AIO-101 reviewed @ ITReviewed
"The computer world has seen a big rise in the demand for all-in-one units, thanks largely to the stellar efforts of ASUS, Dell, and HP. Gone are the days of chunky grey boxes sitting under desks in the home or small office. And now with the AIO-101 we are really tapping in to the fact that more and more people want to use their PCs in their kitchens, living rooms and bedrooms. The AIO-101 is a million miles away from being the perfect computer, but it could be just the ticket for someone on a tight budget that's looking for a multi-functional and easy-to-use PC. Combining a range of modest-performing components wrapped up in a transportable package, the AIO-101 is a reasonable – if expensive – effort. The machine also beats most Atom-based systems hands down for performance. As long as you don't expect cutting-edge design or performance you shouldn't be disappointed. If it was my money, I'd look more closely at ASUS' Eee Top range (from £389/$484) or Dell's Studio One 19 (from £599/$699)."
http://itreviewed.net/index.php/pc-world-advent-aio-101/
—
Hardware Bistro has just posted latest review on Jetart MP2000 Multi-Functional Mouse Pad.
Quote: "Today we have another brand arrived on our doorstep; Jetart which sounds new to most of us but actually Jetart has been established since 1989 where computer cooling is their major line of business. MP2000 is our first review on Jetart product which is a multi-functional mousepad; a combination of USB 2.0 hub and a mouse pad; sound interesting right? Let's move on."
Read More:
http://hardwarebistro.com/index.php?option=com_simple_review&Itemid=84&review=104-Jetart-MP2000-Multi-Functional-Pad-Review
—
Title: Nexus TDD-9000 Liquid Cooling Pad Laptop Cooler Review @ Tech-Reviews.co.uk
Briefing: Today at Tech-Reviews we have the TDD-9000 Nexus Cooling Pad. There are many different types of cooling solutions for notebooks available and each claim to work wonders, but the Nexus Liquid Cooling Pad specifically claims of a whopping 17 Degree drop in laptop temperature (based on their own independent tests). It's now time to find out whether or not their claim is the result of an exaggerated marketing company or reality.
Link: http://tech-reviews.co.uk/reviews/nexus-tdd-9000-liquid-cooling-pad/
—
TechwareLabs has published a review of the NZXT Khaos Aluminum Full Tower Gaming Chassis.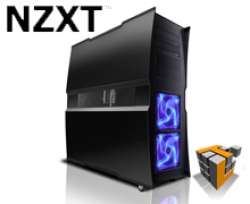 Here's a clip from the review:
Quote: When on the look out for a new case to out fit your rig, you may have a peek over at what NZXT is producing. NZXT is still a young company, only being established in 2004. However, they have produced a fairly decent sized list of computer chassis, some with a very unique design and look. With the NZXT Khaos at hand, one can only speculate as to what NZXT has in mind as a "unique" and "unparalleled design."
LINK: http://www.techwarelabs.com/nzxt-khaos-aluminum-full-tower/
—
Apple used to make all their computers based on the PowerPC Processors about a
decade ago. While doing that, they publicly made fun of Intel's supposedly
inferior CPUs and used to laugh about the integrated graphics performance of
Intel based notebooks.
Full Article:
http://www.tbreak.com/2009/07/apple-the-perfect-diva/
—
NEW CONTENT (Motherboards) – GIGABYTE MA790FXT-UD5P AM3 Motherboard
QUOTE: "AM3 has never looked so good. With support for both DDR2 and DDR3 on the same CPU, the possibilities with this platform are endless. We have already seen quite a few good boards come out, either supporting one or the other technology and some with both. But one thing remains constant; a good price and a pretty good performing board and CPU combo for the outlay.
Just recently we took a look at the little brother of today's candidate from GIGABYTE; this new one is based on DDR3 memory and the 790FX chipset. Coning in at 179.99 U.S. Dollars over at Newegg , it's a bit higher priced than most. But can it handle the pressure? Let's see how it goes."
For more information, please visit – http://www.tweaktown.com/reviews/2808/gigabyte_ma790fxt_ud5p_am3_motherboard/index.html
—
Tech Arkade has just published a review of the Spire TherMax II CPU Cooler.
Check it out here: http://techarkade.com/component/content/article/38-cooling/295-spire-thermax-ii-review.html
—
Nyko Metal Drum Pedal Review @ [OC]ModShop
What do you call a person who pretends to be a musician?
A drummer.
In all seriousness, not everyone can be as awesome as me while playing a little guitar controller for Rock Band or Guitar Hero. Thanks to Rock Band and Guitar Hero World Tour, those people can play the drums. Playing these toy drums feel more like playing real instruments than the little guitar controllers. Until the cheap foot pedal breaks, reminding you just how much of a toy these thing can be.
If you need a better replacement foot pedal or just want to pretend to be Lars Ulrich (of Metallica fame), then you might consider getting a new drum pedal for your musical gaming rig.
Review URL ::
http://www.ocmodshop.com/ocmodshop.aspx?a=1601
—
Title: Thermaltake DH101 HTPC Case Review at Overclockers Online
Link: http://www.overclockersonline.net/?page=articles&num=2921
Quote: PC's have been creeping into our living rooms for many years now.
Recently there is a larger push for smaller form factor machines, but often with
a smaller machine your options are limited. The DH101 is a full size HTPC case
that is stylish and provides a wide range of options for hardware. The piano
black and silver finish should blend with most entertainment centers. With the
included Media Labs LCD and remote control you can easily view your media files
from the comfort of your couch.
—
Title: Corsair CX400W Power Supply Review
Link: http://www.hardwaresecrets.com/article/750
Category: Reviews
Summary:
CX400W is the simplest power supply offered by Corsair. Is it a good product? Let's see.
Here is a snippet:
"CX400W is the simplest power supply offered by Corsair, featuring active PFC, a 120-mm fan on its bottom, single-rail design and costing only around USD 50. Is it a good product? Let's see."
—
OCIA.net has posted their review of the Kingwin XT-1264 HTC Cooler.
Below is a direct quote from the review:
"New for 2009, Kingwin has replaced the RVT-12025 with a newer, updated tower cooler dubbed the XT-1264. Both models retain their machined individual copper heatpipe base with aluminum fin configuration coupled with a 120mm fan. The new cooler design is a few millimeters shorter than the old RVT but nearly 2½cm thicker for increased fin surface area. Heatpipe count has been increased from three to four for better performance and heat dissipation. Support for Intel's socket 1366 is also added."
Direct Link: http://www.ocia.net/reviews/kingwinxt1264/page1.shtml
—
Titel: Xigmatek Midgard
Text:
Xigmatek, bekannt für ihre leistungsstarken CPU-Kühler, haben seit zwei Jahren ihr Angebot um GPU-Kühler, Lüfter und effiziente Netzteile erweitert. Jetzt versucht man im Gehäuse-Segment Fuß zu fassen. Das Midgard ist ihr Erstlingswerk und soll mit einer Vielzahl von Features und einem ansprechenden Preis Kunden gewinnen. Wie sich das Midgard schlägt, erfahrt ihr auf den folgenden Seiten.
URL: http://www.dexgo.com/index.php?site=artikel/view.php&rubrik=Hardware&id=395
English translated by Babel Fish: http://babelfish.altavista.com/babelfish/trurl_pagecontent?lp=de_en&url=http%3A%2F%2Fwww.dexgo.com%2Findex.php%3Fsite%3Dartikel%2Fview.php%26rubrik%3DHardware%26id%3D395
English translated by Google: http://translate.google.com/translate?u=http%3A%2F%2Fwww.dexgo.com%2Findex.php%3Fsite%3Dartikel%2Fview.php%26rubrik%3DHardware%26id%3D395&sl=de&tl=en&hl=de&ie=UTF-8
–Yeah it's in another languge, hit the translation link to read it..
That's it…
Be sure to check out the Press Releases and the Main Site as well and maybe even hop over to the forums!