Hello all, Happy Sunday, it's anew week and it's time for the news! Fist off let me remind you we're doing a giveaway over on our Facebook page, you can find details about it HERE.  That's running until October 10th, so you've got plenty of time to get in on that one. I've got a computer from HP here for review, along with the Seagate 3tb GoFlex drive and a couple games and some other stuff. Let's just get into the news..
Storage related:

Corsair F40 SSD Review – 40 GB as a bargain
Teaser: With the Corsair F40 from the Force Series customers will also come with a very tight budget to enjoy a SSD. Is it worth it?
Link:
Kiwi U-Powered Solar & USB Portable Charger Review @ ThinkComputers.org
Review URL:
Thermaltake Massive23 LX Notebook Cooler
Quote: " When it comes to notebook coolers, most manufacturers stick to the smaller sizes of notebooks. They rarely expand their range to support notebooks larger than 15.6 inch models. Those with larger laptops are usually left out in the cold. They are forced to either stick with whatever internal cooling system their laptops have or come up with DIY solutions. Thermaltake sees the market for full-size notebook coolers. The Massive23 LX targets this market. "
Link: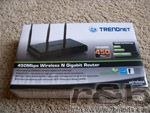 Trendnet TEW-691GR Router:
English link: 
HP Invites us to the Indy Car Race in Homestead Miami @ TechwareLabs
Quote: When fast cars need to get faster engineers turn to manufacturers like HP and get equipped with the latest in high performance computing. The result. . . a 220MPH race car with real time telemetry recording data from over 100 sensors. Take a ride with us as we look at just how the engineers at Luczo Dragon Racing team are using this technology.
LINK: http://www.techwarelabs.com/hp-invites-us-to-the-indy-car-race-in-homestead-miami/
==
HotHardware Video Podcast – October 1, 2010
http://hothardware.com/News/HotHardware-Video-Podcast–October-1-2010/
We're back for the latest installment of our weekly video podcast. In this episode, we talk about Zotac's sleek, new, Blu-Ray equipped ZBox nettop, malware riddled GPUs (not really!), the OCZ IBIS high-performance solid state drive, and RIM's upcoming Blackberry Playbook tablet. We also take a couple of reader questions, talk about Valve's upcoming DLC for L4D1 and L4D2, hint at new contest and more…
==
Gigabyte GOOC2010 World Final
After the several regional qualifiers it was time to put the best 15 overclockers head to head for the ultimate showdown. After USA Fugger from XS had won in 2009, who will be crowned as to be the best Gigabyte World Champion in 2010 ? Due to the qualification of our beloved Massman, apparently known as Tom Cruise in Taiwan, I was allowed to accompany him as Press for this OC event in Taipei. After packing my bags I was off on a 10K journey to the mother of all hardware places, Taipei in Taiwan.
http://www.madshrimps.be/gotoartik.php?articID=1076==
==
SimpliSafe Security System Review @ DIY-Guides
Quote:  Today for review I've got a great product to help protect you and yours from a company called SimpliSafe. It's an alarm system yes, but it's unique in that it doesn't use phone lines but cellular signals, so someone can't cut the line when it tries to call for help. The system is made to be portable and you own it, you don't rent it like you do with some other security companies. One of the best features about this system is the price, actually two prices. You'll pay for the system, it's relatively inexpensive and you own it forever, but if you want police dispatch you'll need to pay as monthly fee as well that's only $14.99.  That price is well below what other companies charge on a monthly basis. SimpliSiafe sent me over what they call their Apartment Security System, but it of course can be used for your home as well, so let's get into this already…
Link: http://www.diy-guides.com/review-of-simplisafe-security-system/
==
Nvidia's GPU Technology Conference @ ThinkComputers.org
Article URL: http://www.thinkcomputers.org/nvidias-gpu-technology-conference/
Quote: "During this last week, I recently was lucky enough to attend a Nvidia's GPU Technology Conference, which I'll hereafter refer to as GTC. GTC was focused primarily on Programming Nvidia's GPU processors that are installed in several lines of their video cards. The most common & recognized by many is the GeForce line of graphic cards, made more for the average consumers & game enthusiasts. The next line of cards discussed at GTC was the Quadro cards, with more of a tool for visualization industry, including design and animation. The final card discussed at their show was the Tesla cards, made specifically for parallel computing and to take advantage of the many cores prevalent in the GPU processor architecture."
==
How To Access Your Computer Anywhere With Remote Desktop @ TechwareLabs
Quote: What do you do if you need to access a document on your home machine while you're out on the road? You simply remote into it. This guide shows you how to set up Remote Desktop on your home computer so you can access your files from anywhere in the world.
LINK: http://www.techwarelabs.com/how-to-access-your-computer-anywhere-with-remote-desktop/
==
Gaming Related:
FIFA Soccer 11 (PC) Game Review on Technic3D.
Corsair's HS1 gaming headset @ Tech Report
Civilization V (PC) @ GamingHeaven.com
Logitech G930 Wireless Gaming Headset
Civilization V GPU & CPU Performance In-depth
Psyko Audio 5.1 Gaming Headset @ Techgage
CM Storm Inferno Gaming-Mouse Review @ TecCentral.de
Ozone Ground Level XT Gaming Pad Review @ Tech-Reviews.co.uk
Arctic Cooling Arctic M551 Laser Gaming Mouse Review @ ThinkComputers.org
Mionix Naos 3200 Gaming Mouse @ PureOverclock
Pro Evolution Soccer 2011 (PC) Game Review on Technic3D.
Psyko 5.1 Gaming Headset @ PureOverclock
Quick Links:
Gigabyte 'SOC' Exclusive GTX480/470 @ Vortez.co.uk
XFX Pro Series 650W Power Supply Review @ KitGuru
Wall Street Blu-ray Movie Review
Overclockers.com – Corsair Hydro Series H50: Is It High-End Air?
Corsair A70 CPU Cooler Review on Technic3D
Neuigkeiten auf DeXgo | Scythe Rasetsu
NZXT Phantom Black E-ATX Full Tower Case Review @ Legit Reviews
AMD Athlon X2 II 265 Processor/CPU @ TechwareLabs
Quick Review: NZXT Sleeved LED Kit
ASUS GeForce GTX 480 Video Card @ Benchmark Reviews
Zalman ZM-SF3 120mm Ultra Quiet Case Fan
ASRock X58 Extreme6 and Intel Core i7-970 Review @ HardwareHeaven.com
Thermaltake Toughpower XT 875W @ PureOverclock
GIGABYTE GO OC 2010 World Wide Final in Taipei
Lian Li PC-X2000F Case Review @ Hardware Secrets
Silverstone LC19 Case Review at Overclockers Online
Asus Matrix 5870 2GB Video Card Review @ HotHardware.com
MSI N460GTX HAWK GeForce GTX 460 @ Benchmark Reviews
AMD Phenom-II X2-560BE Processor @ Benchmark Reviews
AMD Athlon-II X4-645 Processor @ Benchmark Reviews
AMD Phenom-II X6-1075T Processor @ Benchmark Reviews
Corsair Obsidian 700D Full-Tower Case @ Benchmark Reviews
NZXT HALE90 750W Power Supply Review @ ThinkComputers.org
Corsair A70 Performance CPU Cooler Review @ ThinkComputers.org
Seasonic X-Series 460 W review @planet3dnow.de
ASUS Crosshair IV Extreme @ Vortez.co.uk
Arctic Cooling Freezer 13 Review
Thermaltake Level 10 Case Review
Gorgeous Gigabyte Keyboard set to sell, Aivia!
VisionTek Radeon HD 5550 1GB PCIe @ reviewstash.com
EVGA GTS450 Superoverclocked @ Hardware Bistro
Panasonic Toughbook S9 is world's lightest, ruggedest ultra-portable
Gigabyte GeForce GTS 450 Video Card Review @ Ninjalane
Cooler Master HAF 912 ATX Mid Tower Case at Modders-Inc
Bigfoot Networks Killer 2100 @ LanOC Reviews
OC3D: Asus Crosshair IV Extreme
Thermaltake BlacX 5G HDD Dock Review @ OCIA.net
ASRock 870iCafe Motherboard @ Hardware Secrets
LC-Power LC1000 Legion X2 1000W @planet3dnow.de
Cooler Master HAF 912 Plus Case Review @ HardwareHeaven.com
NVIDIA GeForce GTS 450 SLI versus ATI Radeon HD 5770 CrossFire @ Legit Reviews
Shuttle XS 3510MA ION2 mini-pc
News: Asus' N82Jv 14-inch notebook
Corsair Air Series A50 Performance CPU Cooler
ASRock 870iCafe AM3 Motherboard @ Pro-Clockers
NVIDIA GeForce GTS 450 – The Super-Affordable Fermi @ Techgage