Crazy week, tons of emails, mostly junk, this just got lost in the mix. Here it is now though, the new products just added to our main site. We've got a nice mix of products this week, so check it out…
Let's start it off with a memory card:

The Lexar 64GB SDXC Card is the latest SDXC card that can store as much as 64GB of data consisting of videos and photos. It comes with a 133X speed rating. This SDXC card can read and write data at 20MB/sec. It is best suited for the high-definition video cameras. It can safely store both photos and videos. Devices that are compatible with the latest version of the SecureDigital storage standard can use the 64GB GB SDXC Card from Lexar.
https://technogog.com/memory-cards/lexar-64gb-sdxc-card/
===
How about a couple GPS Devices: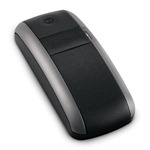 The Garmin GTU 10 is a GPS locator that supports web-based Garmin Tracker™ service for computers, smartphones and compatible Garmin nüLink devices. Designed in a 3"x1.3"x.8" form factor that weighs 1.7 oz, the Garmin GTU 10 is a waterproof device that can attached to a backpack, dog collar or anything that needs to be tracked with its carabiner clip and pouch. Users are required to register their GTU 10 at my.Garmin.com to enable the tracking service, then have tracking data delivered across AT&T's wireless network. Users can then manage their GTU 10 and map its location through a computer, or via their mobile phone with a downloadable Garmin Tracker™ application to see the location of GTU 10 and how it relates to their current location. The device is also compatible with Garmin nüLink and can automatically route users to the GTU 10's location with turn-by-turn directions.
https://technogog.com/gps-navigation-devices/garmin-gtu-10/
The Garmin dezl 560LT is a GPS device that is designed in a 5.4" x 3.3" x .6" (13.7 x 8.3 x 1.5 cm) form factor that houses a 5.0" diag (12.7 cm) WQVGA color TFT with white backlight technology display that supports 480 x 272 pixels resolution. Weighing 6.8 ounces (192.0 g), the Garmin dezl 560LT is powered by a rechargeable lithium-ion battery that provides up to 4 hours of battery life. The unit also features a high-sensitivity receiver, basemap support, preloaded street maps, ability to add maps, internal solid state memory, memory expandability via microSD™ card (not included), up to 1000 waypoints/favorites/locations, 15 routes, and features voice prompts, speaks street names, lane assist, trafficTrends™, myTrends™, auto sort multiple destinations, auto re-route, choice of route setup, route avoidance, Bluetooth® technology, is FM traffic compatible and has a speed limit indicator (displays speed limit for most major roads in the U.S. and Europe). The Garmin dezl 560LT also features Where Am I? technology, Garmin Locate™, ecoRoute™, a Qwerty or ABC keyboard, custom POIs, is Garmin Garage™ vehicles compatible, is Garmin Garage™ voices compatible, photo navigation, a world travel clock, currency & unit converter, calculator, picture viewer, Garmin Lock™, touch screen, and is a USB mass storage device that is compatible with Windows® XP or newer and Mac® OS X 10.4 or later. The unit is also trucking-friendly.
https://technogog.com/gps-navigation-devices/garmin-dezl-560lt/
Next us is a monitor:
The Dell ST2220T is a 21.5 inch IPS (active matrix –TFT LCD) monitor that supports a maximum resolution of 1920 x 1080 at 60 Hz, 1000 : 1 (typical)/50,000:1 (dynamic) contrast ratio, 250 cd/m2 (typical) brightness, 8ms (gray-to-gray) with overdrive response time, 14ms (gray-to-gray) without overdrive, 178° vertical / 178° horizontal viewing angle, 82%2 (CIE1976) / 72% (CIE1931) color gamut, 16.7 million color depth and 0.248 mm pixel pitch. It employs touch screen technology, and can be navigated with a finger, stylus or pointer. The monitor also supports connectivity options such as DVI-D (HDCP), VGA, HDMI, three USB 2.0 downstream port and one USB 2.0 upstream port. The Dell ST2220T measures 20.79" x 2.3" x 14.96" and weighs 13.9lbs with cables. It comes with a power cable, audio cable, VGA cable, DVI cable (optional), USB upstream cable, documentation (Safety information, Quick Start Guide and CD) and cleaning cloth.
https://technogog.com/monitors/dell-st2220t/
We'll follow that with a TV: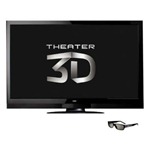 The Vizio XVT3D476SV is a Theater 3D HDTV that was announced in January 2011. This model forms part of Vizio's new VIA Plus line that has Google TV and VIA Phone and VIA Tablet compatibility. With a 47-inch display screen, this TV enables access to Vizio's Internet Apps platform. It comes with the SRS Studio Sound technology. It has other features as well that comes from Vizio including Netflix, Facebook, Amazon Video on Demand, and Yahoo! TV Widgets. It comes with Google TV functionality. This HDTV from Vizio supports an array of 3D formats. It is compatible to be used with Oakley's "optically correct" specs.
https://technogog.com/televisions/vizio-xvt3d476sv/
Here's something new in the iPad Accessories category:
The iHome iDM70 that comes with a protective 'sound sleeve' case and stand and features built-in rechargeable stereo speakers. Compatible with an iPad, the iDM70 comes with a iPad case, protective silicone sleeve and six-position stand. The built-in rechargeable flat NXT™ stereo speakers allows users to listen to music wherever they go, and is designed in a low profile and reduces the need to carry any additional hardware.
https://technogog.com/ipad-accessories/ihome-idm70/
Then how about a couple digital cameras: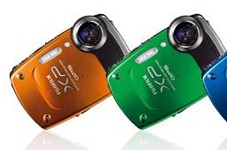 The Fujifilm FinePix XP30 is a digital camera that was announced at CES 20101 in January 2011. This camera comes with a 5x wide-angle zoom lens and features a resolution of 14 megapixels. It is equipped with an array of features just for taking pictures. The Fujifilm FinePix XP30 digital camera is the first camera around to come with GPS GEO-TAGGING. The latest FinePix camera also features the Motion Panorama Mode, Movie Editing Mode and Blog mode, Scene Recognition Auto (SR AUTO), Face Detection and Automatic Red-eye Removal. It is designed in a rugged build quality. Powered by a Li-ion rechargeable battery, the Fujifilm FinePix XP30 is available in black, green and orange. Releasing in March 2011, the Fujifilm FinePix XP30 comes with an accessory kit consisting of an adjustable float strap, protective silicone skin and a neoprene sports case.
https://technogog.com/digitalcameras/fujifilm-finepix-xp30/
The Rollei Powerflex 3D is a point-and-shoot digital camera powered by two 1/2.5" CMOS image sensors that provides users with 3D still images at a maximum resolution of 2592 x 1944. It also has the capability to record videos in HD (1280 x 720) at 30 frames per second, and features a 2.8" LCD display with a resolution of 640 x 480 pixels. Users can view three dimensional images without the need for special 3D glasses as the camera is equipped with the special Parallax barrier display technology. The Rollei Powerflex 3D is slated for release in January 2011.
https://technogog.com/digitalcameras/rollei-powerflex-3d/
and then a nice new cellphone:
The Motorola Cliq 2 is a mobile phone similar to its predecessor, the Motorola Cliq albeit a redesigned keyboard. It is also designed with a bezel around the screen that is shinier, and is powered by Motorola's MotoBlur user interface.
https://technogog.com/cellphones/motorola-cliq-2/
and lastly a laptop:
The Lenovo ThinkPad X120e is an entry level business ultraportable notebook that works on the new AMD Fusion platform. It features an 11-inch display screen. It features Wi-Fi and comes with optional Bluetooth and mobile broadband connections. It comes with a full sized keyboard. Packing an AMD Fusion E-Series APU, this notebook can present 65 percent faster graphics performance to consumers. This ultraportable notebook weighs less than three pounds. This notebook is powered by a battery that can last for more than six hours. The Lenovo ThinkPad X120e ultraportable notebook is targeted for business users.