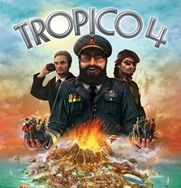 So we're starting the weekly Steam game giveaway here at technogog. I have over twenty five games to giveaway to our readers. I wasn't sure where to start with so many to pick from, but since Tropico 5 just launched the other day I thought why not start the weekly giveaways off with Tropico 4 Steam Special Edition. Details are below for you…
Tropico 4: Steam Special Edition
Special Edition
…includes an exclusive island (Isla Nublar) and El Presidente avatar costume (Luchador) and 50 Steam achievements. El Presidente is back to rule it all!
About game:
The world is changing and Tropico is moving with the times – geographical powers rise and fall and the world market is dominated by new players with new demands and offers – and you, as El Presidente, face a whole new set of challenges. If you are to triumph over your naysayers you will need to gain as much support from your people as possible. Your decisions will shape the future of your nation, and more importantly, the size of your off-shore bank account.
Tropico 4 expands on the gameplay of the previous game with new political additions ~ including more superpowers to negotiate with, along with the ability to elect ministers into power to help get your more controversial policies passed. But remember to keep your friends close and your enemies closer as everyone has an agenda! Your political mettle will be thoroughly tested, as new natural disasters will have the populace clamoring for you and your cabinet to help them recover from some of the worst Mother Nature can dish out.
Tropico 4 also brings a new level of social interaction with the addition of Facebook and Twitter integration. Post comments on Twitter direct from the game and have updates go out when you complete missions or unlock new achievements. You can even take screenshots of your burgeoning island and post your dream creation on your Tropico 4 Facebook page and compare your interactive Dictator Ranking on the online leaderboards.
Steam game link for more information: http://store.steampowered.com/app/57690/
Contest will run from Sunday to Saturday at 11:59pm and winner will be announced on Sunday and code will be sent then to the winners registered email address.
Contest is run using Rafflecopter. The Rafflecopter system will choose the winner at random from all of the entries when contest ends.
There are four things you can do to win.Two are mandatory and two are not, they're so you can get extra entries.
Mandatory: Like us on Facebook and Follow us on Twitter
Optional: Tweet about the contest and/or comment on a blog post.
This is a Steam game code so you must have Steam installed or you'll need to install it.