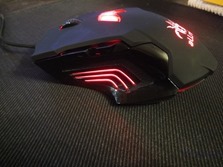 I've got another gaming mouse for review today from our friend at Allreli and it's a laser gaming mouse that has a unique look to it with plenty of LEDs making it fairly bright. It's a gaming mouse so it does have customization options like programmable buttons and the ability to create macros, change the DPI and even have separate profiles. It's not a bad mouse overall, but it does have some small issues. Rad on to learn more…
Specifications and Features
The USB cable is braided for durability, it's about five feet long and it ends with as gold plated USB connection.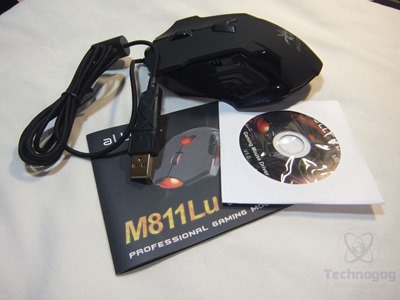 The mouse is black in color with some parts glossy and other parts a dull black as they're coated in a rubberized finish. The allreli logo is on the back of the mouse and will light up with the mouse is powered on. The mouse has a weird shape to it, it's flared out on the back end and I found I didn't like it, it took about a week for me to get accustomed to it as it seemed to get in the way as it sticks out.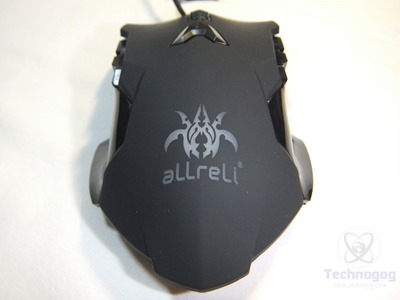 The top of the mouse has the standard right and left click button and the scroll wheel and behind it is a rather large arrowhead shaped button which is used to change the DPI. The right and left sides of the mouse look the same with a textured grip and two buttons at the top of the sides. The mouse is a medium weight I would think, at least it feel that way to me, it's not light but it's not very heavy either and there' no way to adjust the weight either, but it seems fine to me. It does feel well made and it looks nice, very gaming looking for sure. It reminds me of some sort of alien technology really.
On the bottom you'll find four telfon feet along with the laser sensor and ID label.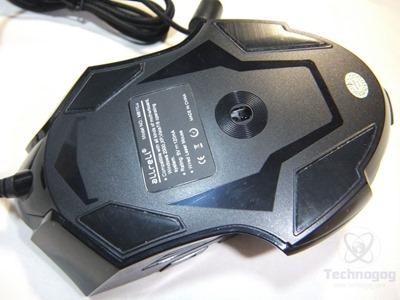 To get the most out of this gaming mouse you'll need to install the software which is fairly basic but it has options for changing the PDI settings, mouse sensitivity, programming the buttons including macros and you can change the lighting from solid to a breathing mode. When you go to program the buttons there is a large drop down menu with all your choices but there is none for disable sadly.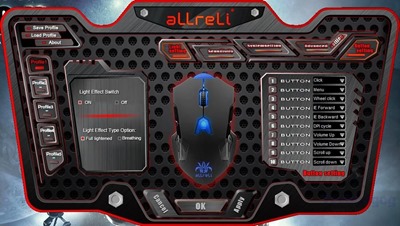 The mouse is very attractive when lit up, there are lights in the front, scroll wheel, DPI button, logo, sides and on the back. All in all it makes for a nice presentation.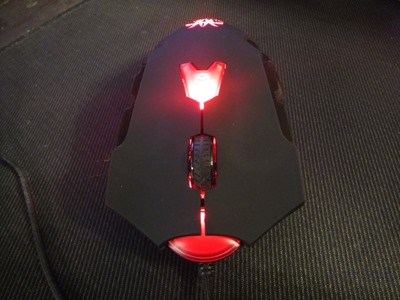 The mouse tracks very well, no complaints there, I used it for gaming and for regular uses. all was fine.
The DPI settings I don't care for in that the way you know it's changed is the mouse changes color and you'll need to basically memorize the DPI settings and the corresponding colors. Sure after you use it for a while you might remember but considering there are five profiles with six mouse settings each that's a lot to memorize, things would be easier with just a single LED display letting you know the DPI, or even just dots or dash LEDs like some mice have to indicate the DPI level.
I also don't like the right side buttons and the fact that you can't disable them. At default they're set to volume up and down and I seem to always be hitting them accidentally and it get annoying having to adjust the volume all the time.
The next small issue is the scroll wheel or actually the scroll wheel button as it's a button too and it's just just overly sensitive, I find myself going to scroll and end up hitting the button often.
Conclusion
The Allreli gaming mouse isn't bad a choice, I would call it a basic gaming mouse, it does offer plenty of options but not all the things you'd expect to find especially a way to adjust the weight, still it's not bad overall. The mouse does look nice, very game looking for sure and it's very bright with plenty of LEDs, a flashy mouse for sure which I don't mind.
There are some issue with it but they're not exactly deal breakers in terms of using it, it does take some time to get accustomed to because of the shape though. The right side buttons can be very annoying as they can be pressed easily by accident, I wish there was a way to disable them. The scroll wheel button is also very sensitive, you can easily activate it just by going to scroll.

Pros:
+Inexpensive
+Nicely made
+Bright with lots of lighting
+Numerous choices for button programming
+Accurate tracking
+Aesthetically pleasing
Cons:
-Scroll button too sensitive
-Right side buttons easily pressed accidentally
-Can't disable buttons
-Must memorize numerous colors for DPI settings
-Flare at back can't interfere with fingers at first
-Takes a bit to get accustomed to
| | |
| --- | --- |
| Grading | Scores Out of 10 |
| Overall | |
| Design / Aesthetic | |
| Value / Price | |
| Performance / Usage | |
Disclosure: This product was given to us for review by the company for review purposes only, and is not considered by us as payment for the review.
To learn more about our review policy please visit this page HERE.