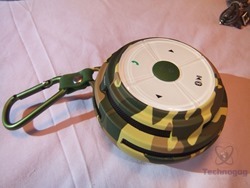 I get all kinds of mobile accessories for review and most of them are just more of the same, but every once in a while I run across on that stands out from the crowd like what I have today for review does. The Arespakr AS100 Bluetooth speaker is wireless speaker yes, but it also has a microSD slot that turns it into a basic MP3 player. The AS100 also comes with a 3.5mm cable so it can be used with non-Bluetooth devices and it can be used as a speakerphone if need be. All that aside, the speaker itself is very well made, it's durable and seems rugged and it sounds good and it can get very loud. Read on to learn more…
Unboxing
Let's start off with a video unboxing and then continue on from there:
They say first impressions are everything and I have to say the packaging for the Arespark AS100 speaker is very nice. It's essentially a thick and heavy duty plastic container and inside you'll see rubber bumpers on the top and bottom of the speaker to protect it during shipping. You can see the speaker through the cover but there's a bottom section under it that you can't see where the accessories are.
Once you get everything unpacked you'll find the speaker, carabineer, user guide and two USB cable. One USB cable has a microUSB connection on the end to charge the AS100. The other USB cable has a 3.5mm audio jack on it, this is use dot connect non Bluetooth devices to the AS100.
On the top is the control panel where you'll see a phone icon along with arrows for skipping tracks and volume controls. The bottom button is for Bluetooth pairing mode and for play and pause. The center green button is the power button and for switching modes.
One of the first things you'll notice when you pick up the AS100 is the weight of it, it's very heavy when compared to how small it is, it not look as heavy as it feel for sure.  The AS 100 is 2.95 inches x 4.13 inches x 4.13 inches and weighs about 12 ounces. It feels very solidly made and should be rugged and durable. The speaker itself is covered with a metal mesh screen to protect it and all around the casing are openings for the sound to come out, it offers a 360 degree sound field.

On the side is a thick rubber tab that's used for the included carabineer so you can hang it off your pack.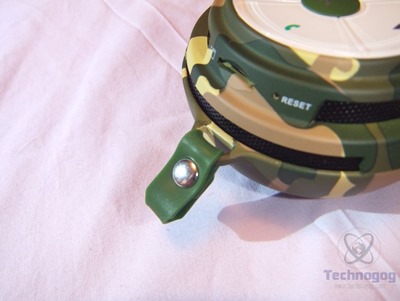 Also on the side you'll find the microSD slot as you can use the AS100 as a basic mp3 player and there's also a reset button there in case something goes wrong.
The microUSB slot is behind a rubber door to keep weather and dust out. The USB port is used for charging but it's also used as an auxiliary audio input for use with non-Bluetooth devices.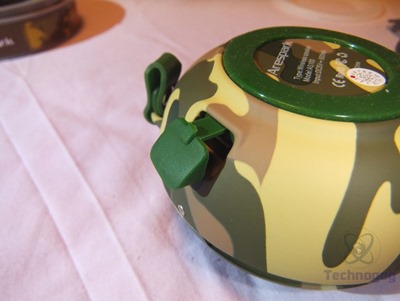 The bottom of the speaker just has some info and a rubber non-slip ring to keep the speaker where you put it. You can put it on the dashboard of your car and it should stay and not slide around for example.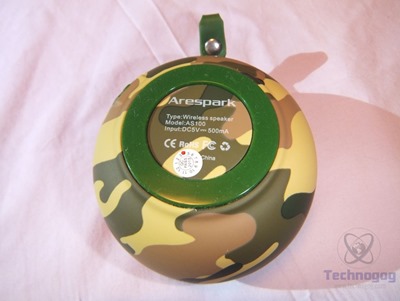 Specifications and Features
Arespark AS100 Bluetooth Speaker
The Arespark AS100 Bluetooth speaker offers great quality sound with enhanced bass sound. With the ultra-compact size and free strong carabineer, it can be easily fitted into a backpack, suitcase, or a travel bag. This speaker is strong enough to fill up a kitchen, living room, or classroom. It is ideal for personal usage, indoor party, outdoor BBQ or picnic with friends and family. Special color and camouflage pattern design, particularly striking.
Easy pairing, compatible with all Bluetooth-enabled devices (2.1 and over).
Built-in 600 mAh rechargeable battery lasts up to 7 hours.
Connect any non-Bluetooth device via a 3.5mm port.
Built-in Mp3 player included, it could automatically play the music with a stand-alone Micro SD card.
Small and compact, Soft touch.
Warranty: 12 months warranty
Product Dimensions: 2.95 inches x 4.13 inches x 4.13 inches ; 12.8 ounces
Price: $30.99  (from Amazon at time of review)
The Review
The first thing I did was charge the AS100 with the included USB cable, simple to do just plug it into your computers USB port and let it charge. The LED on the top lights up red to let you know it's charging. There is no battery level indicator to let you know the charge level, but it seemed to have a charge already as it didn't take long for charging to complete, maybe an hour.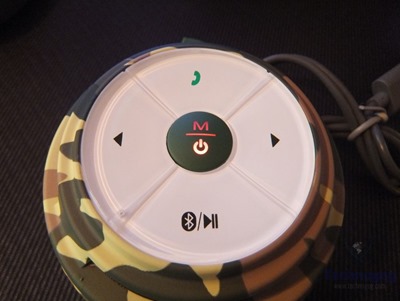 The included carabineer just clips into the rubber tab on the side of the AS100 and it should hold the speaker well as the tab seems durable. This is great for just hanging it off of your pack while your hiking and having some traveling music for the trip.
When powered on and ready to be used the LED lights up blue and blinks for pairing mode and it has audible tones.
Usage:
For Bluetooth testing I used the Arespark AS100 with my PS Vita and HTC One M7 Android phone.
It paired with no issues to both devices, quickly and easily.
The controls on the AS100 worked correctly to control the music on my phone, I could play and pause and skip tracks and of course you can also use it as a speakerphone.
Sound Quality:
The sound quality is very good, yes it's not stereo sound but it still sound very good. I played several different types of music and all were clear and sounds very good.
Using it with the PS Vita really enhanced the gameplay, the enhanced bass really added to the gameplay.
One of the first things you'll notice about this speaker is that it can get very loud, I was truly surprised by the volume that comes from this little speaker. It's just amazing that such a small speaker can produce so much volume.
There are noticeable highs and lows and the sound is clear except for very high volume where it does get slightly distorted, but this is the way of most all small speakers like these.
There is a lot of bass that comes out of this little speaker, I could feel the vibrations through my desk actually, and there is little to no distortion at high volumes with the heavy bass.
I guess I have to clarify that as I seem to have contradicted myself there is those to sentences. What I mean is that at max volume there is slight distortion, but the bass isn't the reason for the distortion. Lots of little speakers like this will get distorted from the heavy bass itself, but this one really doesn't. It's more of the combination of the everything where the distortion comes in at max volume. You can play bass heavy music and it will be clear, unlike some speakers where the heavy bass is the cause of the distortion. I hope that clears things up.
MP3 Player
One of the bonus features about the AS100 is the ability to be a stand alone mp3 player thanks to the microSD slot.
Yes it's a very basic player, no display or anything like that but you can play and pause and skip tracks.
I loaded up some songs on a microSD card and popped it in and it recognized it and worked just fine.
Since there is no way to tell or search for what music is on the card, the best thing to do would be to just put the songs you want on the card so you know what's there.
It does work fine as an mp3 player and I think it's nice option to have, you can load it up and just go and have your music and not  worry about pairing Bluetooth or anything like that.
Conclusion
In my time I've owned and reviewed a lot of Bluetooth speakers and most are just that, a speaker and that's it. The Arespark AS100 goes one step further to even add more value and functionality by letting you use a microSD card so you can use it as a basic MP3 player.
The unit itself is very well made, it seems durable and rugged and the actual speaker inside is very well protected so you can toss it around, toss it in your bag and it should be safe from damage.
For what it is I like it very much, and I can easily recommend it if you're in the market for something like this, it's well worth the cost in my opinion.
Pros:
+Very well made
+Decent battery life
+Decent sound
+Simple to use
+3.5mm auxiliary cable included
+Mp3 player via microSD
+Very loud
Cons:
-Very slight distortion at max volume
| | |
| --- | --- |
| Grading | Scores Out of 10 |
| Overall | |
| Design / Aesthetic | |
| Value / Price | |
| Performance / Usage | |
Disclosure: This product was given to us for review by the company for review purposes only, and is not considered by us as payment for the review.
To learn more about our review policy please visit this page HERE.