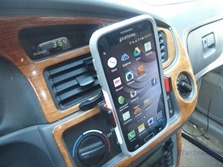 We take our phones everywhere and in our cars we need some way to mount them and keep the safe. Today for review I've got the Haweel universal air vent car mount which can hold most phones available today safely and securely while you're traveling. The mount can be rotated to landscape or portrait mode making viewing easier for the driver. Read on to learn more…

Specifications and Features
Car Mount, HAWEEL Universal Smartphone Air Vent Car Mount Holder Cradle for iPhone 6 6+ 5 5S 5C 4 4S Samsung Galaxy S5 S4 S3 Note 3,Google Nexus 5/4 and all Smartphones in Black+Red
The HAWEEL Air Vent Car Mount is reliable, simple and highly user-friendly, featuring an effortless use, assembly and installation process. Simply attach the Air Vent Car Mount to the air vent of your vehicle and rest assured knowing that your phone will be usable and viewable while driving. And don't worry about your phone falling out over rough terrain – the spring-loaded, strong-hold jaw allows you to hold devices up to 3.1 inches in width safely and securely.
Stretchable clamp can hold from 2.15″ to 3.35″ ( 55mm-85mm) width, Fits many kinds of phones with 3.5 to 5.5 inch screens (Including the latest Galaxy Note 4)
Full 360 degree rotatable, can be mounted with any thick or thin protective cases on it
Can be tilted to create optimal angle at eye level view
Easy mount using Push in Technology,Single-handed operation,No more hassle putting your phone or device on the mount
Portable and Lightweight design, one-touch system allows user to mount or remove device easily with one hand.
Dimensions:
Weight: 4.0 oz (113 g)
The actual wide:56-88mm(1.96inch-5.5inch), the wide can be adjusted.
Price: $7.99 (from Amazon at time of review)
The Review
The Haweel car mount comes in a small box and the parts are in a plastic bag with a warranty card in the box.
The mount doesn't come assembled, you'll need to assemble it yourself and sadly there are no instructions. The is a flat spring loaded section that is the lock that attaches to the air vent, the main spring loaded mount and the bottom section or the feet.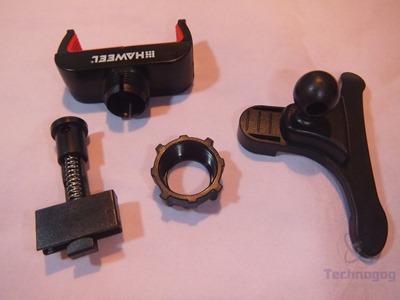 You have to attach the main mount to the base by slipping the nut over the ball joint and then attaching the spring mount to the by tightening the screw nut.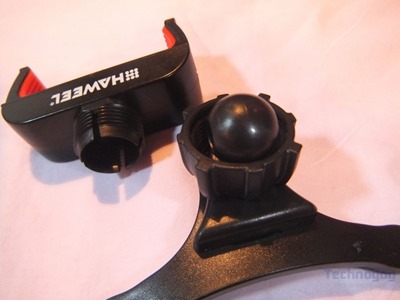 Once the mount is assembled you can use it, it took a few tries for me to figure out how to use it without instructions but I got it.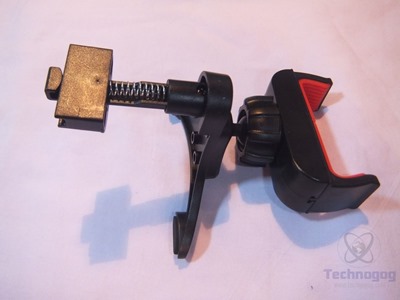 The mount section is spring loaded and separates with slight force. The inner surface is padded with a non-slip rubber to make sure your phone stays in place. The spring is more than strong enough to hold your phone in place.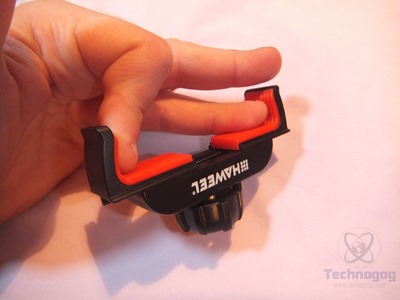 The spring section of the mount clips onto your air vent, you have to pull the spring loaded lock back and then attach it to the vent and let go on the lock to secure the mount to your vent. The bottom section with two feet just rests freely.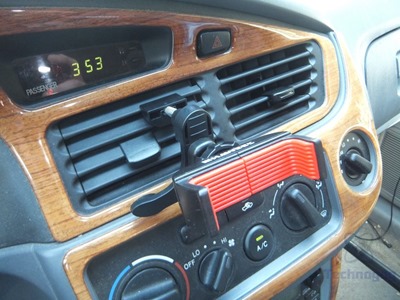 When you attach your phone the weight of it pushes the mount feet down and essentially gravity and the weight of the phone holds it stable.

The phone mount section can be moved and locked into place at an angle you like so you can turn it to face your position so you can see it better like for example if you were using it for GPS navigation. You can also rotate the mount to either landscape or portrait and it will stay secure.
Conclusion
The Haweel car mount is decent, it's unique looking and it does hold your phone well and safely.
I've got a large phone, the Samsung Galaxy S6 and it was fine in the mount, so most any other phone should be fine.
The lack of instructions was annoying for sure, but I figured it out but then I am accustomed to gadgets like these, but someone who isn't might have a problem getting it all put together and installing it correctly.
Pros:
+Holds phone secure
+Well made mount overall
+Simple installation
Cons:
-No instructions
-Must be assembled
| | |
| --- | --- |
| Grading | Scores Out of 10 |
| Overall | |
| Design / Aesthetic | |
| Value / Price | |
| Performance / Usage | |

Disclosure: This product was given to us for review by the company for review purposes only, and is not considered by us as payment for the review.
To learn more about our review policy please visit this page HERE.