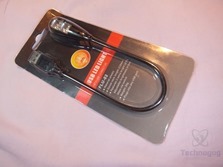 It's been a while since I reviewed any USB gadgets I think so it's time I was due for one. Up for review today I've got a USB LED reading lamp which features two LEDS in it and it has a flexible gooseneck so you can position it as needed. The light works fine, you can turn one LED on or both for extra light and the gooseneck allows you to position it as needed and it will stay there where you put it. Read on to learn more..

Specifications and Features
It comes shipped in a U-shape but you can turn and twist it all around and it will stay that way allowing you to position it as needed for where you need the light to be. It feels well made, there's not much to it though, but it seems fine overall.
On the bottom are two LEDs and on the top is a single push button.
One button press turns one LED on, the second button press turns the second LED on for more light and then the third button press turns it off.
My keyboard has USB ports on the back of it so I hooked up the light there for testing and it works well, it provides light in the dark as my keyboard isn't backlit.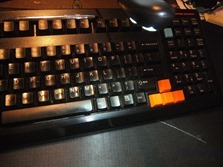 Conclusion
The dual LEDs are nice as in the dark you may not want a very bright light so you can just use one, but when you need the extra light it's nice to have it.
The gooseneck seems sturdy to me, I moved it around and found the spot I liked and it stayed there.
All in all it's a neat little gadget that can come in handy.
You can use it for basically anything as long as it has a USB port on it which is nice.

Pros:
+Dual LEDs
+Stays where you put it
+Seems well made
Cons:
-None that I could find
| | |
| --- | --- |
| Grading | Scores Out of 10 |
| Overall | |
| Design / Aesthetic | |
| Value / Price | |
| Performance / Usage | |
Disclosure: This product was given to us for review by the company for review purposes only, and is not considered by us as payment for the review.
To learn more about our review policy please visit this page HERE.