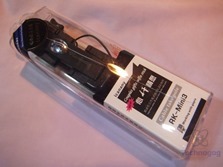 So selfies are the in thing now, I guess I'm too old to understand it, but I've gotten numerous requests to review selfie sticks and I've stayed away from them, but I've given in. I figured why not as they're just so popular so they should be reviewed. Today for review I've got the Karnotech Selfie Stick which is battery free and doesn't have Bluetooth so it's very easy to use. Read on to learn more..

Specifications and Features
When you open the box you'll find the selfie stick and a drawstring style cloth carrying bag.
The stick itself is small at about five inches when collapsed and it weighs slightly over three ounces. Hanging off of it is a connector that looks like and headphone plug but that's for the shutter button and it plugs into the audio jack on your phone. The cable is stretchy so it should be fine with any phone surely.
On the handle of the stick is the shutter button. Some phones may require additional software to use the button, but it worked with my Galaxy S6 without any software, it recognized it was a shutter button and it worked just fine.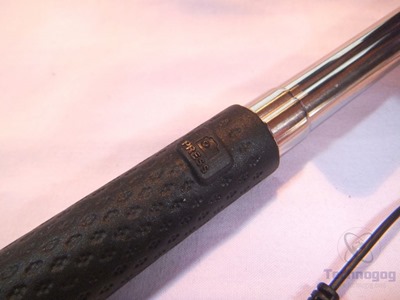 The stick goes from 5.2 inches up to 27.5 inches when fully extended. The shaft is made from stainless steel and seems very durable and it's very stiff, it doesn't bend when extended fully.
At the top of the stick is the clamp that holds your cellphone in place. On the back of the clamp itself is a tiny mirror so you can take selfies with the rear camera of your phone as we all know that's usually the better quality camera.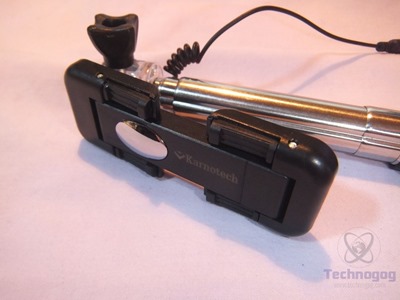 The clamp is spring loaded and expands fairly far. The clamp has a thumbscrew that secure it in place, you can rotate the clamp to whatever position you need and then just lock it there by tightening the thumbscrew.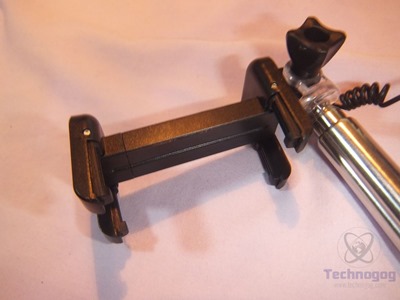 I have a Samsung Galaxy S6 Android phone and it's a big phone, but even with the case on it still fit just fine in the clamp. The clamp has clips that come up over the front edge of the phone to securely hold it in place, the spring is tight and I don't see the phone coming out easily so there's no fear of it accidentally falling out when trying to get that selfie.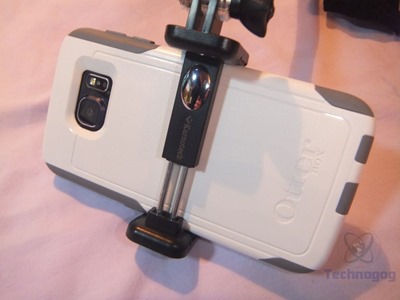 Here's a couple pictures of my son Vincent and myself using the selife stick, it works fine.
Conclusion
I'm not a selfie person, just not into it, but I'm impressed with the Karnotech Selfis Stick as it is very well made and simple to use.
This stick should make taking selfies easier for sure.
There's no batteries so that's a plus, no Bluetooth pairing and none of that stuff, truly plug and play, at least with my phone.
The only issue I can think of is the fact that you may have to install additional software/apps to use the stick with your phone.
If you're looking for a selfie stick then I can suggest you take good look at this one from Karnotech before purchasing any others.
Pros:
+Very well made
+Small and portable
+No batteries required
Cons:
-May have to install app to use
| | |
| --- | --- |
| Grading | Scores Out of 10 |
| Overall | |
| Design / Aesthetic | |
| Value / Price | |
| Performance / Usage | |
Disclosure: This product was given to us for review by the company for review purposes only, and is not considered by us as payment for the review.
To learn more about our review policy please visit this page HERE.