We're back with another Steam game giveaway and this week it's Sword of the Stars II: Enhanced Edition which includes all kinds of stuff like DLCs, music, avatars, skins and badges for your warships. Sots2 is a strategy turn based style game that I have to say looks great, but I love sci-fi space games. In the game you can customize your warships, build your fleet and explore the galaxy while expanding your empire. Details below for you along with a couple screenshots and of course how to win…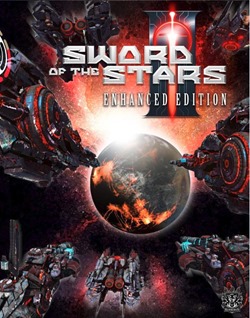 Sword of the Stars II: Enhanced Edition
The Enhanced Edition contains Sword of the Stars II: The Lords of Winter and the first expansion, the End of Flesh. The new expansion introduces the new playable race, the Loa. All previous DLCs containing new avatars, new combat music, alternate voices, skins, and new badges for the warships are also included.
Customize your own starships, amass your fleet, explore the outer reaches of the galaxy and expand your empire. Research new alien technologies and bring them into battle with a mix of turn-based strategy and real-time skirmishes.
Now a new Faction bursts onto the scene, a race of Artificial Intelligence who once served as slaves and now return seeking vengeance. Playing as the Loa, your Fleets will become masters of metamorphosis, shape-shifting into new forms to become the ships you need, where you need them. Durable and hardy, your colonies can be built on any rocky planet. Building an empire of silicon and steel, you will bring your former masters to their knees…or will you bring about the End of Flesh.
Steam link: http://store.steampowered.com/app/42990/
Contest will run from Sunday to Saturday at 11:59pm and winner will be announced on Sunday and code will be sent then to the winners registered email address.
Contest is run using Rafflecopter. The Rafflecopter system will choose the winner at random from all of the entries when contest ends.
There are four things you can do to win and the theme this week is comments. Doing all four can get you 19 entries in total, but leaving a comment gets you the most entries.
1. Tweet the message that we're running this contest so you're friends can have a chance to win. (Earns 3 entries)
2. Like us on Facebook (Earns 3 entries)
3. Follow us on Twitter (Earns 3 entries)
4. Comment on a blog post. (Earns 10 entries)
I will be checking to make sure the winner has left a comment so please leave comments under the same name as your entry so I can verify. You can comment on any of the posts you want to.
You can read a review and leave a comment or check out the press releases to see what new products are coming out and leave your opinion of them.
This is a Steam game code so you must have Steam installed or you'll need to install it.
.