This past Wednesday was the 2010 DIGITAL EXPERIENCE show in New York City where I was able to check out several of the latest offerings from such companies as Synology, Logitech, Samsung, SoundID, HP among others. This seasonal show provides media access to some of the biggest names and rising stars in the tech industry.
At the show there were numerous new laptops, smartphones, data storage solutions as well as peripherals and accessories for iPhones, iPads and Android based devices. Although the show lasted three hours I was barely able to get to half of the booths due to all of the interesting products.
Some highlights included getting a sneak peak at Logitech's Google TV box mock up. It is a jet black box with HDMI in and outs, IR Blasters, two USB inputs, LAN jack and SPDIF. Logitech promises that they will show a working prototype for the fall Pepcom show.
Our friends at Sonos demoed an early version of the Sonos Controller for iPad which is slated for an August release. Its still rough around the edges according to my Sonos contact but to me it looked fantastic. It will be a great way to control your Sonos setup and best of all, it is free!
Kingston was showing a preview of their USB 3.0 SSD HyperX branded external drive which had read speeds of 195 MB/sec and writes of 160 MB/sec and will be available in 64GB, 128GB and 256GB capacities. Also seen was the new 64GB SDXC memory card. Yes, another new SD standard.
In addition Sound ID was showing their Sound ID 510 Bluetooth headset which we reviewed earlier this month – here.
Nvidia showed off their 3D Vision setup using three monitors and two Nvidia 470s in SLI. It looks great but its going to cost you a pretty penny.
My past show write ups involved my recapping my numerous stops at each vendor but since Kris will be posting many of those PR blurbs, today I will write about the five products that were the highlights of the show.
First here is a run down of exhibitors at the show:
3M
Acer
AT&T
Audyssey
Barnes & Noble
Belkin
Buffalo Technology
Case-mate
Cue Acoustics
DeLorme
DivX
Bitbop
FrameWizard
GE Digital Cameras
GiiNii
HP
Iomega
iRobot
Kingston Technology
Kobo
Kodak
Lenovo
Livio Radio
Logitech
Magellan
M-Edge
Microsoft Windows
Mint by Evolution Robotics
Mitsubishi
Music WithMe
Neato Robotics
Nikon
Nokia
NVIDIA
OTRS
Pandigital
Parrot
Phiaton
Plantronics
Poynt
Rebit
Rebtel
RIM
Roxio
Russound
Samsung Electronics
Samsung Mobile
SIRIUS XM
Solar Components
Sonos
Sound ID
Sprint
Synology
TeleNav
TiVo
T-Mobile
Toshiba
Validity
Verbatim
Vue
VuPoint Solutions
Webroot
Western Digital
Wild Planet
Wi-Ex
Without further ado and with respect to David Letterman – here is tonight's top five list.
At number five we have Solar Components who have released the Joos Orange Personal Solar Appliance which according to their representatives delivers up to 20 times the energy of existing personal solar devices.
It is designed to be waterproof, rugged and powerful. It works underwater, is protected by a polycarbonate case coated in urethane and has a 20 Watt hour Lithium Ion Battery.
Here are some specs from their press release:
Battery: Replaceable 20 watt hour Lithium-ion polymer (3.7 volt, 5400mA); big enough to fully charge six standard cell phones or more than four smart phones.
Photovoltaics:
5-inch mono-crystalline solar cell with an anti-reflective silicon nitride coating and a maximum power output of 2.6 watts. The cell is connected together electrically in parallel so there are no edge effects.
Casing: A 5.8- x 8.6- x 0.8-inch (width x height x depth) thick durable polycarbonate injection molded case that features a steel heat sink to reduce heat, top and bottom ventilation, legs for solar orientation, with an automotive grade urethane used for encapsulating the solar cell and electronics.
Electronics: Microprocessor-based maximum power point capability, LED status lights for power production and battery status, along with a low light and a dead battery circuit. The Joos Orange can also be recharged by any USB power source; it ships with a miniUSB connector for charging devices and includes 2-6 adaptors (depending upon configuration). A free downloadable application will be available to show what the Joos Orange is doing.
Weight: 24 ounces.
At technogog we definitely love "Green" products and this one seems to be the greenest especially for those who use portable devices.
Coming in at number four is the GiiNii Magic Portable Wi-Fi tablet picture frame which looks like an iPad and features some similar abilities while primarily being an affordable picture frame. It features a 1024×576 resolution, has 2 GB of memory and can run web apps including ones from YouTube, Flickr, Picasa, Facebook and Shoutcast.
The Magic is also Wi-Fi and POP3 capable which means users can send pictures to it via existing email accounts which the Magic will automatically be ready to display once reviewed and accepted by the user.
It is portable and runs off a lithium ion battery which is charged via cradle. It can play back 720P video and supports H.264/MPEG-4 playback.
The third most exciting product in this writer's humble opinion is from SIRIUS XM. As a big fan of Sirius I originally joined the service to listen to Howard Stern but over the course of a few weeks I discovered the joy of commercial free radio stations dedicated to specific genres of music. Since that time I have not listened to commercial radio in years thanks to SIRIUS XM.
Although the iPhone has a Sirius app it runs off the AT&T network which is not the optimal solution. So SIRIUS XM decided to leverage the iPhone as a control interface and hook it up to a dock that is the actual satellite receiver; providing the best of both world with the SIRIUS XM SkyDock. Right now this product is only on the XM side of things which is a little annoying as Sirius users need to get an XM account to take advantage of this device.
Another nice thing about this setup is the mount is the stand, so there is no need to suction cup connect a base for the satellite radio. The iPhone or iPod Touch can be viewed in portrait or landscape mode and best of all the dock acts as a charger.
The runner up for most exciting product is from Russound the Collage. Multi-Room audio is not new but Russound has a unique implementation via standard AC wiring. There is no need to worry about running cables as they are already in your home's walls.
Powerline technology is common as networking solution so Russound took that concept and used it to make a retrofit friendly multiroom audio solution using Powerline Carrier (PLC) technology.
The system works with home networks, internet radio and online music services including Rhapsody. The Collage can provide digital entertainment and communications to as many as ten rooms in a single home. A blurb from the PR kit states:
Russound's revolutionary new multiroom media and intercom system that can be installed in a home in less than a day. Access music stored on your home's computer network, online music services, and point-to-point intercom communication.
Without further ado the product I found most exciting and look forward to testing out is the Parrot AR.Drone, the quadricopter you fly with an iPhone/iPod touch. The AR.Drone works using augmented reality and can be piloted with either an iPod Touch, iPhone or iPad.
There are cameras mounted on the front that broadacasts and streams from the drone onto the Apple device where real time special effects are added for an augmented reality experience.
The iDevices built in accelerometer helps with the steering of the AR.Drone along with virtual buttons on the screen. So far there are three virtual games that can be downloaded from the App Store with more on the way.
The bad news is the AR.Drone is not out until September. Another downer is the battery which is rechargeable only lasts twelve minutes and takes around ninety to recharge, so getting a spare battery will be required.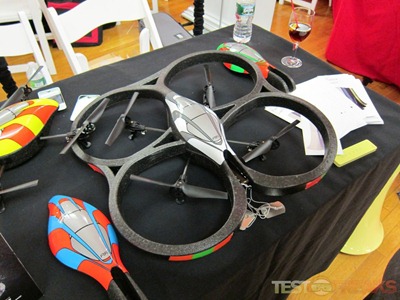 The 2010 DIGITAL EXPERIENCE provided a nice preview of recently released and upcoming tech products coming down the line. Some products are evolutionary while a few can be considered revolutionary. Keep following technogog in the coming months as we will take in depth looks at some of the products seen at the DIGITAL EXPERIENCE show.