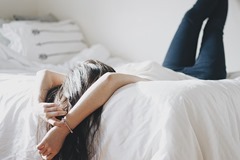 Sleep is of high-importance for our health and overall well-being, which is why more and more tech companies focus their efforts in this direction. As a result, we now have wearable devices that monitor our sleep and communicate with apps on our phones, creating charts and establishing patterns.
The revolution is just starting, but we can already see some amazing technological innovations in the niche (like the ones described below)!
#1: New and Improved Materials
The technology of new materials stands at the very basis of our modern world. After all, we couldn't have smartphones, laptops, and high-end gaming consoles if genius minds wouldn't have found a way to mix various materials, creating new and improved ones.
The same happened with the mattress industry. The invention of memory foam, in a NASA laboratory, completely changed the way people sleep because we now have so many designs using this material. Starting with mattresses that use only memory foam, to models that use a combination of foam and cooling gels and ending with designs that have memory foam in their inner-layers, the material is affordable, comfortable and safe.
Furthermore, new research shows the material can be combined with a wide range of materials (copper insertion, charcoal, or even silver particles) to create a better, more breathable surface.
Overall, memory foam proves to be one of the biggest inventions in the world of mattresses. And it proved to be extremely useful when first bed-in-a-box companies started making waves.
#2: Sensors and Full Control
Have you ever dreamed about a bed you can adjust as you need without moving more than a finger? Well, with the new technologies available in the market right now, you can!
First, there is the adjustable base where the sleeper uses a remote control to adjust the position of the bed. You can raise or lower the top section for reading and watching TV, raise or lower the bottom section, and overall adjust the bed to fit your needs.
Next, some mattresses also provide temperature control. This means that you can control how hot or cold the surface should be. More advanced models provide this feature for couples, where each person can set their own preferences.
Finally, there are special sensor mats created to collect and communicate data about your sleep patterns. These pads are to be installed under the mattress and collect information about heart rate, breathing, movement, and more. Their purpose is to identify if your sleeping pattern is healthy, (if you suffer from sleep apnea, for instance) and offer tips on how to improve your slumber.
Basically, in the modern world, the best mattress – topmattress.com is a high-tech surface that can provide much more than just comfort.
#3: Pressure Mapping System
One of the main problems when it comes to choosing a new mattress is related to the pressure points that create when lying down. But, with a highly technologized surface, with hundreds of sensors integrated directly in the mattress, we now have access to a pressure mapping system.
The system reads how your body reacts to each surface and maps out the areas, showing through a graphic diagram where it's most likely to feel pain. For now, the system is designed to be used in the healthcare system, but there are other similar designs on the market (less smart but just as effective).
In Conclusion
With the advances in new technologies, the mattress industry is slowly moving towards a new era. Considering this, I am looking forward to high-tech sleeping surfaces that can provide a good night's sleep and completely eliminate the guessing game we have to play every time we buy a new bed!