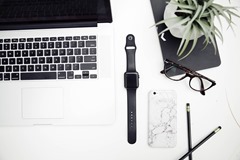 Whether you want to boost productivity in office as a digital marketer or struggling to find the right gift for a digital marketer in your life, then you have landed to the right place because we have a bunch of best and productive tech gadgets for digital marketers in this virtual world. As everyone needs to enhance productivity and to maintain a competitive edge, here is a collection of the latest technology solutions and gadgets every tech-savvy person invest in.
AirBar
Do you want to turn your simple laptop into a touchscreen? AirBar could be the best thing to do so. It is a lightweight device that can turn your laptop into a touchscreen without making any hardware alterations in it. All you will need to do is to attach this gadget at the bottom of display of the laptop via magnets, plug the bar in via USB port and your touchscreen laptop is ready to use either with fingers or with a gloved finger. The best thing about this fantastic tech gadget is that it is highly compatible with both Windows OS and Mac OS. All tech-savvy individuals and digital marketers can use AirBar with their laptops to increase the interactivity during the e-meetings, presentations and video conferences, etc.
Multi-Device Keyboard
If you spend most of your time on typing by using different devices like Smartphones, tablets, and desktops, then multi-device keyboard can be a great productivity booster for you. You can connect it to any Bluetooth supported device to respond to messages, business emails or other conversations effectively. A multi-device keyboard is compatible with Windows, Mac OS, iOS and Android to enjoy a great and improved typing experience.
Solar Window Charger
What to do if the battery of your any mobile device is running out and there is no electric spot to charge it back? Solar window charger can be your best companion at that time. It is something great that can recharge the battery of your mobile devices without incurring any extra utility expenses. The technology of solar charges is designed to catch the solar energy outside of the office or home window and turn that energy into electric power to charge mobile batteries. It requires no special installation and one can easily keep it inside the drawer once a mobile phone charged.
Wrist Watch
A quality wrist watch like jaeger lecoultre reverso will not only help you manage your time effectively in the office or on the go but will boost your personality too. It can be enticing for both male and female digital marketers and other individuals due to the appealing designs. Such watches are so tempting and distinguished to make someone's overall attire professional and fascinating as well.
Smarter Coffee
Let you allow a digital marketer in your life to make smarter coffee to make coffee brakes productive and relaxing as well. Smarter coffee is a great tech gadget for tech-savvy peoples and designed to boost time management. Its feature of customization allows you to adjust coffee making as per your or your employees' taste likings. One can also make a schedule to make coffee without waste of time. A user can also connect it with his/her smartphone with its phone app which is built for both iOS and Android phones.
Smart Under-Desk Elliptical
Health is wealth. But most of us can't take enough time for exercise due to work overload. But, having a treadmill under your desk can be a great idea to exercise while accomplishing your work-related assignments and projects. A smart under-desk elliptical allows digital marketers to keep their feet moving even when sitting in front of the desktop. One can also connect it with fitness tracker in order to track overall fitness efforts and exercise.
Ring Video Doorbell
Let you boost your office security with a ring video doorbell. It is a great tech invention that enables someone to watch that who is ringing the bell on the door even without leaving his/her workstation or desk. It can be operated with a mobile app to allow or deny visitors' access to the office remotely. It's built-in camera shows video with the quality of 1080p to provide you with crystal clear results to help you recognize who is at the door.