You have this really capable pocket computer in your, well… pocket, and it has a live data connection to the world at large. You're also bored and want some entertainment. You have been scouring YouTube for the umpteenth time, but there are only so many times you can watch parody videos and keep your view of the world intact. So, what are your options?
Well, we have had the same problem. We wanted to catch up on our favorite network TV shows on our iPhone, and we wanted to get it straight from the source. This means we are looking at the network sites themselves not third party sites which may also offer various episodes.
NBC
Right off the bat, let me suggest checking out full NBC episodes at m.nbc.com and clicking on "All Full Episodes". This will take you to a selection screen that lists practically all of the popular current NBC shows, along with a number of episodes available for each title.
There is plenty to choose from, with shows such as "Parks and Recreation" and "Knight Rider" having 7 or more episodes on tap.
If you want to get caught up on your late night entertainment, there are multiple episodes of both "Late Night with Jimmy Fallon" and "The Tonight Show" for your viewing pleasure.
Shows are presented in multiple parts typically 15 minutes or so each, so it is easy to catch different parts as time permits. When tested, the videos worked fine after initial load and nicely fills the screen when rotated to landscape.
ABC
Pointing the mobile safari browser to ABC.com revealed an optimized for iPhone website, but they are not quite as generous with the video goodies.
ABC does offer clips (moments, in their vernacular) and info on your favorite shows, which in itself could add to a fan's enjoyment of their favorite. Watching the videos in their entirety is not an option at this time, however, the moments may be quite apropos for quick mobile viewing.
If you really need to get caught up on your favorite show, the site does offer recaps of episodes. These are short summaries on the episode, more in-depth than TV guide but short of a complete narration.
However, for a quick chuckle, consider checking out the Wipeout! Moments. That is, if you enjoy seeing human beings suffering humiliation at the hands of mechanical obstacles that they are obviously ill prepared to handle. I think it is funny.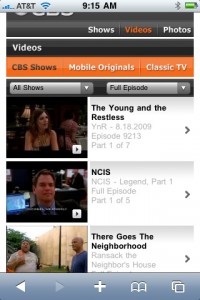 CBS
When you surf over to CBS.com, you will find another iPhone optimized site that in this case does offer full videos for viewing.
The shows range from daytime soaps to primetime mainstays, with titles ranging from "The Young and the Restless" to "NCIS".
As with the other offerings, the video is given in parts, with most hour long shows being around five parts. This lets the viewer break it into easy to manage separate sessions if needed.
The video works without issue once started, and it uses the built in video viewer as the others do, providing a full screen image that is pleasant to watch.
FOX
Any roundup of network iPhone offerings would not be complete without including Fox, and so we check out their online wares.
Unfortunately, when you simply point the Safari mobile browser to Fox.com, you are presented with the desktop web site, hardly optimized for the iPhone screen. This seems curious, since the website even offers an app designed specifically for the iPhone (Family Guy).
The full site offers viewing of episodes, but since it is a flash instance embedded on the page it will not play on the iPhone browser.
So now we have the iPhone options for video from the big four networks themselves.
3 out of 4 for optimized iPhone sites is pretty nice, and with two of them offering full videos for mobile viewing, it certainly speaks volumes as to the impact the mobile market is having on Network TV.
The big networks no doubt see the mobile viewers as an important part of their demographics. This probably means that mobile network media offerings will only grow in the future, which is a good thing for those of us who like to control when and where we catch up on our favorite shows.