Well, it has certainly been a busy time for Google's GMail. Already arguably one of the best web based email clients, Google ups the ante with two new features that puts it in front of the pack… at least for the moment.
What are these two new additions, and will you find them to be of use? Well, if you ever spend a lot of time digging through your emails, then at least one will be handy. And if you have ever needed to make a phone call while on the computer (I certainly have), then the second may prove indispensable for those moments. But don't take my word for it – let's look at these new features and you can judge for yourself.
Priority Inbox
If you are the typical email user, then a lot of your computing quality time is spent going through email in your inbox, trying to determine what is important and what is not. While GMail already has one of the best spam filters to be found, you still have to separate the "important" items from the optional items. This time spent can impact productivity over the course of a week, as well as adding frustration to the user.
Apparently Google is more than a little aware of this problem, and have come up with a Gmail feature to address it. This feature is called "Priority Inbox", and their research states that it can save the average user about 46 minutes per week. Of course, the real advantage would probably best be measured by the task, where searching for an email while on the phone or in a meeting needs to be as expedient as possible.
Not unlike a predictive junk mail filter in reverse, Priority Inbox splits the inbox into three sections: the important, the starred, and everything else (maybe the good, the bad, and the ugly could apply here?). The system is designed to learn on the job, setting itself to your needs. Training the system is a simple process – clicking on the "+" adds an email to Priority Inbox, clicking the "-" takes it out. But the system also improves on repeated use, and it will look at frequently used email addresses as part of its process.

Image Courtesy Google
If you are interested in Gmail's Priority Inbox, you can find more about it here.  But you may have to be patient as the feature is rolled out over the next few days.
Google Voice Calling
So, you have your microphone equipped laptop handy and you need to make a phone call? Just pull up your email and hit "Call Phone". From there you just enter your phone number (or pick from your contacts) and wait for the connection, then start talking.
In testing I found the feature to be clear, with no problems or stuttering. The person on the other end of the call heard me without issue, and the quality was on par or better than that of voice calling with Skype. And the price is right – domestic calls are free, and international calls are very economical.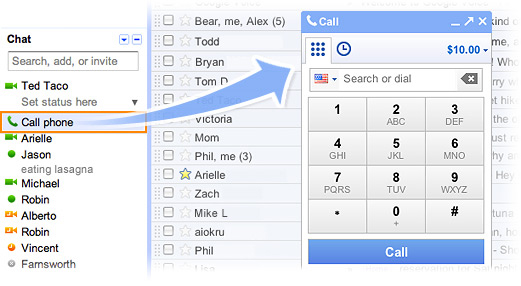 Image Courtesy Google
The call dialog can either exist within the GMail window or popped out on its own. Any call credit is clearly displayed, and a history of calls is readily available. And if you are a Google Voice user, you can add Google Chat as a forwarding phone and catch your calls there. You can find more information on voice dialing here.
Google continues to innovate on its core competency, and with these added features GMail and Gmail Chat is an industry leader. But I am already curious as to the next advancement – it could get even more interesting than it already is, if that is possible.