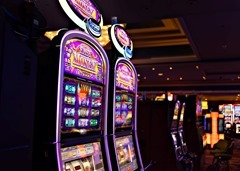 Online gambling is such an attractive idea, isn't it? You like the thought of playing slots, poker, blackjack, or any other casino game without the need to dress up and drive to the nearest casino. You can play whenever you feel like it. You're on a break during the workday? You'll play a slot or two!
For those who like gambling, online casinos seem like the best idea. But there's also a hesitation: are these websites safe? Who controls them? What if they take your deposit and refuse to give you the money you won?
In general, this industry is safe. As always, there are a few rotten apples here and there. Some websites have high playthrough requirements on bonuses, so you can't really get any winnings before you lose them all. Others are pretty reasonable. This is why it's important to read Casinos Approved reviews before you start gambling at any site. Proper evaluations guide you to reliable sites whose terms are tailored to the gambler's advantage.
When we say that most gambling websites are safe, we should support that claim with specific arguments. Let's do that.
5 Facts Showing that Online Casinos Are Safe
1. Online Casinos Are Licensed by Governmental Authorities
When you first land at a gambling site, scroll down to the very bottom. In the fine print, you'll find information about licensing. Some casinos feature this info at the beginning of the terms and conditions.
For an online casino to be legit, it has to be licensed by the government. Some countries forbid online gambling. In Canada, for example, it's only allowed in certain provinces and the government offers its own website to gamblers. However, an online casino can get licensed in another country. The Malta Gambling Authority is a common choice. No matter where the casino is founded and licensed, it can offer its services internationally. The important thing is that an authority guarantees for its credibility. It prevents corruption, money laundering, and abuse of vulnerable players.
2. They are Audited by Third Parties
Safe gambling sites are being tested and approved by international agency that protect online players. One of those agencies is eCOGRA. Its role is to test all games and ensure the website offers fair gaming based on the RNG (random number generator) principle. In addition, the auditing body makes sure the payments to the players are timely and accurate.
When you choose Internet casinos audited by third parties, you can be sure the play is fair.
3. Some Casinos Have Been Around for Decades
The first online casino, InterCasino, was established in 1996 as the first online gambling site. It's no longer available (it was closed in September 2019), but there are many other casinos that have been present for decades in the industry. JackpotCity has been around since 1998 and a newcomer like fable casino has been around since 2016.
The longevity of these sites shows there are no scams involved. When a website is a known scammer, it cannot exist for a long time. Reviewers will reveal it, and new gamblers will be leaving it after playing through a minimal deposit. For a casino to build an impeccable reputation, it has to pay out a lot of money. It has to provide a safe experience for all its users.
4. Software Providers Are Audited, Too
If you check the official website of NetEnt, one of the most popular software developers in the online gambling industry, you'll notice the symbols of eCOGRA, the UK Gambling Commission, the Malta Gaming Authority, the Licensing Authority of Gibraltar, and BeGambleAware.org. All these institutions ensure safe gambling for users.
Each game that this software developer launches has to be based on the RNG principle. It has to pay out a big percentage to the players (this usually goes above 90% for slots), while keeping the casino profitable.
Always play on sites that feature games by reputable providers: Microgaming, NetEnt, Novomatic, PlayTech, and others. Reviews can help you figure out what developers can be found at a particular online casino.
5. Gambling Sites Have to Work by Their Terms and Conditions
Any website's terms and conditions are legally binding. If you get a guarantee for security and protection of your personal details and the casino violates this guarantee, you can take the company to court.
Always read the terms and conditions before you agree to them. It takes a bit of time, but it's important to know what rights and responsibilities you have as a player.
Remember: It's Still Gambling!
Most poker sites are reliable. They will provide a safe gambling experience and prompt payments when you request withdrawals.
However, you should keep in mind that no one can guarantee winnings in gambling. The casinos are there for a profit. No matter how much they pay out, some gamblers have to lose for others to win. There's no strategy that keeps you immune to loses.
Online gambling is fun, but it can be highly addictive. If you want to try it, do it with small deposits. If you feel uncomfortable about losing a particular amount, deposit a smaller one. Limit your investments in this hobby and don't go over the planned budget. If you do that, you'll be safe.