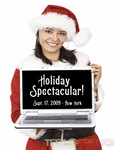 Thursday, I had the opportunity to check out this years Pepcom Holiday Spectacular press preview event. It was held in New York City at the Metropolitan Pavilion and featured numerous companies showing off their latest and greatest products. Companies ranged from tech heavyweights such as Sony, Samsung, HP, ASUS to exciting new endeavors from Powermat and Pong Research.
This year's turnout was quite impressive as the hall was filled with many exhibitors. The volume of exhibitors was so great that I was unable to stop at most of the booths as there was not enough time. Luckily I was able to spend some quality time with several companies and here is a quick rundown of my experience.
My first stop was at the Kingston booth where representative David Leong spoke to technogog about Kingston's latest SSD drive – the SSDNow V+. This drive is designed for power users, system builders, system integrators and for use in demanding environments. It is available in capacities of 64GB, 128GB and 256 GB.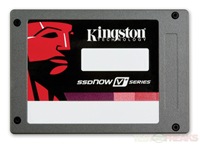 Next stop was the Sound ID booth where I was given a quick preview of their new, soon to be released Sound ID 400 Bluetooth headset. According to the press materials – the Sound ID 400 is created to complement the natural hearing process, allowing you to experience the best sound quality possible while conducting hands-free conversations. The 400 is designed with PersonalSound – a feature only available in Sound ID products. PersonalSound offers users 3 listening modes tuned to the most common hearing preferences, to further enhance speech clarity without raising the volume and boost listening power.
The Sound ID 400 further differentiates itself from the rest of the Sound ID portfolio and every other Bluetooth headset on the market by offering Environmental Mode, a feature that enables users to hear equally out of both ears in-between phone calls. When Environmental Mode is activated, the hearing ability is enhanced and soft sounds can be heard while wearing the headset – allowing clear conversations "On" and "Off" the phone.
Targus the maker of laptop cases and accessories for laptops, netbooks and MacBooks unveiled its re-branded identity and new product lines. Some items previewed included The Targus Presentation Remote which has the industry's first patent-pending Keylock Technology feature that helps nervous presenters avoid unnecessary button presses. The Targus Lap Chill Mat (AWE55US) is a laptop colloer designed to provide a super comfortable and ergonomic work surface to keep both you and your laptop cool.
At technogog we have reviewed several products from Speck, makers of cell phone and laptop accessories including cases, sleeves and bags. At the Holiday Spectacular, Speck demoed their new CorePack Fly which is a airport checkpoint friendly notebook messenger bag. It holds up to a 15 inch notebook and meets TSA checkpoint guidelines for quick and easy screening of your bag when boarding flights. Some key features of the CorePack Fly include checkpoint-friendly construction, side-access extra plush padded micro-fleece notebook compartment, tuck-away carry handle, adjustable removable padded shoulder strap with metal swivel snap hooks, media player pocket with headphone cord pass-through, detachable key leash, deep well storage pockets, and expandable mesh zippered water bottle pocket.
Right next door to Speck was the Seagate booth. This year they were not just showing off their latest Free Agent Go portable drives but were also screening their exciting new docks – the FreeAgent DockStar and Free Agent Theatre.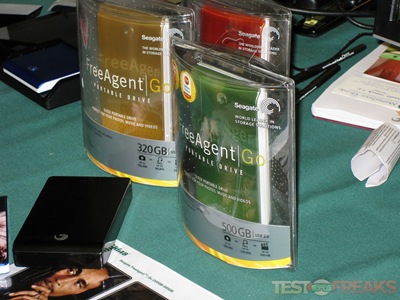 The FreeAgent DockStar is designed using Pogo Plug technology from Cloud Engines, Inc to create a "cloud" base appliance with Internet access when plugging it into your home network. Connecting a Free Agent Go drive to the Free Agent DockStar creates a NAS with internet access capabilities.
It operates through a web-based interface and can be used with all three major operating systems. In addition FreeAgent DockStar will allow pictures and video to be uploaded onto the social websites such as Facebook and Twitter. Setting up a web based account gives the user an easy way to share and access digital media from any location. If you own an iPhone, Seagate also has an app which allows wireless access to your phone from the Free Agent DockStar.
The Free Agent Theatre is used in conjunction with the Seagate Free Agent Go portable drive to set up a quick and easy media center. Just connect this docking station with the Seagate hard drive to your home theater via an HDMI cable and you have an instant media library. It supports the 1080p HD video, DTS 2.0 + Digital Out, or Dolby Digital technology and runs a slew of audio and video codecs.
Kaspersky makers of anti-virus and anti-malware software were showing their latest suite and antivirus programs: Kaspersky Internet Security 2010 and Kaspersky Anti Virus 2010. Some new key features include Safe Run, Gamer Mode, and Virtual Keyboard, which help protect the user from malware, keystroke loggers and other threats. It also boasts a faster core antivirus engine that provides new speed improvements based on independent testing by Cascadia labs.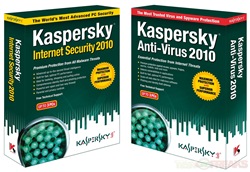 Duracell presented their Smart Power portfolio which includes the myGrid charging pad for wireless induction charging. This device allows the simultaneous charging of devices such as cell phones, mp3 players and PDAs. Each device needs to be fitted with a PowerSleeve or PowerClip to run off the myGrid.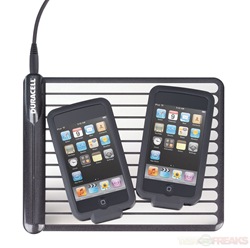 As Duracell branches away from standard batteries they also offer the Duracell Instant Charger, a compact Lithium Ion Rechargeable charger that provides reserve power for popular mobile devices, such as BlackBerrys, iPods and cellphones that come with USB power cords. For even more recharge power Duracell offers the Duracell Powerhouse Charger to provide reserve power for consumers' most critical devices basically any device that comes with a USB power cord or can connect to the Powerhouse's mini-USB arm. Powerhouse also comes with a USB-to-mini-USB cord and features an on/off switch for power conservation, making it a must for today's frequent travelers.
Logitech announced their new line of mice dubbed the Performance Mouse MX and the Logitech Anywhere Mouse MX. Both of these feature the X-Files sounding Darkfield Laser Tracking; allowing the mice to track on almost any surface including glass. They look similar to the Logitech Revolution series and also operate using the Logitech unifying receiver allowing easy addition of a compatible wireless keyboard, or even another mouse – without the hassle of multiple USB receivers.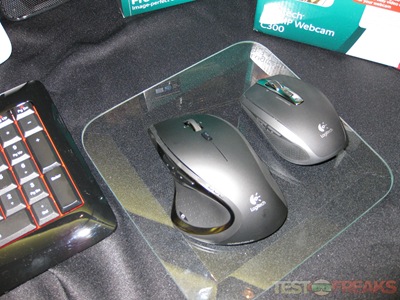 From their Squeezebox division they will soon be adding the Squeezebox Radio which will be shipping at the end of the month. This is the perfect bedside appliance for listening to all your music wirelessly. Besides music streaming it will also allow access to social network site updates including Facebook.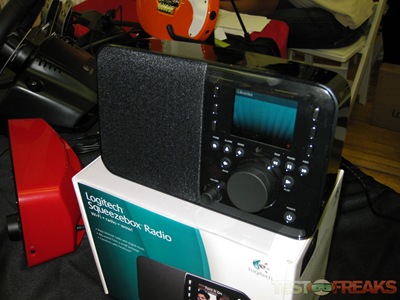 An exciting newcomer to the Pepcom show is Pong Research. This company's main focus is to reduce cell phone radiation. Long term cell phone use risks have yet to be determined but it is well known that these devices do release radiation.
According to their press release: "The case reduces the specific absorption rate (SAR, a mobile industry standard of measurement) by 60% and reduces intense 'hotspot' cell phone radiation (Electric Field Intensity) by 85%." Their first product is an iPhone case and they plan to soon release Blackberry versions. Personally I rather not find out the risks of long term cell phone radiation exposure the hard way.
Powermat is another newer company which offers an induction charging solution. Their aptly named Powermat allows users to wirelessly charge all of their favorite electronic devices without the tangle of unnecessary cords. This is a similar product to ones offered by Energizer and Duracell, so we will have to see which is the best. Out of all three offerings the Powermat one is the sleekest looking version.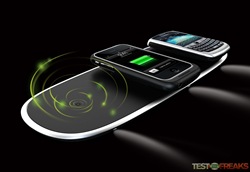 Belkin gave us a closer look at their Home Base device which is a new home networking product that lets users print, share, and backup files wirelessly. They also revealed their Gigabit Powerline HD Starter kit; one of the first Gigabit Ethernet over power line units. Now Gigabit speeds can be obtained anywhere in ones home using electrical outlets.
Texting while driving has become a concerning issue as it can cause life-ending accidents. DriveSafe.ly came to Pepcom to provide a pre-launch preview of its free mobile app that reads text messages and e-mails aloud and automatically responds to them. There is no reason why people shouldn't test this app out it become available. It is free and who knows it may save your life.
Skype was promoting its mobile apps for various platforms. Besides the delicious cupcakes they were handing out at their table, the other hit of the Skype table was their "Jetsons" style video phone: The Asus Touchphone 2. It is designed for non tech types such as grandparents and for non computer housed locations such as kitchens and bedrooms. Now catching up with long distance relative face to face has become a lot easier.
Energizer not to be outdone by its competitors revealed various new products including their Energi To Go products, an induction charger for the Wii Remote, and an iPhone charger similar to the Mophie Juice Pack at a much lower price point and more.
My final stop at the Holiday Spectacular was at the Griffin booth. They unveiled their new line of iPhone cases, their iPod/iPhone charger – the PowerDuo Reserve and a passive iPhone sound amplifier dubbed the AirCurve. Griffin also introduced what I as a parent think is a great product idea – MyPhones; a volume limiting headphones for kids. These over the ear headphones have an 85 decibel volume-limit for safe listening.
My choice for most exciting products announced at this year's Holiday Spectacular goes to Seagate's Free Agent Theater and Free Agent Dock Star. Seagate has taken the staid portable hard drive and turned it into an online storage solution and a home theater alternative. This line sounds pretty exciting if you ask me and I can't wait to test it out for technogog.
The most unique and environmentally friendly product goes out to Pong Research's iPhone case which deflects cell phone radiation away from the user. There is really no reason why we must expose ourselves to unnecessary risks to our well being. Pong Research helps us avoid one such health threat with their new case. We should have a review on this product within the next week.
I have gone to a half dozen Pepcom Press previews and this one was the most interesting in terms of new products and volume of exhibitors. It was a three-hour show and I was able to only hit half the presentations. Hopefully the economic forecasters are correct and this recession period has subsided because there will be a slew of exciting new products out in the market competing for the consumers dollar.