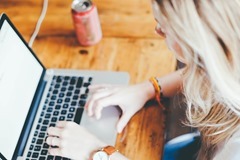 Technology is expanding and developing at an incredibly fast rate. It makes sense to consider a career in tech then, where jobs are in demand, there are high satisfaction rates, and massive earning potential. But what are the best tech jobs right now, and how do you go about landing one?
Of course, there are many factors you should consider. Certain tech jobs are more prevalent in countries such as America, Canada, the UK, South Korea, Japan, and Australia. For instance, the best job in America (for the fourth consecutive year) is Data Scientist. Jobs in this field are up by 29% this year, and salaries start at $100,000.
How do you land a job in tech?
While there are many jobs available, the competition is still fierce. You need to undergo courses and study so that you learn the latest techniques, algorithms, and take your knowledge as fair as possible. The best way to do all of this is by heading to university and, once you have your degree, consider taking a masters in computer science online at Laurier. By doing so, you can expand your skills and improve your programming all while still being able to work. Online study allows for greater flexibility.
Once you have all the essential qualifications, it's time to consider your passions and key interests. Do you thrive off data security, for example, or do you prefer to develop software? There are many avenues for you to walk down, so you need to decide which is better suited to you. By doing this, you can greatly improve your job satisfaction and land the job that's perfect for you.
The benefits of working in tech
Pros and cons exist for all job types, but there are many genuine benefits to working in tech. You'll find that there are many perks to working in the tech industry.
1. Tech is prosperous: You do not have to worry about not finding a job or not being in demand. Currently, the tech industry is booming, meaning you are more likely to find a job – ideal for those who want stability!

2. Tech companies value company culture: We've all seen images and heard of the quirky and cool agency down the road, who has an office pooch and a ping pong table. It's a fun place to work and makes heading to the office that much easier. These perks are becoming more prevalent within the tech industry.

3. Tech isn't boring: There is a misconception that those who work in tech or IT have little to no personality. This isn't the case. You'll find that because of the job requiring good communication skills and there being a variety of duties to complete, they are knowledgeable, well-versed, and interesting individuals.

4. Salaries are on the rise: While money may not be everything for some, it helps. Those working in tech can enjoy a lucrative salary that is much better than most other jobs. This means less financial worry, plus even if you are just starting in the industry, your pay is most likely higher than a lot of other industries.

5. Degrees aren't always a necessity: While a degree will always help, there is a lot of opportunity to start a career in tech as an apprentice and then work upwards. This may be slower, but if you do not enjoy studying in a traditional sense, then this could be your chance to get your foot through the door.
If you are unsure on the perfect tech job for you, the following list is going to highlight the best of the best.
Software Developer
Software developers create and fix programs for computers and smartphones. They tend to an application's design and function, ensuring that it works fluidly and doesn't encounter bugs. Their roles are incredibly important, and because of how well-used apps are in today's age, are in high demand.
The next time you are on your phone and are playing around on app, a software developer had a hand in creating that and ensuring it works to the best of its ability. What's more, when you are at work and decide to do some lunchtime shopping, the website would have been designed by, you guessed it, a software developer. Many of the technologies that we use, we take for granted. And our thanks should always be towards software developers!
The skills you will need for being a software developer include creativity, technical know-how and being able to handle responsibilities. You will typically be working with others but also on your own, where concentration is needed.
Key responsibilities:
· Analytical and technical skills

· Communication skills

· In-depth knowledge of multiple programming languages
IT Manager
For those who enjoy organizing and supervising their own team, the role of IT manager may be enough to entice you. Not only will you be managing your own team, but you will also be tasked with installing and organizing system updates, liaising with vendors and clients, and ensuring the company you work for is running smoothly.
Typically, you will be working for one company. Your role is to keep the technology and inner workings of the company ticking over, ensuring that the needs and goals of the company are met.
IT managers are needed in most if not all companies, so this is a relatively secure job for you to venture into and work. There are many tasks for you to be head of, and the variety means each day is different – ideal for those who like new and interesting challenges!
Computer Network Architect
A computer network architect designs and builds local area networks and wide area networks, as well as intranets. You will work with cloud infrastructures and smaller intranets, depending on the company you are working with, but you will also need an overview of your company's business plans and work with them so that you can collectively reach their goals.
Much like most tech jobs, you will need to constantly learn so that you keep on top of the latest movements and developments in the industry. The cloud is an ever-expanding invention, and you need to be aware of the direction it is moving in so that you do not miss anything that could potentially harm or improve your company.
The popularity of the cloud is set to keep increasing, meaning this job is heightening in popularity – and will continue to do so.
Data Analyst
As a data analyst, you will be collecting and processing data so that you can discover trends and/or issues within a business's performance. You will then take the data and present it to the company so that they can make an informed business decision.
Typical responsibilities include preparing financial data, developing reports, consolidating the information gathered, and working with other organizations within the company.
Computer Support Specialist
Not to be confused with an IT manager, a computer support specialist is expected to lend their expertise to their less than tech-savvy coworkers. You will work behind the scenes and troubleshoot any issues that may arise within the company, lending a hand when needed and expected. Ideal for those who love nothing more than helping others and finding solutions to troublesome issues.
You should ensure that you have excellent communication skills when working in this line of work. You will be expected to respond to countless emails, phone calls, Skype calls, and also face-to-face meetings – all in the name of fixing someone else's tech problem. Furthermore, you will want to thrive under pressure, as there will be a long list of issues for you to work through.
Issues can range from an employee having log in issues, not being able to use the company's cloud, and experiencing issues with a virus that could harm the whole company. There is a lot pressure when working this job, but it also offers different day-to-day activities so you should be kept busy.
AI/Machine Learning Engineer
AI (and VR) have come a long way throughout the years, and what was once a fad is now considered the vision of the future. The likes of Amazon's Echo has changed the way many of us live, becoming a member of countless families.
AI/Machine learning engineers are in high demand. This is because many companies are adopting artificial intelligence technologies so that they do not fall behind.
Data Scientist
Data scientists help a company interpret their data and then also manage it so that they can solve complex problems that may be causing issues. There are many data niches to become an expert in, so having the right qualifications is essential.
Throughout the years, the role of data scientist has become much more prevalent in all industries and organizations. Big data is vastly changing the way we work and do business, and by having a data scientist on your team, big data will be read and deciphered correctly.
Your role is to decode the next smart move for a business, making your job incredibly weighty. Usually, you will also work within a small team.
Due to the importance of a data scientist's role, they are expected to have the credentials to support them and prove that they are up to date with the current climate. Having a PhD is not unheard of, but outside of such qualifications, you will also need to have skills in communication, collaboration, discipline, leadership, and creativity.
Being a data scientist means you can be a total game changer within a company. You will help make pivotal decisions, meaning there will be a lot of weight and pressure on your shoulders.
Key responsibilities include:
· Data mining while using the most recent methods

· Using machine learning techniques

· Enhancing data collection procedures

· Analyzing and presenting your results to the company (in a clear manner)
IoT (Internet of Things) Specialist
An IoT specialist is someone who keeps tabs on that specific tech movement. They will follow the latest trends and continue to work with IoT tools, applications, hardware and software, and devices. You will work with a company who heavily relies on IoT, and your main roles will be keeping the organization on top of the trends while scaling their IoT technology over time.
Security Professional
Cybersecurity is incredibly important, with many businesses looking to safeguard their information as well as possible so that they can keep hackers and cyber-criminals at bay. Being a security professional means you are incredibly in demand.
Your everyday business operations ensure that the organization's IT remains safe and impenetrable. You will also be tasked with keeping the organization in compliance with any future changes in regulations and security trends.
The role of security professional is ideal for those who thrive under pressure and want to keep the digital world a safer place.
Other security jobs that could interest you include becoming an ethical hacker. This role involves you purposely hacking into the company's systems so that you know the weak spots that need tending to, stopping actual hackers from finding their way into the organization's systems. There are many tech jobs in the security niche, so take you time looking through them!
As you can see, there are many careers available to those who have a love for tech. The best way to start a career in tech, however, is to study and get the correct qualifications beforehand, and then taking the time to decipher which job is right for you. You will also want to improve other core skills such as communication, meeting deadlines, and working with others but also independently.
The vast variety of jobs on offer means you have a lot of choice. You could start a career in web development and if that doesn't suit you, move into software development. Tech is cohesive and your skills can be easily transferred from one role to another, as long as you remain knowledgeable in the field.
Tech is a thriving industry, and it is only going to continue being prosperous. Take advantage of this, and find the ideal tech job for you.