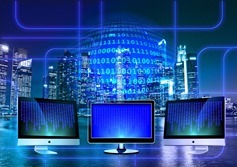 Businesses such as retail outlets, hotels, airlines, and others gather large amounts of data during their day-to-day operations. The data arises from a variety of ways, for example, during sales transactions through credit card usage and other systems. Data is also gathered from customer requests, which could include anything from requests for supplies, or enrolment into loyalty programs. The information gathered is of different nature and has some great value if used well. The challenges that businesses face is how to handle the enormous volumes of data to make some valuable use of it. It then becomes imperative to engage the services of a big data consultant who has the requisite skills and experience. The expert assists the business to work through the data for the enhancement of operations.
Definition of Big Data
The term 'Big Data' is used to refer to the huge volumes of data – both organized or prearranged and otherwise – that affects the business in its daily activities. Of importance is not the amount of data, but what the business can do with the data.  Big Data can be put to use through analysis using various tools to gain some great insights which will enable better decision-making and craft strategies for business growth.
History of Big Data
Although the concept of Big Data is relatively new, the process of collection and storage of large volumes of data for later analysis dates many years. The idea was revamped in the early 2000s when one of the industry analysts Doug Laney coined and expressly defined Big Data in terms of the three Vs:
Volume – organizations gather data from many sources such as business activities, social media, data from machine-to-machine interaction, and many more. Storage of data was a big challenge in the past, but nowadays, technology has lessened the burden by using tools like Hadoop.
Velocity – data gathers fast and must be dealt with in good time. Tools such as sensors and smart metering are making it necessary to deal with loads of data almost at real time.
Variety – data is gathered in all forms, which includes structured data, unstructured documents in text form, numeric data, videos, and many other forms.
The potential of Big Data
The extent of data being generated and stored every day is unimaginable and yet the amounts are set to rise even more. This implies there are even more opportunities to get a more in-depth understanding of issues affecting business. However, in reality, only a very small portion of this data is subjected to analysis. It goes without saying that there is so much unexploited potential of Big Data. There are Big Data companies that specialize is collecting and analyzing all this data.
The importance of Big Data
The value of Big Data is dependent on the company's ability to derive sense out of it, irrespective of how extensive the data is. You can analyze data from whichever source you can access and use the outcome to tackle such issues as:
Cutting of costs
Reduction of time spent on tasks
Development of a new product and enhancing the goods currently being offered
Making well-informed decisions
Applying advanced analytics to Big Data from your business can yield results that can be of great use in dealing with the following:
Establishing the real cause of a defect, failure, or other issues almost instantaneously
Working out an entire portfolio's risk in a short time – a few minutes
Identifying fraudulent behavior and habits before causing loss to your business
Conclusion
Big Data has an impact on all industries – banking, retail, hospitality, healthcare, manufacturing, and many others. Each industry or organization must endeavor to see how well they can tap into the great potential of the Big Data.