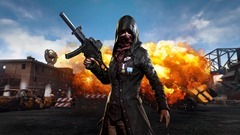 More than $400,000 is up for grabs when the world's greatest eSports teams descend upon the Lone Star State for DreamHack Austin next month. The popular festival will run 24 hours a day between June 1-3 and it takes in many the leading eSports games, from CS: GO to Starcraft II, Street Fighter V to Tekken 7. There is a $100,000 prize purse for CS:GO, $100,000 for Playerunknown's Battlegrounds, $100,000 for a Starcraft II tournament, $50,000 for Rainbow Six Siege, and $50,000 in FGC tournament prizes spread across Super Smash Bros. Melee, Super Smash Bros. for Wii U, Street Fighter V: Arcade Edition, Dragon Ball FighterZ and Tekken 7.
DreamHack Austin is a huge event, taking in college matches, an expo a Cosplay championship, an art gallery, an indie game zone a main stage with live music, various panel discussions, workshops and talks from respected keynote speakers and a host of other activities. "We're thrilled to bring DreamHack back to the great city of Austin," said DreamHack chief executive officer Marcus Lindmark. "This year's festival promises to be bigger and better than ever, from the PUBG Showdown to the FGC tournaments, from our 24-hour-a-day LAN party to live EDM music and Cosplay Championship with the iconic Yaya Han, the DreamHack experience truly has no equal."
But the pro eSports tournaments are clearly the star attractions. It is intriguing to see Playerunknown's Battlegrounds earning more big tournaments and DreamHack Austin will be a big deal for everyone connected to the game. The main event for the tournament will feature Bring Your Own Computer setups and teams will have the opportunity to rock up and earn a slot in the competition, while there will also be online qualifiers.
DreamHack Austin will play host to one of only four Starcraft II World Championship series events taking place in 2018. The others are in Leipzig, Valencia and Montreal. The winner of DreamHack Austin earns $20,000 and 3,000 World Championship Series points, while the runner-up takes home $10,000 and 1,4000 points and there are also prizes for 30 other teams in the tournament.
Rainbox Six Siege and FCG tournaments will also be eagerly anticipated, but the Global Offensive competition is probably the biggest event of the festival. Last year leading lights including Team Liquid and Cloud9 were left in the shade as Immortals and Gambit Esports surged into the Finals. First Gambit secured a massive upset by beating G2 Esports to advance to the finals, and then they defied the odds once more in spectacular fashion to secure a 2-0 victory over the more heralded Immortals. They fought back from 3-0 down and 12-11 down on Train to record a 16-12 victory thanks to of Mihail "Dosia" Stolyarov's 27/19 KD, and then he action then moved over to Inferno for Game 2. Gambit's momentum helped them open up a 9-1 lead, but Immortals battled back, only for Gambit to find a second win and close out a 16-12 win and clinch the championship.
That will spark hope among all the underdogs at this year's DreamHack Open in Austin at the start of June. The sportsbooks will be all over it, so make sure to check Betonline for latest odds and you will find several leading lights in the mix, and a few intriguing underdogs hoping to follow in the footsteps of Gambit, who thrilled fans with their exploits last year. DreamHack Austin has proved immensely popular over the last few years, and the 2018 renewal promises to be the biggest and most spectacular yet. Gambit has enjoyed considerable success at DreamHack and it will be among the teams to watch this year.