The Adobe Photoshop Touch app is now available on iOS and Android devices and it's inexpensive at only $4.99, I was really expecting it to be much more when you consider just how much the Photoshop is! The app comes with free 2gb of cloud storage and it seems to have many of the features and functionality of the desktop Photoshop program, but it's made for portable devices.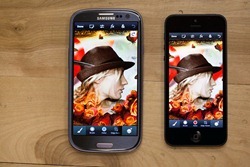 -Adobe Systems Incorporated today announced the immediate availability of a new version of Adobe® Photoshop® Touch, optimized for iPhone, iPod touch, and Android smart phones. Inspired by the highly successful Photoshop Touch for tablets, the phone app brings core features of Photoshop desktop software to mobile devices and offers similar intuitive, touch-based gestures and features.

"Mobile phones are increasingly becoming the primary tool for people to take and edit photos," said Winston Hendrickson, vice president products, Creative Media Solutions, Adobe. "Adobe is dedicated to serving our customers' evolving creative workflow and we heard, loud and clear, that Photoshop fans wanted some core Adobe imaging magic on their smartphones."

Adobe Photoshop Touch for phone offers powerful new capabilities for smartphone users:

Enhance images using popular Photoshop features such as layers, selection tools, filters, tonal and color adjustments

Apply effects and add graphical text for endless creative possibilities

Edit images as large as 12 megapixels with layers

Combine images together quickly using the Scribble Selection feature, and easily refine your selection with the Refine Edge tool

Automatically sync images to Adobe Creative Cloud™ with free 2GB of storage

"Photoshop Touch is a great way to work on an image on my mobile phone. The 400 percent touch zoom and organized interface in Photoshop Touch for phone made enhancing my images fun and easy," said Brian Yap, creative director, Boxing Clever. "Working with curve adjustments and filters that use slider controls is especially intuitive."

"Adobe Photoshop Touch for phone offers great depth and value with layering and blending features," said Richard Gray, mobile photographer, educator and blogger, iphoggy.com. "I'll be using Photoshop Touch for phone in class with my students this year as we look at the more artistic end of the creative process with dreamscapes and surreal images."

"The depth of selection tool options offered in Adobe Photoshop Touch for phone is unique to the photo compositing app market," said Dan Marcolina, Marcolina Design & MarcolinaSlate LLC, author of iPhone Obsessed. "Now I, and other iPhonegraphers, can do even more exacting edge editing on the device where the image originated—our mobile phones."

Adobe Create Cloud Workflow Integration

Photoshop Touch for phone is integrated with Adobe Creative Cloud* and includes access to 2GB of Creative Cloud storage with a free account. Users can sync photos and projects to Creative Cloud, and then continue working with the files from a tablet** or Photoshop*** desktop software. Creative Cloud is a radical rethinking of the entire creative process and an industry-defining shift in creative expression and inspiration, where members can explore, create, publish and share their work across devices, the desktop and the Web. Visit Adobe Creative Cloud for more information.

Pricing and Availability

Adobe Photoshop Touch for phone is immediately available in the Apple App Store and Google Play for US$4.99. For iOS devices, the app requires iOS 5, iPhone 4S and iPod touch 5thgeneration; Android phones must run Android 4.0 (Ice Cream Sandwich) or later.