I don't think I've ever heard of a midi tower before, mid-tower maybe, but not midi, but that's what the PR says. Anyway the DS-200 looks like a great case and it's available in seven different colors and with window or without. The case is made to keep noise down as it has insulation built-into it on the side panels and it has plenty of other features that most enthusiasts would like to see in their case.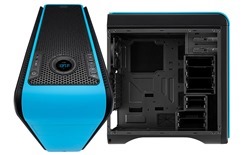 Aerocool Advanced Technologies, one of worlds leading manufacturers of excellent gaming PC gear, introduces a new midi tower from its award-winning Dead Silence series. New DS 200 chassis has been fitted with a variety of refinement and features, making it an outstanding product in the market. Aerocool equipped both of the side-panels of the DS 200 with special insulation mats to reduce the noise coming from the inside of the PC. Additionally, one fan controller has been integrated and thicker 0,8 mm SECC material has been used for the whole structure.
One of the obvious highlights of the DS series is the rich color choice offered by Aerocool. The users can choose from total of six colors, including the classy black, black/white, red, orange, blue, and green. Another choice is the new value for money "Lite Edition". All DS 200 are equipped with a special top-cover, which can be removed and replaced by a mesh-style top-cover to boost the airflow capabilities. Aerocool offers an optional side panel with a window for those, who like to show-off the built-in components of their rig.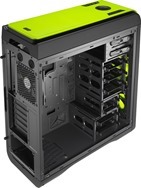 Another highlight is the built-in fan controller located on the topside of the DS 200. Supporting a total of maximum 25 watts shared by three channels, the fans can be controlled simultaneously. Three different speed options (low, medium and high) are available as well as the option to completely stop a fan channel. The temperature inside the case alongside the fan speed is displayed on the large round display. Depending on the individual taste, one of seven background colors can be chosen for display illumination. The I/O panel is designed very similar to the one used for the DS Cube, including two USB 3.0 and two USB 2.0 ports, one HD-Audio and one microphone connector.

The DS 200 offers much space on the inside for latest hardware components and a tool-free mounting mechanisms for optical drives, hard drives and solid state disks. Up to five 3,5 inch HDD or seven 2,5 inch HDD or SSD can be installed. Common mainboard form-factors such as ATX, Micro-ATX and Mini-ITX are fully supported as well as VGA cards with a length of up to 29 centimeters, or even up to 41 centimeters after removing the center 3,5 inch HDD cage.
Much choice is offered when it comes to cooling: Both air-cooling and water-cooling fans will be satisfied. Big CPU coolers with a height of 17 centimeters can be mounted without hassle thanks to the special opening inside the mainboard-tray for back-plate based mounting systems. To further ease the cable management process, several pass-through openings with rubber-protections are located in the mainboard-tray. 240- or 280-millimeter water-cooling solutions can be mounted in the front or the top of the DS 200 chassis. Power supply units with a length of 22 centimeters can be installed easily as well.

Aerocool has put special effort into the silence capabilities of the DS 200 chassis. Both of the supplied side panels are equipped with special insulation mats, which has significant influence on noise-reduction. Anti-vibration shockproof rubber has been used for all 2,5 inch and 3,5 inch bays as well as the PSU. In addition, two silent case fans are supplied and pre-installed, providing steady airflow out of the box!

Lastly, the Lite Edition is introduced, aiming for users with slightly different focus. The value-for-money version of the DS 200 is supplied with standard side-panels (without insulation mats). Furthermore, both the center 3,5 inch cage and the auto-eject front-panel (for ODD) are not included in the package.
The new Dead Silence Cube models are available from retailers and online shops starting this week. Suggested retail prices are as following:
DS 200 Lite Black 120,90 USD (excl. Taxes)
DS 200 Black Edition 158,90 USD (excl. Taxes)
DS 200 Red Edition 163,90 USD (excl. Taxes)
DS 200 Orange Edition 163,90 USD (excl. Taxes)
DS 200 Black/White Edition 163,90 USD (excl. Taxes)
DS 200 Blue Edition 163,90 USD (excl. Taxes)
DS 200 Green Edition 163,90 USD (excl. Taxes)
DS 200 Window Panel 13,00 USD (excl. Taxes)

**********************************************
Aerocool DS 200 – Product Page