Here's something interesting, an adapter for Apple products that gives users SRS iWOW 3D audio.
SRS Labs, Inc.  officially recognized as one of America's Greatest Brands and the industry leader in surround sound, audio and voice technologies, today announced that the SRS iWOW 3D™ is now shipping and is available from SRS Labs' online store and select online retailers. SRS iWOW 3D, the latest generation of SRS' award-winning plug and play hardware audio enhancement accessory, was designed specifically for iPad™, iPhone®, iPod touch®, and iPod nano® to deliver an immersive, high fidelity audio experience.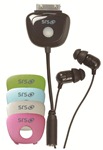 "Thanks to innovative products such as Apple's iPad, iPhone and iPod, more and more people are enjoying their favorite music, games, movies and TV shows on the go; however, these devices fall short on delivering a great entertainment experience due to their limited audio performance capabilities, negatively impacting at least half of their experience," said Allen H. Gharapetian, Vice President of Marketing for SRS Labs. "We designed the iWOW 3D to breathe new life into compressed and non-compressed files, allowing consumers to experience their favorite multimedia content with renewed depth and clarity. We are confident that our new iWOW 3D audio adapter will become a benchmark accessory for consumers who use their iPad, iPhone and iPod to truly enjoy their content at its best."
As a premium audio accessory, the new SRS iWOW 3D is housed in a slim, sleek gloss black enclosure that features an extended line-out headphone jack at one end while the other end is designed to seamlessly connect to the standard 30-pin connector of an iPad, iPhone or iPod. The SRS iWOW 3D is available in two models: The premium iWOW-3DHF model and the base iWOW-3D model. Both models feature the new SRS iWOW 3D audio enhancement adaptor but in different package configurations as highlighted below:
Five interchangeable color faceplates that create a personalized appeal (HF model only)
Custom-designed, high-quality in-ear earbuds aimed to further enhance the SRS iWOW 3D experience (HF model only)
Free SRS iWOW App for greater playback customization (both HF and base models)
Exclusive offer to purchase SRS iWOW for iTunes software (for Mac and PC) at a significant discount directly from SRS Labs' online store (both HF and base models)
Illustrated quick start guide (both HF and base models)
Building upon the success of the award-winning line of SRS iWOW audio enhancement products, the iWOW 3D utilizes several patented SRS audio solutions, allowing it to retrieve and restore audio cues that are buried deep within the original source audio to provide an immersive three-dimensional sound stage with renewed depth and clarity, as well as improved bass response for headphones, speakers and car stereos. The end result is a truly uncompromised, natural and dynamic entertainment experience for music, movies and games.
iWOW 3D users will also be able to further customize their iWOW 3D audio experience through a free downloadable app available through the iTunes App Store. The SRS iWOW App allows users to select specific listening device modes such as headphones, speakers or car, and then optimizes the audio for that playback environment. Additionally, the SRS iWOW App allows users to further enhance their listening experience by allowing the ability to increase bass and treble and add a widened surround sound field.
Both products are available now at SRS Labs' store at www.srslabs.com/store and select online retailers.
To commemorate the launch of the iWOW 3D, SRS is running a sweepstakes where entrants have a chance to win 1 of 50 iWOW 3D adaptors and the grand prize of an iPad plus iWOW 3D. The Sweepstakes runs February 15th – March 11th. Please visit www.srslabs.com/iwow3dsweeps to enter.