I don't understand how this is already shipping? I went to order one when they were first announced and to get the Prime deal and when I added it to my cart it had a ship date of January 5th 2015 so I just cancelled the order as that's just a ridiculous amount of time to wait. Anyway, I just got this PR that says the Fire TV Stick is shipping today and they're taking orders on a first come first serve basis, but still they're still taking orders. If mine wasn't going to ship until January I wonder when these will ship? Full PR below for you..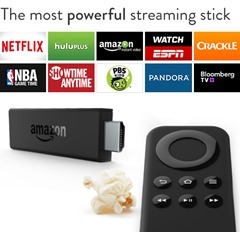 Amazon announced that Fire TV Stick, the fastest-selling Amazon device ever, started shipping today. Customers can order at www.amazon.com/fire-tv-stick; new orders will be filled on a first-come, first-served basis.

"Fire TV Stick has been our most successful device launch ever," said Dave Limp, Senior Vice President, Amazon Devices. "We built a ton of these, but customer demand still outpaced our supply. We're excited by the overwhelming customer response and the team is working hard to build more as quickly as possible."

Fire TV Stick is a small stick that connects to the HDMI port on your HDTV for instant access to movies, TV shows, music, photos, apps, and games. It features a dual-core processor, 2x the memory of Chromecast, dual-band, dual-antenna (MIMO) Wi-Fi, and exclusive features like ASAP for instant streaming. Plus, it comes with a remote control for simple and easy navigation. You can also use the free Fire TV Remote App for Fire phone, Android phones, and coming soon to iPhone to search using just your voice.

Fire TV Stick delivers instant access to a vast selection of content, including the most popular video and music services such as Netflix, Prime Instant Video, Hulu Plus, WatchESPN, NBA Game Time, Twitch, SHOWTIME ANYTIME, Prime Music, Spotify, Pandora, Vevo, Plex, A&E, PBS, PBS KIDS, WATCH Disney Channel, YouTube.com, and more. You can also rent or purchase over 200,000 movies and TV episodes from Amazon Instant Video, which has the world's largest selection of videos to rent or buy, including new releases and blockbusters.

Fire TV Stick is just $39—customers can order at www.amazon.com/fire-tv-stick to reserve their place in line.