Looking for a cheap Android based tablet? There's plenty of them on the market that's for sure, but AOC has decided we need another one. Yes it's going be sold for $200, making it much less expensive than the Tab or iPad, but it's supposed to be an inexpensive tablet. It's running Android 2.1 and it has a 800×600 screen with b/g wi-fi, Rockchip CPU, headphone and USB ports and a microSD slot.  The PR doesn't mention if the screen is capacitive or resistive but at that price it's most likely resistive, but you new know. I don't get why people and other sites get down on inexpensive tablet like these, they're not bad, not great but not bad. We've got inexpensive options for everything else so why not tablets? I guess if it's not an iPad or Tab then it's considered junk right?  I don't agree with that school of thought myself, but that's just me…
AOC, the world's largest manufacturer of LCD/LED monitors and HDTVs, announces the launch of the Breeze, an ultraportable tablet with an industry-leading 8-inch, 800-by-600-pixel touch screen and a full USB 2.0 port. The Breeze Tablet runs on the Google Android 2.1 operating system and is powered by a Rockchip processor. Weighing in at only 1.1 pounds, it is a truly portable device that puts the Internet, e-mail, games, movies and music at your fingertips. The Breeze Tablet offers a seamless user experience and will be available for purchase at a sub-$200 price point at national retailers.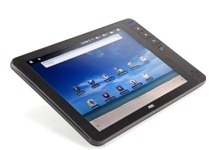 "In developing the Breeze Tablet, we were able to capitalize on our expertise in video displays and our strength in the computer industry to create a device that matches our 60-year reputation of providing quality and user-friendly products at a great value," said Robert Velez, Marketing Manager of AOC.
Ideal for work and play, the Breeze Tablet lets you stream media from an attached USB device or the Internet via Wi-Fi onto its 8-inch, 800-by-600-pixel touch screen. The device will play several hours of audio and video when fully charged, and includes a built-in speaker, standard headphone jack and microphone. The Breeze comes preloaded with essential applications like Web browser, video and audio players, photo browser, e-mail, calendar and e-book shelves, and provides access to additional apps like office suite through the Android marketplace. The Breeze offers 4GB of on-board storage space, as well as a micro SD card slot for further expansion. The full USB 2.0 also allows for additional storage.
Key Standard Features
§ Google Android 2.1 OS
§ 8-inch touch screen with auto-rotation
§ Wi-Fi 802.11b/g
§ 4GB internal memory
§ Full USB 2.0 port
§ Additional ports: USB OTG, 3.5MM stereo headphone jack, DC in jack
§ Micro SD card reader
§ 12 hrs audio playing time/up to 6 hrs video time
A full line of accessories is available for the Breeze Tablet, and AOC offers a two-year accident coverage program for loss or damage of the device.
About AOC
AOC is the world's largest manufacturer of LCD/LED monitors and HDTVs. With more than 60 years of design and manufacturing experience, AOC has earned a reputation for selling user-friendly, technologically advanced monitors, TVs and multi-functional displays. Every aspect of AOC's global business focuses on the development of products that fit seamlessly into consumers' digital lifestyle. For more information, please visit www.aoc.com or us.aoc.com.