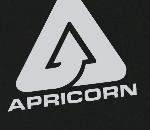 Now this is a secure hard drive.. Combination keypad built right in and 256bit AES hardware based encryption as well. I guess if you have use for something like this then this is the one you would choose huh? It's 2.5" for factor and you can get regular mechanical HDD or SSDs in them. Capacities range from 250gb to 640 gb with prices from $129 to $199 for the mechanical style and 128gb or 256gb for the SSDs that are priced $419 and $799 respectively.  They claim up to 90MB/s on the regular HDD, and up to 219Mb/s on the SSDs.
The Aegis Padlock Pro protects your data inside and out. Featuring an easy-to-use keypad design and software free setup, the Aegis Padlock enables drive access with your own unique PIN. Real-time 256-bit hardware encryption keeps data safe even if the hard drive is removed from its enclosure. In addition, the Padlock's Administrator Feature allows enrollment of up to ten unique user IDs and one administrator, making it a secure business collaboration tool.
For additional information please visit http://www.apricorn.com.