Now if I had an iPhone 4 I think I'd want one of these cases. Aluminum and carbon fiber, nice combination.
The Lake Tahoe based company was challenged to produce a bumper style case that helps with Apple's original antenna band death grip issue. Shankar, industrial designer and VP of Atomic stated he was compelled to create a solution to this media propagated issue while retaining a classy, elegant style. "Most cases degrade signal to some extent, while all aluminum cases kill it," Shankar states. By creating this Hybrid Composite case, Atomic has addressed the demand of the aluminum look while using space age composite material to help signal penetration. Most users actually see an improvement of signal after the case is on. The case only weighs 15 grams so it feels as if there is no case on. The case is available in a matte black or matte white composite frame coupled with a CNC machined aircraft grade aluminum cap. The aluminum part is electroplated in a choice of 10 different colors. The Hybrid Composite case will hit major electronics stores nationwide soon, but can also be purchased on their website now at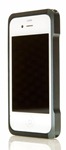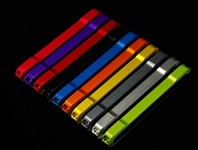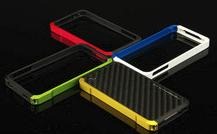 The price of such an advanced case for the iPhone 4 does not come cheap. Expect to pay almost $80.00 for this case and add more if you want a true carbon fiber back plate for you carbon fiber fanatics. Verizon iPhone 4, as well as AT&T iPhone 4 users have thousands of cases to chose from, but if you want to retain or enhance the style of the iPhone 4, not worrying about signal or GPS issues, the Atomic Hybrid Composite Case is one to consider.