AT&T has just announced a new phone that's arriving on September 13th. The phone is from LG and it's called the G2 and it has a price of $199.99 with two year agreement or $27 per month on their new payment plan. The LG G2 is an Android phone with a 5.2 inch full HD screen. The phone also has a 13mp camera with image stabilization and there's a large 3000mAHG battery inside..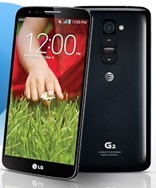 If you're looking for a smartphone that lets you connect faster, work smarter and literally puts control in the palm of your hand, consider the new LG G2 – the first U.S. smartphone to launch with the new Qualcomm Snapdragon 800 processor. Coming to AT&T* stores September 13, the LG G2 will be available for $199.99 with a two-year agreement or $27 per month with AT&T Next. Online sales begin September 6 at www.att.com/g2.  

With the LG G2, you don't have to choose between comfort and style.  In fact, the LG G2's intuitive design is a first of its kind.  The power and volume keys are conveniently housed on the rear of the device, offering easy one-hand gripping and central control.  G2's unique KnockOn feature lets you wake your phone with a simple tap on the screen, bypassing the power button altogether.

The LG G2's cool factor isn't limited to the back of the device. AT&T customers will delight in the massive 5.2-inch Full HD IPS display which offers immersive, near edge-to-edge viewing with 16:9 aspect ratio and high-definition imagery without color distortion.  In addition, the G2's 3,000 mAH battery offers long-lasting power capacity without adding extra exterior bulk.

"We are always rethinking what's possible, so we can continue to offer you the most compelling products and services," said Jeff Bradley, senior vice president- Devices, AT&T. "The LG G2 successfully marries innovation with performance. We're excited to welcome this unique device to our leading smartphone portfolio, on the nation's fastest and now most reliable 4G LTE network."

The LG G2's super-fast Qualcomm Snapdragon 800 quad-core processor lets you run multiple apps at once, browse the web or enjoy video and games seamlessly.  The powerful processor also helps to enable the G2 to boast impressive sound features such as Hi-Fi sound playback and HD multichannel audio for enhanced sound quality.

The LG G2 runs on Android 4.2.2 (Jelly Bean Plus) and includes several compelling features:

A 13-megapixel Optical Image Stabilization (OIS) camera that helps reduce blur in photos and videos when capturing images in motion and improves clarity in extremely low-light conditions.

Slide Aside multi-tasking allows three full screen apps or "slides" to run at the same time.

QSlide 2.0 maximizes on-screen multi-tasking with the simultaneous use of multiple apps in floating windows, similar to a PC, that can be re-sized and have their level of transparency adjusted.

Clip Tray allows you to copy multiple items and paste them in a pop-up clipboard, which can be saved or shared.

QuickRemote 2.0 turns your phone into a universal remote for most remote controlled consumer electronics.

VoiceMate lets you use your voice to send text messages and emails, and perform other administrative tasks.

KnockON lets you wake the display just by knocking twice on the phone's screen.