There's too many choices when it comes to cameras, that's a good thing and it's a bad thing. It's a good thing because it gives you choices and competition. It's a bad thing because of compatibility issues, nothing seems to be standard when it comes to these types of cameras and it drives me nuts. So anyway, Belkin has just announced a new wi-fi camera, the NetCam HD which can record at 720p and it's compatible with both Android and IOS devices. Price is $150 and you can get a free NetCam app on iTunes or Google Play.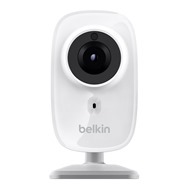 -People-inspired tech brand Belkin helps provide mobile residents peace of mind when they're away from home with its next-generation NetCam HD Wi-Fi Camera—available today for purchase at retail stores and on belkin.com. The new wireless networking camera provides users with instantaneous access via a smartphone or tablet to pets, children and other family members at home in dynamic 720p high-definition (HD) video resolution and clear digital audio.

"Portable devices have become central to today's connected homes and we designed NetCam HD for mobile consumers to take full advantage of their HD video and audio capabilities to effortlessly check in on their pets or loved ones from anywhere day or night," said Mike Chen, senior director of product management, Belkin.

The newest addition to the popular NetCam product family, NetCam HD features a streamlined setup process that allows users to operate the camera's functions in two simple steps. Utilizing an iOS or Android device, users download Belkin's free NetCam app and then connect the camera to their home's Wi-Fi router to begin streaming video and audio to their mobile device. With the NetCam app, users can also customize the camera's offerings by enabling email notifications when motion is detected or record video directly to their phone or tablet.

Belkin NetCam HD Wi-Fi Camera (F7D7602) includes the following features:

HD, 720p resolution video

Clear digital audio

Easy mobile-device setup to eliminate the need for a computer

Infrared night vision for clear vision in little to no light

Wide-angle video

Movement detection email alerts

Ability to record live video to mobile devices

Compatible with iOS (4.2 or higher) and Android (version 2.2 or higher) devices

Pricing & Availability

Belkin's NetCam HD Wi-Fi Camera is available for purchase now at belkin.com, Amazon.com, Verizon, Target stores and other major retailers for $149.99. The free NetCam app can be downloaded from the App Store or Google Play.