I know I love a good case on my phone, and you should too after all you pay a lot for your smartphone so why not invest in a case that will fully protect it?! At least that's how I think of things and so does Bike2Power as they just announced that they're carrying the Bravo case for the iPhone 5 which is fully waterproof and shockproof to give your phone the maximum amount of protection it can have. I know I would want this case on my phone. The case is available in silver or black with a price of $99.95.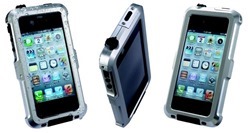 Bike2Power announces the U.S. distribution and immediate availability of Bravo, a fully waterproof and shockproof Aluminum case for iPhone 5 by Tigra Sport. Adding flare and style to your phone, this case will protect your iPhone against water, dust, dirt, mud, snow and impact at all times.

Stop hiding the iPhone's sleek look and feel with cheap plastic cases or old-style aluminum bumpers that don't offer protection from water. The Bravo Case is waterproof down to 6 feet, and can withstand the impact of a free fall from more than six feet on a hard concrete floor at multiple angles. With dimensions of 5.54" x 2.85" x 0.49", it is one of the slimmest waterproof iPhone 5 cases in the market. Despite heavy protection, all phone features are accessible.

Most waterproof phone cases have the touchscreen protective membrane integrated into the case shell which hampers touch sensitivity. The screen protector of the Bravo Case is adhered onto the phone itself. This design minimizes the chance of having air bubbles trapped between the screen protector and the touchscreen. The screen protector is pressed against an O-ring on the front cover which, together with the phone itself, provides the rigidity to seal the case against water. CNC machined to a high degree of precision using aero-grade aluminum, each case is carefully hand-assembled and thoroughly tested before shipping to consumers.

The Bravo Case can be easily assembled using seven screws and features a concealed lanyard loop for added functionality. Each package comes with a full set of tools, a headphone conversion cable, lint-free cleaning cloth, spare screws and caps, as well as instructions in different languages.

The Bravo Case is available for $99.95 in silver and black anodized aluminum at www.bike2power.com. Additional colors including metallic blue, green and purple will be released later this year.