Yes, PC and PS3 owners the wait is over, you can now get Black Ops: Rezurrection and join the zombie killing fun. To celebrate the release you can get double XP from Friday the 23rd until Monday the 26th.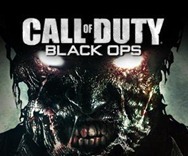 Rezurrection's top-secret cargo features the massive Zombies frag-fest Moon, as well as four re-mastered levels from Zombies past, an enhanced soundtrack and new Moon theme.

Moon features all-new weapons, futuristic gear and hordes of low-gravity loving undead, delivering Black Ops' deepest and most intense Zombies experience yet. Meanwhile, strengthened with the firepower and visual splendor of Black Ops , players can relive the nightmare of "Nacht der Untoten," escape the zombie madness in the asylum of "Verruckt," battle back the undead Imperial Army of "Shi No Numa," and pull the plug on "Der Riese," the zombie factory that started it all.

For our fans who purchased the Black Ops Hardened or Prestige Editions for the PlayStation 3 system, and have already downloaded the Classic Zombies Pack with re-mastered maps, Rezurrection can be downloaded via the in-game store or through the PlayStation®Store for free.  This includes Moon, the Zombies Soundtrack and the Moon Theme.

Treyarch is also delighted to announce that they have once again partnered with hardcore Call of Dutyfans and rock superstars, Avenged Sevenfold, featuring their classic track, Nightmare, in Rezurrection'sMoon level.