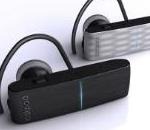 These two new headsets  offer decent range at 50+ meters, and they also offer two-way communications if you've got two of them. They offer five hours talk time and over 120 hours standby.
The Onyx and Vetro Bluetooth® headsets both offer a 164 ft (50m) range, which allows users to extend the boundaries of traditional headsets. It allows users to roam around the office or home without being tethered to their cell phone. The Onyx and Vetro can also simultaneously connect to your PC or Mac for Skype® calls, allowing you to switch between your computer and mobile phone with a press of a button. In addition, the headsets have advanced dual-mic noise suppression(TM), which allows callers on the other end of the call to enjoy a strong clear voice even if the user is in the car, airport, restaurant or at the office.
2-Way Walkie-Talkie Communication
The Onyx and Vetro can be used with other Vetro, Onyx or Dragon V2 headsets for two-way or push to talk communication over a 84,000+ sq ft space. The new headset takes about 3 hours to fully charge via USB port or outlet and provides up to 5 hours talk time and over 120 hours on standby.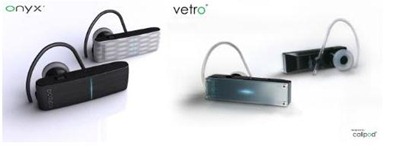 Light and Comfortable
For maximum comfort, Callpod's proprietary Gummy Gel(R) ear bud molds easily to the inside of the ear, a great benefit for users who use headsets a majority of the day. The light-weight Onyx and Vetro can be easily stashed in the users pocket, coat, purse or bag.
"The Onyx and Vetro are raising the bar in the mobile communications arena by offering a ton of features and performance for a value-driven price. We priced the Onyx at $69 to allow consumers to have features surpassing many other headsets above $100," said Darren Guccione, Callpod's CEO and Co-founder. "Its combination of specifications and comfort, for the price, were important to us during the design process. Both headsets are small, light and form-fitting with clear and powerful performance."
Web Site: http://callpod.com/