Here's what's going on with Kingston so far. We've got HyperX Red, Wi-Drive app for Kindle Fire, Apple app update, 64gb capacity for the Wi-Drive and a couple of new DataTraveler USB drives. So read on to see what's new with Kingston, pictures, details and all..
HyperX Red Limited Edition has a sleek and aggressive look that provides a stylish accent to any motherboard or desktop computer in which it is installed. HyperX Red is Intel XMP ready and is available in 8GB kits and 4GB single modules at 1600MHz and 1333MHz, in both 1.65v and 1.5v. With the ease of installation and HyperX reliability, these new modules meet the needs of consumers and gamers alike who seek higher performance via faster speeds and larger capacities.
Kingston® has also redesigned the look of its HyperX LoVo low-voltage modules. The new streamlined HyperX LoVo will remain in its standard green color but with a heatspreader similar to the HyperX Genesis. HyperX LoVo consumes less power and reduces heat thus requiring less fan speed to create a cool and quiet machine. Running at 1600MHz at 1.35v or 1333MHz at 1.25v, it is perfect for Intel's mini-ITX 'Apple Glen' motherboards, AMD's Llano platform and "always on" home theater PCs or home media servers. HyperX LoVo is available in 8GB and 4GB kits of two.

Kingston HyperX memory is backed by a lifetime warranty and free 24/7 technical support. For more information visit
Kingston Wi-Drive was first released in 2011 for Apple devices and can now be used for the Android-based Kindle Fire tablet. The app, available on the Amazon Appstore for Android, allows Kindle Fire users to expand the capacity of the device beyond the 8GB of internal storage.
The 64GB version coming soon allows even more storage and sharing, and joins the Wi-Drive family currently available in 16GB and 32GB capacities. An app update for Apple devices allows AirPlay support for streaming of music*, photos and videos**. For iPhone users working with documents, Wi-Drive presents the "Open in" option so the user can select which app to use to view the document, and also allows copying to the Wi-Drive app. Purchased or DRM content can now be accessed on Apple mobile devices through the Safari browser via the Wi-Drive's IP address as long as the device is assigned to a computer using an iTunes account.
Kingston Wi-Drive is backed by a one-year warranty and 24/7 live technical support. For more information visit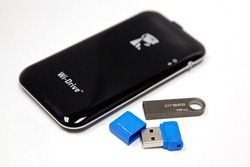 Kingston's light and thin USB Flash drives focus on small and stylish designs that expand and innovate the storage capacities of smaller form factor computing devices. In addition, Kingston Wi-Drive offers wireless memory expansion for tablets and smartphones such as Kindle Fire, Apple iPad, iPhone and iPod touch.
"Our various USB Flash drives are light and thin storage solutions which enable tablet and ultra notebook users to extend the capacities and enhance the capabilities of their devices without getting in the way."
DataTraveler® SE9: Functionality meets style for mobile users with the new DataTraveler SE9 (DTSE9) USB Flash Drive. The ultra-thin, sleek metal case features a large built-in key ring for easy attachment to a backpack, briefcase, purse or keychain. When plugged into a PC, its metal casing and small size provides protection and does not get in the way of other Flash drives when USB ports are clustered together. The DataTraveler SE9 is available in 8GB and 16GB capacities.
DataTraveler Micro: One of the world's smallest USB Flash drives, the DataTraveler Micro is designed in an ultra-small form factor that can be left in devices such as tablets, slim notebooks, netbooks or car audio systems while barely increasing the overall footprint of the host device. The USB drive's small size allows it to easily blend in without blocking other ports. DataTraveler Micro is available in 8GB and 16GB capacities.
Kingston Wi-Drive: The portable, wireless storage device for Kindle Fire and Apple devices will be available in a 64GB capacity in later Q1. The device with built-in Wi-Fi allows users to view photos or documents, stream movies and listen to music without relying on Internet access or cloud-based technology. Currently available in 16GB and 32GB capacities, the larger size allows even more sharing of photos, videos, music and more.
For more information, please visit www.kingston.com