It's a shame my 47" Vizio HDTV is only about two years old and I want another one. There's nothing wrong with it, but I just want one of these new ones that are coming out. I don't want it because of the new Hulu and Blockbuster services though, I'm happy with Netflix and everything else. You might be interested in the new features though so here the info:
VIZIO announced today a significant expansion of the VIZIO Internet Apps (VIA) platform with the addition of Hulu Plus™ subscription service and BLOCKBUSTER On Demand®. These new apps further strengthen the diverse catalog of entertainment choices available through VIZIO Internet Apps (VIA) Connected CE platform on 2010's best-ranked LCD HDTVs and select Blu-ray players. Several other partners soon to launch their content and services to the award-winning VIZIO Internet Apps (VIA) platform include BigStar, MOG, NAMCO BANDAI Games America Inc., OnLive, Skype, and Vimeo.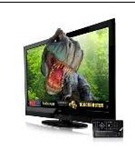 "Our VIZIO Internet Apps platform continues to be the most innovative and compelling connected experience for consumer electronics," said Matthew McRae, Chief Technology Officer at VIZIO. "Service and application partners focus on VIZIO because of the seamless user experience, class leading features, and award winning devices.  The result is a product that gives consumers unprecedented choice and access to the best of what the web has to offer."
Hulu Plus enables subscribers to stream instantly the deepest available library of current hit TV shows from ABC, FOX and NBC for only $7.99 per month. Hulu Plus offers the full seasons of many current hit television shows like Glee, Family Guy, Grey's Anatomy, Modern Family, 30 Rock, House and The Office. Viewers will also be able to enjoy classic shows from an extensive back catalog, including The X-Files, Arrested Development, Battlestar Galactica, Monk, Saturday Night Live, Law & Order: Special Victims Unit, Ugly Betty, Buffy the Vampire Slayer, and many more.
BLOCKBUSTER On Demand delivers a wide range of movies, including new releases as soon as they become available on DVD and Blu-ray. Rental prices range from $2.99 to $3.99, and purchase prices range from $5.99 to $19.99. BLOCKBUSTER On Demand enables customers to rent or buy not only the latest hit movies, such as Inception, Shrek Forever After and The Twilight Saga: Eclipse , but also classics like Caddyshack, Superman and Back to the Future.
VIZIO Internet Apps Continues to Grow
The VIZIO Internet Apps (VIA) Connected CE platform delivers unprecedented choice and control of web-based content and services directly to the television without the need of a PC or set-top box. The platform spans across VIZIO's E, M and XVT Series HDTVs, from sizes as small as 22" class, up to 65" class, with select apps also available on certain VIZIO Blu-ray Players.  VIZIO Internet Apps (VIA) features top online content and service brands including: Amazon Video On Demand, Facebook®, Flickr®, Netflix, Rhapsody®, Pandora®, Twitter™, VUDU®, and Yahoo!® TV Widgets, as well as several new apps recently released, including: Fandango®, iMemories®, MediaBox™, My-Cast®, TuneIn Radio™, Web Videos, Wiki TV and Yahoo Fantasy Football .
Several new partners have also signed on to deliver their services through the VIZIO Internet Apps (VIA) platform including BigStar, MOG, NAMCO BANDAI Games America Inc., OnLive, Skype, and Vimeo.
BigStar (www.bigstar.tv) – BIGSTAR, the social discovery and demand platform, gives access to thousands of unique movies and entertainment. Watch Indies, foreign films, festival award winners and more!
MOG (www.mog.com) – MOG is the award-winning, on demand digital music service that provides unlimited access to over 10 million songs from over a million albums in CD quality through a wide range of devices including mobile phones, tablets, TVs, Blu-ray players and the Web.
NAMCO BANDAI Games America Inc. (www.namcobandaigames.com) – Namco Bandai provides top-notch interactive gaming to multiple platforms. With the expansion to the VIZIO Internet Apps (VIA) platform, Namco's rich franchises will be available to an even broader audience.
OnLive (www.onlive.com), the pioneer of  instant-play cloud gaming, delivers premium video games on demand to a range of electronic devices, empowering gamers to anytime, anywhere, instantly.
Skype (www.skype.com) – The Skype App in VIZIO Internet Apps (VIA) HDTVs will work in conjunction with the VIZIO Video Camera VCP100 that attaches to any VIZIO Internet Apps (VIA) HDTV through a USB connection. When used together, users can enjoy HD quality 720p video chat at up to 30 frames per second over their high-speed Internet connection. Perfect for staying in touch with friends and loved ones, the Skype App also lets you chat over instant messenger with other Skype users.
Vimeo (www.vimeo.com) – Vimeo's newest app allows people to watch their original videos in high quality on Vimeo.com along with thousands of other inspiring works from talented creators.
Additionally, 3D fans can look forward to instant streaming of 3D movies from VUDU. At CES this year, VUDU began offering 3D content for enabled TVs and Blu-ray Players, which will soon include VIZIO HDTVs and Blu-ray Players. With the addition of 3D streaming, VUDU enriches its industry leading cinematic streaming experience, an experience that already includes instant HD and HDX 1080p and Dolby Digital Plus 5.1 Surround Sound. Combined with VIZIO's new Theater 3D™ HDTVs which utilize lightweight and battery-free eyewear and provide up to 2X brighter and flicker-free picture quality, users will be able to enjoy the ultimate 3D experience without leaving their living rooms.
In further support of the cinematic experience, VIZIO will be demonstrating a new app at their private CES showroom at the Wynn Hotel. The new VIZIO On Demand app will enable users to access movies in CinemaScope aspect ratio for a pure movie experience on VIZIO's Cinema HDTV™ displays, 4K by 2K content for Ultra HD TVs that can display up to four times the resolution of 1080p HD, 3D movies, and a deep catalog of top movie favorites, all available to stream direct to VIZIO Internet Apps (VIA)-enabled TVs.
Wireless connectivity is central to the VIZIO Internet Apps (VIA) experience with 802.11n dual-band Wi-Fi conveniently built in for high performance.  With VIZIO Internet Apps (VIA), viewers can enjoy the convenience of on demand movies, TV shows, social networking, music, photos and more with just the push of a button on the premium Bluetooth QWERTY keyboard universal remote with slide out keypad (XVT Models only).
VIZIO Internet Apps (VIA) Blu-ray Players also deliver select apps with most models sporting built-in 802.11n Wi-Fi connection as well.
Hulu Plus and BLOCKBUSTER On Demand will be rolling out this week to VIZIO Internet Apps (VIA) HDTVs through automatic updates over their Internet connection. Soon to follow, VIZIO 3D Blu-ray Players with Wireless Apps (VBR333 and VBR334) will receive updates over the Internet that will add these apps as well.
*Sources: Q3 2010 iSuppli and DisplaySearch Reports
Web Site: http://www.VIZIO.com