IDAPT is excited to announce the new IDAPT i1 Eco dual universal charger.  The compact IDAPT i1 Eco is made of recycled materials, meets Energy Star standards, and minimizes the user's carbon footprint while charging most electronic devices.
The IDAPT i1 Eco charger helps conserve energy through its Auto-off system which turns off the charger while not in use and a re-start button to wake it when necessary.  The dual charger can refuel mobile devices while at home or the go via wall outlet or included car adapter with minimal impact on the environment. Additionally, no chemical painting is used during the manufacturing process in order to ease the process of future recycling.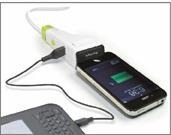 The IDAPT i1 Eco has two points of charge, a USB port and a tip port.  The future-proof interchangeable tips system makes the IDAPT i1 Eco compatible with over 4,000 different devices including iPad and iPhone as well as BlackBerry, Nintendo PSP, XBOX controllers, GPS systems and Bluetooth products.
IDAPT i1 Eco will be available in Spring 2011.  More information about IDAPT's new CES products can be found at IDAPTweb.com/CES 2011.