I have to admits this is neat but I don't have anything that's wireless charging enabled so I don't know what I'd do with it. The OmniStation is made for both wired and wireless charging with a Qi Standard charger built in and six USB ports with interchangeable adapters so you'll be able to charge pretty much everything you own in one place. It's on KickStarter and it's already over 100% funded with many more days to go. Price will be $80 for pre-order for early backers and will ship in November.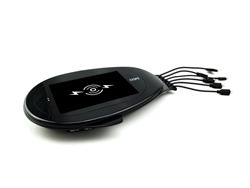 CYSPO lets you charge all of your devices without tangled wires, without creating messy outlets, and without having to unplug one charger to use another.

Key Features:

-Universal Charging Station: Charge cell phones, cameras, bluetooth speakers, eBook readers, tablets and more.

-Hassle free wireless charging experience: The OmniStation utilizes the latest Qi Standard multi-coil free positioning wireless charging transmitter technology to create a simple and easy charging experience.

-The OmniStation provides 6 customizable USB ports with interchangeable adapters, you can switch to your own cables with varying lengths for more charging flexibility. 

-There are two additional USB ports on the side; one port offers a faster 2.1A output for charging tablets and larger devices, like the iPad.

CYSPO is available for pre-order on Kickstarter. It will be available to ship in mid November. Early backers will be able pre-order it for $80.