Free is awesome right? Personally I never understood paying $50 to $60 for a game and then continuing to pay more for it every month after that?! makes no sense to me really, but to each his own right? So coming in October all of us frugal people will get to play DC Universe Online for free! There will be three levels available Free, Premium and Legendary. From the PR it seems that Free is actually limited access with a limited feature set for those players. Oh well, free is free right?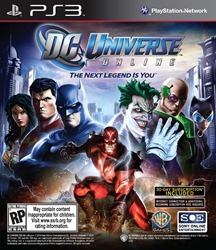 Beginning late October, players will be able to download and access DCUO for free on both the PlayStation®3 computer entertainment system and PC. As part of this transition, SOE is introducing three new access levels to the game: Free, Premium and Legendary. All three levels will provide access to open world gameplay and missions, general game updates and fixes to the game, with each level offering different game options and benefits.

All three levels provide access to the current game, but allow differing tiers of convenience and flexibility. The levels are:

Free: New players will now have access to the current gameplay in DC Universe Online (including Gotham City, Metropolis, and all current raids and alerts), with the ability to create two characters, join a league and many other benefits. Free level players will be able to purchase downloadable game packs/updates, additional character slots, powers and more through microtransactions.
Premium: Any player who has spent at least $5 USD (including former paid subscribers and new players who have purchased $5 of in-game items) will qualify for the Premium access level. Premium level players will have more benefits available to them than the Free level player, including additional character slots, additional inventory slots, and higher cash limits. Downloadable adventure packs, additional character slots, and more can be purchased in-game.
Legendary: Maximum features and benefits are included at this level. Loaded with enhanced additional features, Legendary access will be available for a $14.99 USD monthly fee and includes all DLC packs at no cost, more than 15 character slots, more than 80 inventory slots, the ability to form unrestricted-sized leagues, and many other benefits.

More information on the DCUO free-to-play access levels can be found here: www.dcuniverseonline.com/free.