Not long ago I reviewed the Kingston 32gb microSD card, and it's not bad, I'm using it not in my Android phone actually. We've got more popping now of course, and the newest is from a company called Edge Tech, and it's a class 4 card, so don't expect blazing speeds, but it should get the job done.
MicroSD and microSDHC are the most popular memory cards for upgrading mobile phone storage. Measuring roughly half the size of a fingernail, the EDGE 32GB microSDHC Memory Card stores approximately 21,000 photos, 8,000 MP3 files, or 32 hours of HD video*. A Class 4 speed rating ensures a consistent transfer speed of at least 4MB/s.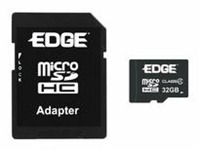 EDGE Tech Corp Product Development Manager, Brandon Coles, said, "Today's smartphone market is making an incredible impact on daily life. Consumers are saving the same amount of photos, music, videos, and other files on their phones as they have on their home computers. Larger mobile phone capacities are needed to meet these storage demands, and a 32GB card makes that easy."
For added versatility, the EDGE memory card is bundled with a full-size SDHC adapter. With the adapter, users can convert the microSDHC card into a full-size SDHC card, making it easy to insert and use in cameras, camcorders, gaming systems, laptops, and other devices that accept SDHC.
For more information, visit http://www.edgetechcorp.com/digital-media/micro-sdhc-class4.asp