Haven't heard from Enermax for a while, but they've got a new case…
ENERMAX is proud to announce its latest ATX mid tower case "STARAY", featuring one of the renowned APOLLISH LED fan.
STARAY has all features made up a modern case such as a tool-free design, rear liquid cooling holes, HD Audio Azalia AC97 support, front 2x USB, motherboard stand-off screws, micro dust filters in front, and a PSU support truss.
Four fan slots (1 in front and rear, two on the side) plus a fully meshed front allow maximum cooling and better airflow. STARAY ships with customized ENERMAX APOLLISH LED fan(s), which outshine any other LED fans in the market. The patented 15 LED structure dwarfs the brightness of all other LED fans.
STARAY has integrated a front control button that turns its LEDs not only on and off, but showcase a 3-LED beam spin with a lighthouse effect.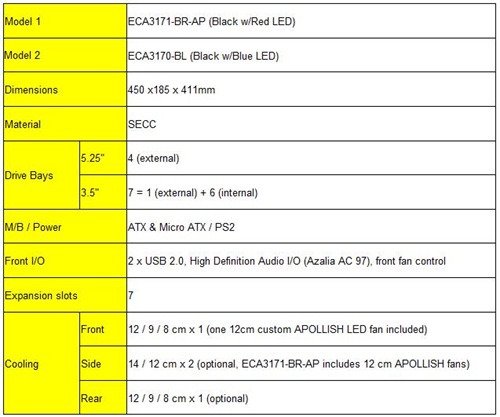 Additional information is available at:
ECA3171-BR-AP – http://www.enermaxusa.com/catalog/product_info.php?cPath=34_64&products_id=193
ECA3170-BL – http://www.enermaxusa.com/catalog/product_info.php?cPath=34_64&products_id=194
ECA3171-BR-AP MSRP US$70
ECA3170-BL MSRP US$55