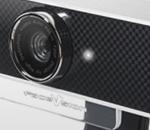 I never got into the whole webcam thing, but they are popular and it's nice to see them going HD. This new one from faceVsion is called the TouchCam N1 and it features a wide-angle lens that does 720P HD video and has built-in H.264 video encoding, and it even features dual microphones. Price is $119.99 and it's available form most popular places online.
The faceVsion TouchCam N1 differs from other "HD" webcams available in the market as it's the first Skype-certified HD webcam capable of actually streaming full screen 720p HD video over the Internet, thanks to built-in hardware H.264 video encoding. The TouchCam N1 also features a super-wide 78-degree field of view lens and dual built-in microphones that deliver a video call experience so real it's almost like being there.
Families and friends separated by great distances will enjoy the stunningly clear 720p HD video quality and the super-wide angle lens lets everyone get into the picture, a far cry from typical VGA webcams where participants typically only see a person's head and shoulders at best. The ultra-sensitive dual microphones transmit crystal clear sound, even from several feet away.
Businesses can get more done, too, while saving money with HD video meetings. 720p full screen, smooth full motion video and superior audio quality lets business have productive 2-way video calls in the conference room and everyone can get into the picture, saving thousands of dollars in travel expense and boosting productivity without spending tens of thousands of dollars on high-end dedicated video
Web Site: http://www.facevsionusa.com/