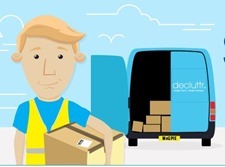 I'm not sure about these trade-in sites and companies, I hear good things and bad things, but who knows right? There's always questions when it comes to these things, but you don't know until you try it. Decluttr is a site that I've never heard of, but they're a trade-in site that seems legit.
Decluttr.com has reported a spike in games console trade-ins leading up to this week's launch of the Nintendo Switch.
The site, which gives customers cash for unwanted games consoles, video games, CDs, DVDs and books found that trade-ins of gaming devices increased by 66 percent in the weeks leading up to the Switch release, with trade-ins of the New Nintendo 3DS XL and the Nintendo Wii U console growing by a record 70 percent.
Interestingly, trade-ins of the XBOX ONE and PlayStation 4 also increased by 38 percent and 43 percent respectively, marking the highest trade-in rate for both devices over the last 18 months.
"We'd already seen a steady growth in Nintendo 3DS and Nintendo Wii U trade-ins since Christmas, but this increased to unprecedented levels in the weeks leading to the Nintendo Switch launch, as consumers started to trade-in their older consoles in preparation to upgrade in early March," said Liam Howley, marketing director at Decluttr.
Howley added, "Decluttr offers up to $90 and $105 respectively for the New Nintendo 3DS XL and Nintendo Wii U, so it's no surprise that savvy customers are looking to cash in on their old gaming devices. With Decluttr's faster payments, customers will be able to have the money sent straight to their bank account as soon as the items have been processed at our headquarters."
For more information on Decluttr, visit decluttr.com.