I got lots of Black Friday and Cyber Monday posts coming for you, and we'll start off with GameStop as they've just announced their  Black Friday deals which include an Xbox One bundle for $329.99 and $399.99 for a PS4 bundle. If someone wants to me me something for Xmas then get me the PS4 bundle please! Anyway the PR and ad are below for you..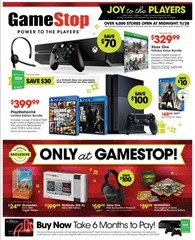 Black Friday is right around the corner and shopping enthusiasts should take note. Today, GameStop reveals the great deals it will be offering gift-givers and gamers alike on Black Friday, as well as remind customers about the different forms of currency it is providing to help customers pay for their holiday purchases. For a complete list of this year's Black Friday deals, customers can visitwww.gamestop.com/blackfriday.

Most GameStop stores are scheduled to open their doors at 12:01 a.m. local time on Friday, November 28. Holiday shoppers will find the greatest selection and some of the best deals on new and pre-owned video games, consoles, accessories, and the latest consumer electronics. Those customers who do not want to wait until midnight to take advantage of the GameStop deals can shop online Thanksgiving Day at www.gamestop.com and receive free shipping on all purchases.

"To get holiday shoppers ready for all the deals and excitement on Black Friday, GameStop is doing its part to help them find and purchase the video game and consumer electronic gift items on their shopping list simply and affordably," said Bob Puzon, senior vice president of merchandising for GameStop. "Whether looking for the latest video game consoles or newly released game titles, or one of the thousands of pre-owned video game or consumer electronic products we offer, GameStop is the place for gift-givers this holiday."

Some of the Black Friday deals GameStop will be offering include:

Video Game Products

$70 off Xbox One Assassin's Creed bundle for $329.99/$429.99 with Kinect, which includes digital copies of Assassin's Creed Unity andAssassin's Creed Black Flag (Friday/Saturday only)

$100 off PlayStation 4 Limited Edition bundle for $399.99, which comes with a copy of Grand Theft Auto V and a digital copy of The Last of Us Remastered (while supplies last)

Wii U Super Mario 3D World bundle for $299.99, which includes the 32GB Wii U Deluxe Set, Super Mario 3D World and Nintendo Landvideo games; and Nintendo 3DS XL Mario Party Island Tour bundle for $179.99

$30 off select PS4 and Xbox One games – e.g. The Evil Within, Sleeping Dogs, and Middle Earth: Shadow of Mordor; PS3 and Xbox 360 games – e.g. Middle Earth: Shadow or Mordor, and FIFA, Madden and NHL15 (Friday/Sunday only)

Skylanders Trap Team starter pack – $15 off official strategy guide ($9.99), $10 off Skylanders collapsible storage ($9.99), $5 off Nightmare Express adventure pack ($19.99), to name a few

$30 off select pre-owned video game systems – 120 GB PS3 ($169.99) and 160GB PS3 ($179.99); Original Xbox 360 ($89.99) and 250 GB Xbox 360 slim ($159.99)

2,500 pre-owned video games under $20, including PS4/Xbox 1 Watch Dogs ($29.99) and NBA 2K14 ($14,99), and Xbox 360/PS3 GTA V ($29.99)

Buy two and get one free on any pre-owned video games or accessories under $20

Consumer Electronic Products

Free HTC Desire 510 4G LTE Smartphone with purchase of Cricket Wireless no contract service (after $75 mail-in rebate)

$50 off ASUS 16GB Memo Pad HD 7 ($99.99) and Samsung Galaxy Tab 4 7.0 ($149.99)

$20 off 7" Wifi tablet ($49.99), ASUS Pad 7" tablet ($79.99), and Samsung Galaxy Tab 3 Lite ($119.99)

$150 off pre-owned Samsung Galaxy S5 smartphone starting at ($449.99), and $50 off Apple iPod Touch Gen 4 starting at ($79.99)

Apple iPhone 4 staring at $99.99 and iPad 2 starting at $229.99*

Offering Unique Forms of Currency to Help Purchase Holiday Gifts

To help customers stretch their dollars and save even more money this holiday, GameStop is offering customers unique ways to pay for their purchases. Through its buy-back program, GameStop is expecting to give customers nearly a quarter of a billion dollars in cash or credit when buying their pre-owned video games, systems and accessories, as well as consumer electronics and interactive game figures.

GameStop is also offering other ways to help customers to pay for their holiday gifts. The new PowerUp Rewards credit card offers approved customers a special financing through the end of 2014 for purchases of $250 or more. Additionally, the company has expanded its layaway program to include more products this year so customers can pay over time. Today through Sunday, December 14, customers can reserve select video game consoles, tablets, accessories and headsets through the expanded layaway program.

Customers can also exchange unused gift cards they have from other retailers for GameStop e-gift cards by visitingwww.gamestop.com/giftcardexchange. Finally, PowerUp Rewards members are encouraged to redeem their reward points toward the purchase of products available in the PowerUP Rewards catalogue.

For more information about GameStop's Black Friday deals, please visit www.gamestop.com/blackfriday. And as a reminder, GameStop will not be open on Thanksgiving Day to ensure that all associates are able to celebrate the holiday with their families and friends.