I remember watching Inspector Gadget when I was young, it's amazing he's still around.  The show is actually on in the mornings now here and my kids are enjoying it as I did. Now if you've got an iPhone, iPod or iPad you can play the official Inspector Gadget game and help the famous sleuth foil the plans of Dr Claw and his minions.
In Inspector Gadget's Mad Dash, you control the intrepid Inspector as he dashes over roof-tops on his rocket skates, swings from cranes with his spring loaded arms, and flies through the air with the help of his umbrella hat in a race to save niece Penny from the clutches of the evil Dr. Claw. Along the way you must jump, dodge and avoid various obstacles, from benign banana peels so easy to slip on to high voltage power lines, dangerous pitfalls, and Dr. Claw's insidious bombs and missiles.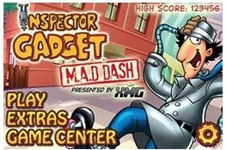 Throughout the game, the player will collect G's – special coins that allow you to unlock bonus content at the end of the game. Bonus content includes a soundboard of classic quotes from the original hit show, a first look at pages from Viper Comics' upcoming Inspector Gadget comic book series, concept art from the game, and a scrambled image that reveals the face of the mysterious Dr. Claw once certain gameplay achievements have been met.
"We have been very careful to stay true to the art and sound styles of the original character and TV series while creating a game that is fun and addictive," says Ray Sharma, Founder and CEO of XMG Studio. "The bonus content, especially the digital Comic Book from Viper Comics adds an entirely new level of entertainment to an already fun purchase."
The iPhone and iPad game, which also runs on Apple's iPad device, integrates Apple's Game Center, allowing you to share your scores with friends and see how you do on a global leader board, while unlocking special achievements and awards. The game, available immediately, will retail for USD $1.99.